Are you a resin jewelry making beginner?  Don't mix resin until you read this first!
Okay.  That sounds a little dramatic, so let me back up a bit.
I get a lot of really good questions from aspiring beginner resin jewelry makers and crafters worldwide.  Many of those questions involve how to make something.  For example, here is a recent question from a Resin Obsession fan:
I've got this idea for a resin ring I was hoping you could help me with.  I want to do it in multiple colors.  I'm not sure exactly what the ring will look like, but how do I make a mold for it?  And what kind of resin should I use for the ring?  Oh, and by the way, I have never made anything with resin before.  Do you have any tips you can share?  Thanks in advance for your help.
I love the ambition and big picture ideas here.  I really do.  But unfortunately, this is the proverbial 'train wreck' looking to set up shop in your crafting room.  Resin can be such a fussy beast for even the most experienced resin crafters.  This person has envisioned a project that would take several days to develop and several more days to finish.  (and that's assuming everything goes as well as possible)  Put another way — imagine that your cousin has announced that she's cooking the next big holiday meal for your extended family of 23 people.  And she has never so much as boiled water for an egg.  I think you get my concern here.
*As a side note — I did the same thing when I was learning lost wax casting.  On the first day of class, I showed a picture to the teacher of what I wanted to make.  She smiled and remarked at my ambition.  What I wish she had done was to direct my attention at something simpler to make.  Instead, I struggled and failed miserably only to find that I had to make a simpler project multiple times before attempting something that complex.
Much like your cousin who aspires to be the next Iron Chef, becoming a gifted resin crafter is possible, but it's not going to happen in an afternoon.  If you're new to resin or have tried it a few times only to be unhappy with your results, here is my resin jewelry making beginner roadmap for you to get on track with resin casting success.
Goal #1.  Get good with resin first
To do this, I make things with resin where you only have to worry about measuring and mixing the resin.

In my opinion, epoxies are the easiest to work with.  They are the most forgiving of mistakes and should give you enough pot time to get your resin mixed and cast before it starts to gel.
If you want more information on how to choose a resin, our resin buying guide will help.

I can't stress how important it is to accurately measure the resin before mixing.  You need to use graduated containers, medicine cups, graduated cups, or syringes, for example, to do this well.
Understand the resin you're using.

Not all resins are the same.  Be sure you understand how your resin is supposed to work, along with the specifics of your resin, such as pot time, cure time, mixing ratio, minimum mixing amounts, and the safety requirements.

Pick a good crafting area to get started.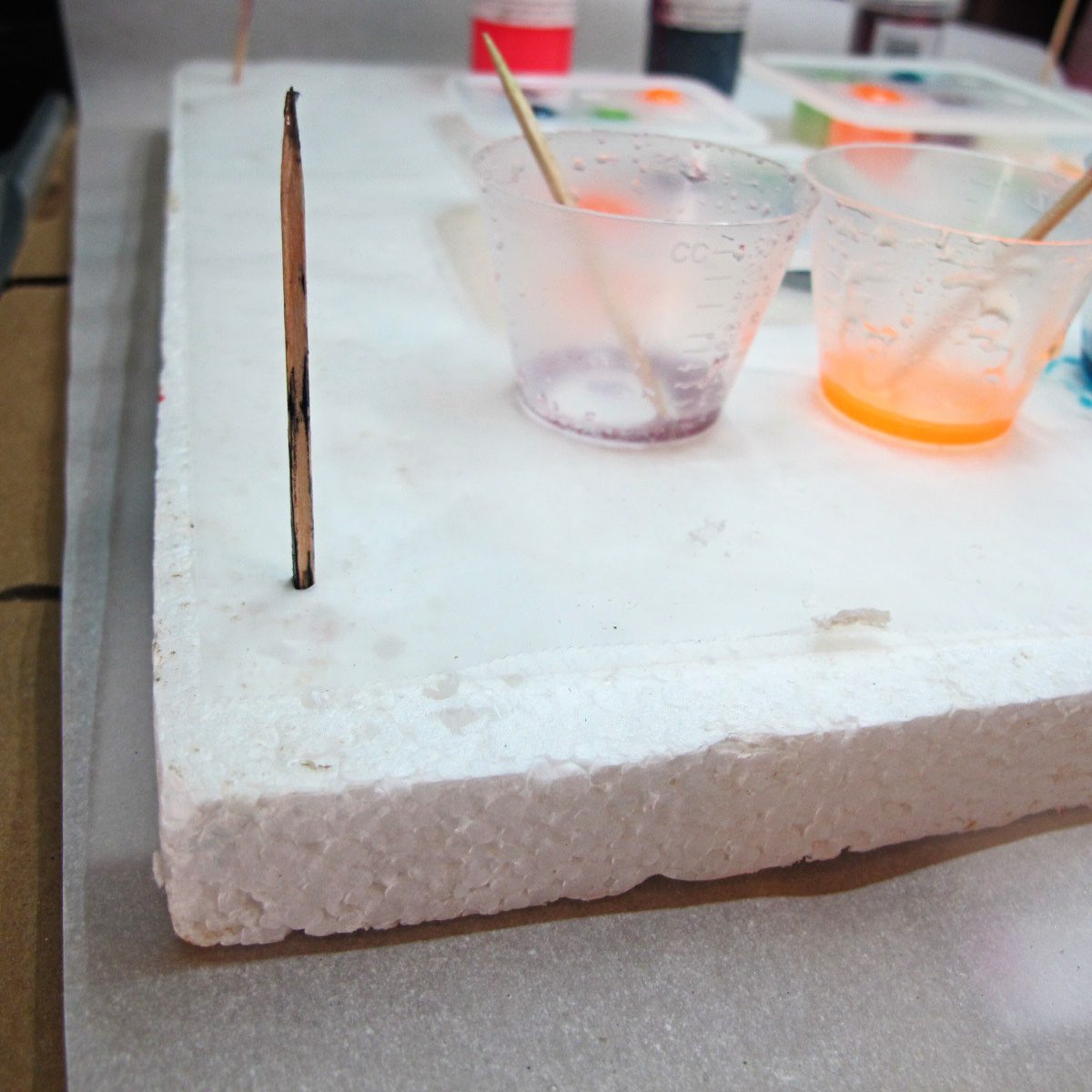 Prepare yourself for the unexpected mess.  Wax paper is your eternal friend!
If you aren't sure what any of these terms mean or still don't know what resin to use, be sure to read my advice for choosing a resin.
Project #1
For your first project, make something where the resin is the only variable.  Why?  If something goes wrong, there's only one place to look for the reason.  To do this, make something that you pour the resin into that doesn't require demolding.  Jewelry bezels are perfect for this.  Mix the resin, pour it into the reservoir.  You don't have to worry about demolding and will have results within 24 hours.
Goal #2:  Understand what happens when you add things to your resin
Resin is just begging for things to be added to it but exercise caution.  Anything porous will need to be sealed first before adding to the resin.  If you're unsure about sealing, ask yourself whether or not getting the item wet will affect its appearance.  If the answer is yes, then you will need to seal.   We have two videos to help you get started:
Project #2
Try the same project as in #1, but add some inclusions.  Start with non-porous items like glitter, beads, or other metal findings you don't have to seal.  This step will give you the opportunity to learn about putting things in resin and the possible pitfalls such as trapping bubbles and trying to place things without making a mess.  Here's a project idea:  Indian princess-inspired resin rings
Project #3
Once you're good at projects #1 and #2, tempt your resin with a chance to go wrong.  Resin hates moisture, so learn what it's like to add moisture (like colorants) to the resin, or other papers and inclusions that require sealing.  It's another variable that can cause problems, but see my logic here?  If you've done great until this step, then troubleshooting this in case something goes wrong will be easier.  Try this project:  Dr. Seuss jewelry
Goal #3:  Let's get a little moldy
As a resin jewelry making beginner, I remember the first time I poured resin into a mold.  Wow, now it can stay a permanent shape!  Pouring it into a mold is the way to make this happen, but it also adds in an extra level of skill.  You need to be sure you're using a mold release and a resin mold appropriate for your resin.
Project #4
Let's give silicone molds a try.   Here's a project to try:  How to make resin petri earrings
Note:  You're still using the same resin jewelry making beginner techniques you learned in your first couple of projects — proper mixing, awareness of pot time, the dreaded bubbles, etc.  You're building upon your skills and gaining confidence with what you're doing.
Goal #4:  Get rid of the training wheels — go for the dome
Certain resins have the property of being thick enough to dome onto a surface.  This means you don't need sides to keep the resin in a domed finish.  I've saved this goal for this point because it's important that you have a feel for how much resin you can pour into a space.  In order for the resin to dome, you need to add enough to create the dome, but not so much that it breaks the surface tension and runs over the side of your project.  It takes practice and patience to get good at this.
Project #5
Make your own domed resin pendant.  We've got a great domino resin pendant tutorial showing how to do that.
You are now at the end of your beginning journey into resin jewelry making.  From here, you have a great understanding of resin and have the knowledge to make your creative ideas happen.
Some future resin jewelry making beginner learning ideas:
Try resins other than epoxy
Polyurethane and polyester resins are also great for using in resin jewelry and crafts, but they can be a bit difficult for beginners.  Getting good with epoxy resin is great for building skills and confidence before attempting to use these.

Once you are ready to try, you can use quick-curing polyurethane resin to make a resin necklace.
Make big projects other than jewelry and small crafts
Resin has so many possibilities!  Some resins are great for big crafts (think coatings for tables) to clock inserts to wall frames.  Don't limit yourself as resin jewelry making beginner.  Think BIG!  Check out these resin art projects for inspiration.
Ready to become a resin jewelry pro?  Then you will want your copy of Resin Jewelry Making.  The instantly downloadable PDF book has dozens of five-star reviews from beginners!
Unpublished Blog Posts of Resin Obsession, LLC © 2020 Resin Obsession, LLC