So you've taken up epoxy resin as a hobby. And you're loving it. So now you're looking for projects you can craft with resin.
*Because you love making crafts that you can use yourself.
*Or maybe because you love making handmade gifts.
*Or perhaps you're looking at selling some of your epoxy crafts to recoup your investment.
Whatever your reason, you will love this list of items you can craft with resin.
Paperweight
Skill level: easy
This is the classic resin gift, especially when you personalize it. You can add pictures, concert tickets, or other personal items. You can even add a dandelion to make a paperweight.

Business card holder
Skill level: easy
The new graduate needs something to hold their new business cards. Find out what their passion is and add that to the clear resin. Then, they'll think of you every time they sit at their desk and admire their business card holder.

Flower vase
Skill level: intermediate
Preserve your favorite flowers in a vase for your future flowers. Of course, this project requires you to dry the flowers before you use them to craft with resin.  This adds to your project time, but the results are so worth it.

Trinket box
Skill level: intermediate
Who doesn't need a little box to hold onto the items that easily get lost? Resin trinket boxes can do just that. Use them on a desk with paper clips or on a kitchen windowsill to hold rings. They're the cutest way to keep track of small items.

Entryway tray
Skill level: intermediate
Speaking of corralling items, a trinket box might not be big enough. In that case, you can create a catch-all tray to catch more than small items. This can be the place for keys, phones, wallets, and more. Everyone will love having a spot to put down their pocket items as soon as they enter the door.

Coasters
Skill level: easy to intermediate
This is the grandaddy of all resin projects. You can make resin coasters in so many designs and shapes. Start with a coaster mold, then decorate. You might decide you want to make geode coasters. Or perhaps something more kitschy like bottle cap coasters. You can personalize these with pictures too.

Tumbler
Skill level: intermediate
Did you know you can craft drink tumblers with resin? I wouldn't kid you about something like that. Start with a metal tumbler, add a design, then coat with a resin for tumblers. You can add epoxy colors or make them one-of-a-kind by adding vinyl stickers. Your beverage will be so bougie.

Letters
Skill level: easy
Did you know you can make resin letters without a mold? The trick is using wooden letter cutouts that you decorate with resin. Mix your epoxy, add resin colors, then pour onto the letters. Get abstract and crazy in this step. No two letters will look the same.

Place card holders
Skill level: easy
Resin can be the star of your next dinner party. How? By making place card holders with resin. Your guests can even take them home to use and keep.

Charcuterie board
Skill level: advanced
The next time someone asks you over for tapas, you can let them know you've got the perfect charcuterie board for the occasion. Of course, you'll need good resin skills to take this one on. But once you do, you'll love making these. They're also perfect housewarming gifts.

Bowls
Skill level: advanced
Here's a fun leftover resin project. But you've got to know a little about your resin first. Once you do, you can craft with resin to make a bowl.

Dice
Skill level: advanced
Ask any gamer if they want a custom dice set, and I bet you'll hear a resounding YES. Making resin dice is almost as much fun as the game itself.

Chess set
Skill level: advanced
Imagine having chess pieces in custom colors and designs. You don't have to wonder—You can do it with resin. And with this project, you can have a chess set in under an hour if you use a quick-curing resin.

Dominoes
Skill level: easy
Whether it's everything vintage or stay-at-home time, dominos are having a moment. And you can make a custom set in themes, like this steampunk set.  Even if you've never made resin dominoes before.

Phone grips
Skill level: easy
Your phone is an extension of you. Why not give it a custom phone grip? That way, you can give your phone case the glam it deserves.

Keychains
Skill level: easy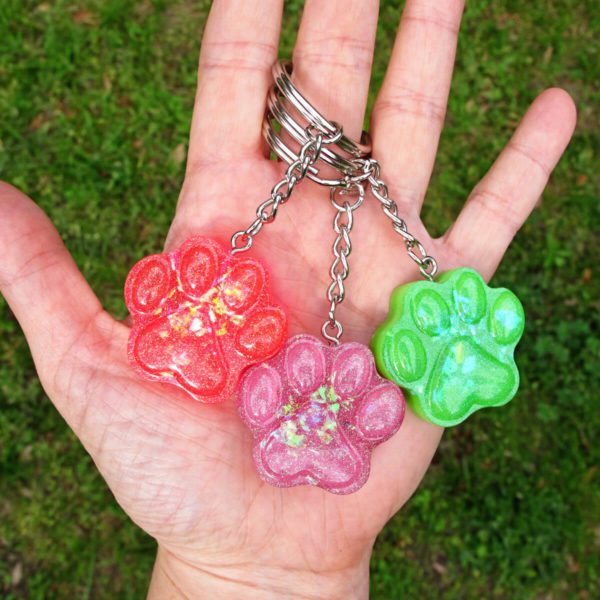 I can't guarantee this will keep you from losing your keys, but making your own resin keychain can't hurt. Start with a mold that includes the keychain hardware, then craft something amazing with your resin.

Ornaments
Skill level: easy
Craft ornaments that you can't wait to decorate with year after year. You can even personalize your resin Christmas ornaments with the year or a name.

Planter
Skill level: easy
Tiny plants deserve love too. And one of the ways you show them love (besides watering) is with a custom planter. And if you're like me and don't do well with plants, they hold fake ones just as well.
Bookmarks
Skill level: easy
Bring old school paper books up to speed with a fancy resin bookmark. These are fun to make with a holiday theme too.

Journal covers
Skill level: intermediate
Old school pen and paper will love getting dressed up with a custom journal cover. This is a fun mixed media project gives you a chance to craft with resin and turn it into a gift.

Want to learn more about how to craft with resin but unsure where to get started?
For less than the cost of a resin kit, you can learn the essentials the pros know to make something beautiful with resin.  It all comes in the ebook, Resin Fundamentals.  Buy the book now and get a download link in minutes.

Unpublished Blog Posts of Resin Obsession, LLC © 2022 Resin Obsession, LLC