Because it's hot in Florida in the fall, there's only one way I know Halloween is coming. It's the familiar smell of pumpkin spice lattes at Starbucks. And that's my cue to make cute Halloween earrings that definitely make that PSL taste even better.
Supply list:
Clear shrink plastic
400 grit sandpaper
Clip art drawings
Permanent marker pens
Clip art
Scissors
1/8 inch hole punch
Nonstick surface
Heat gun
Ceramic tile
Tweezers
Resin Obsession crystal doming resin
Stampendous crystal microglitter
Mixing supplies
Drying mat
Acrylic paint and paintbrush
Step 1: Prep your area
Your table needs to handle the heat of a heat gun. Plus, you'll need to cover it with a surface that the shrink plastic won't stick to. The dull side of parchment paper works great for this.
Step 2: Select your clip art
If you're a doodler, you can use your art for this project. But, if drawing isn't your thing, you can find lots of digital clip art on Etsy. These are the clip art sheets I used:
Skeleton cat
Ghost cat
Cute ghosts
Flower ghosts
Cat ghosts
⚠️ IMPORTANT: If you're hoping to sell your Halloween earrings, you need to use art that you have the legal right to use.
Step 3: Resize the art
Because the shrink plastic will do just that – shrink – you need to draw it bigger than the size you want for your finished earrings. For these Halloween earrings, I made the art approximately 3 inches square. The easiest way to do that is using Canva. Create a 3-inch square template. Then drag your file onto the template and resize it to fit the square.
Finally, print your art.

Step 4: Sand the plastic
Use 400 grit sandpaper to sand the shrink plastic surface. Go back and forth, then rotate 90 degrees and do it again. You want an evenly frosted surface

Step 5: Trace the design
Place your sanded shrink plastic onto the design. Then use your pen to trace the design onto the plastic.
Here are a couple of pro tips to know as you use shrink plastic to make these Halloween earrings.
Shrink plastic shrinks—a LOT.
The instructions share that your design will shrink about 20%. Mine shrunk about 65%. My 3-inch square design shrunk down to about 1 1/8 inches square.
The colors will concentrate.
Whatever color you want, choose a shade lighter. It will darken as it shrinks.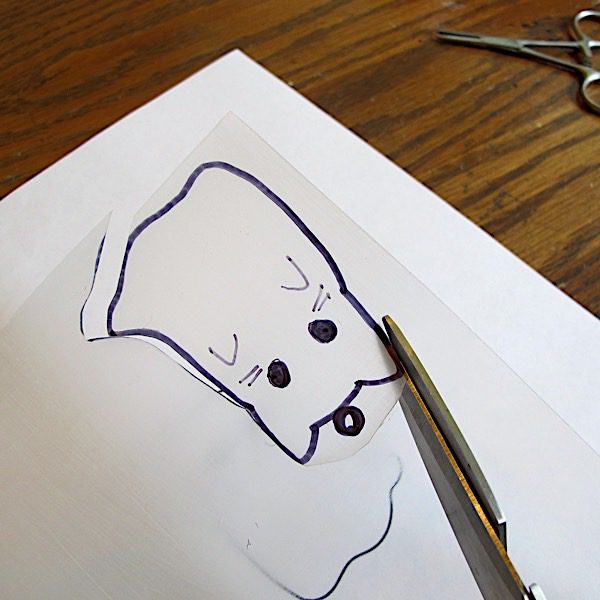 Cut the plastic design out, leaving space for the earring hole.
Use the hole punch to place a hole in the plastic. Trim to make a round shape, but don't get too close to the hole.
Step 6: Heat the plastic
Here's where your cute Halloween earrings come to life. Go over the surface of the plastic with the heat gun and let the plastic shrink. The heat gun will blow the plastic over your table, so use tweezers to help it stay in place.

After shrinking, place a ceramic tile on top to flatten the plastic. Leave it for 20 to 30 seconds.

Step 7: Add resin
Now it's time to give your cute Halloween earrings a glossy finish. The Resin Obsession crystal doming resin is perfect for this because it mixes thick. That thickness lets it stay on the plastic surface and not run over the edge. It finishes with a beautiful, glossy dome.

Mix the resin and add a smidge of glitter. Then, drop the resin onto the earring. Use a toothpick to draw the resin to the edge of the earring.

💡 Pro tip: Only add enough clear epoxy to cover half the earring. If you cover the earring completely, it will spill over the edge.
Check for bubbles. Then, let the resin cure for 24 hours.
⭐️ BONUS: If you've never used resin before, learn how to mix epoxy resin in five easy steps.

[OPTIONAL] Step 8: Paint the back
Choose a color of acrylic paint to add to the back of the earrings.
[OPTIONAL] Step 9: Color the edges
Use your marker pen to color the edges of the Halloween earrings.

[OPTIONAL] Step 10: Coat the back with clear epoxy
Add a layer of Resin Obsession crystal doming resin to the back of the earrings to seal the paint.
Step 10: Add earring findings
Finish your cute Halloween earrings with hoops or ear wires to make them wearable.
See how to make these cute Halloween earrings in under 50 seconds:
View this post on Instagram
I love how these are not-so-scary Halloween earrings.
And they're cat earrings. Like a total WIN-WIN.
Have more questions about making these cute Halloween earrings?
You are MY PEOPLE. And if I'm reading your mind, you want to know…
Why do you need to sand the surface?
Well, you don't. But, I find it's easier to see what you're doing to trace the design and color it in.

How big of an image do I need to start with?
You'll need to do some test pieces to figure this out. I wanted Halloween earrings a bit larger than 1-inch square and wide. On my test pieces, the image shrunk about 65% of the original size. Working backward, I needed to start with an image about 3 inches wide and large.
Left shows after shrinking the design. Right shows the original plastic size.
Can't I put the shrink plastic in the oven?
Yes, you can. I just don't like waiting. 😂
What else should I know about using shrink plastic?
I covered the basics here, but there are a few more things that AmyMade shares in this 10-minute youtube video.
Why did you paint the back? Like, couldn't you use colored resin?
Uh. Yeah. I thought painting the back would color them faster. But, it took 4 to 5 coats of paint AND a layer of clear epoxy. Next time, I'll mix crystal doming resin with Resin Obsession opaque white pigment to color the back.
Why did you make so many cat earrings?
Because I LOVE cats. And I love earrings. With resin. And I have friends that I'll gift them to.
Want to take on this resin jewelry project but want more help getting started?
Then you'll want to get my ebook, Resin Fundamentals. You'll learn the specifics of creating with resin in only a couple of hours. You'll have the confidence to make something beautiful with resin, even if you're completely new at this. Buy the ebook now and get an email download link in minutes.

Unpublished Blog Posts of Resin Obsession, LLC © 2022 Resin Obsession, LLC