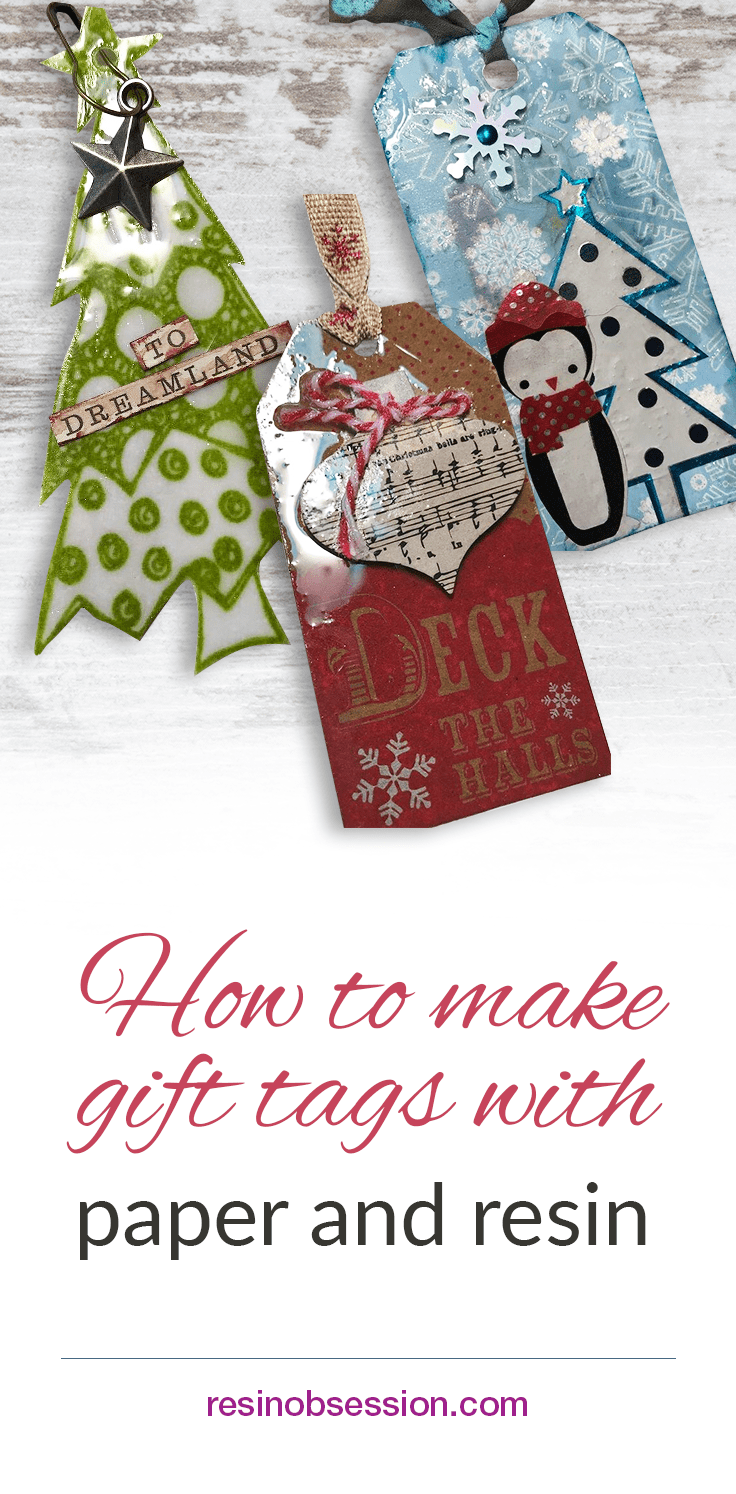 Let's Make Some Resin Gift Tags!
Hello Resin Fans, Karen Bearse here today with some great Christmas tag ideas. The fun thing about this project is you can use a lot of items after the Christmas crazy and make tags throughout the year.  By Christmas time, you are ready to go! (Plus recycling is always a win-win.) Also what about re-using resin gift tags year after year so they become a special keepsake?
As I always like to do with my resin projects, let's also do some experimenting. I have no idea how Christmas foil wrap will react to resin for example. There are so many ideas, but really if you don't have time to get these done for this year, you are seriously getting ahead of the game for next year!
Resin Supplies:
– Resin Obsession Super Clear resin
– Gloves, cup, stir stick, timer, piece of foam
– Tissue paper, Christmas cards, wrapping paper
– Store-bought finished Christmas tags
– Holiday ephemera, shapes, sequins
– Flashcard and charms, clip bails and ball chain by Tim Holtz (available at your local scrap book store)
– Stamps and Distress Ink
– Washi tape
– Ribbon or fabric ribbon
– Decoupage Glue by Americana (my favorite)
– Zots adhesive dots by Therm*O*Web
– Hole punch
Let's get started!
First, I made my tags. With Christmas being such a busy time of year, I wanted to make these tags easy.  I used stamps, markers, gift wrap, and Christmas cards. Some I cut out using a tag die but you can easily use a clothing tag as a template.  Simply trace and cut. Once my tags were done it was just a matter of covering them in resin. I will go step by step for you with photos as we go.
Step 1:  Collect papers
Gather up supplies, tissue, used Christmas cards, wrapping paper.
This project gave me some great ideas! Do you have relatives that you spend Christmas with every year, like your kids for example? Wouldn't it be fun to be able to give them a gift with the same tag every year that could then become one of the first ornaments on their tree when they move out? If we have resin tags, they will be durable and just have to be collected after the present opening carnage. You can store them in a special box with the Christmas decorations ready for the following year.
Step 2:  Cover in resin
Once your tags are made. All you have to do is coat them in resin. I used Resin Obsession for this project. It is one of my favorite resins as you only have to stir it once. Follow the directions included in the package. Be sure to use gloves as resin is super sticky. Here is a quick post if you need to learn how to mix resin.
I used a piece of a kitchen sponge to spread the resin as I wanted a bit of a thin layer. I coated both sides of the tag, starting with the backside.  Then, I set the tag on my parchment paper with a thin coat of resin already down. Slide your tag a bit to settle it into the resin.  This helps prevent bubbles and gaps from being created on the backside of your piece. Next, let the resin cure overnight.
Pro tip:  Do a marker test to see which markers can be used with resin gift tags. You want to see if the ink will smear. This is for future reference, so now I know what inks I can use. I was actually surprised that none of the inks really bled that much. Yay!
Tag 1:
First, cut out a tag shape from white card stock. Next add a stamped image, in this case, the ornaments. I wanted to have the strings show but not have to cut this part out. Re-stamp on card stock and color using a sharpie marker.
Next, cut out the shapes of the ornaments and adhere with decoupage glue. I did a layer on top as well so the ink would not smear when the resin was added. Then add a piece of ephemera (the Christmas tree). Add the sentiment. Punch a hole at the top for the ribbon to be added after the resin is cured.
On the backside of the tag, I adhered a Christmas card piece that was also cut in the tag shape. Re-punch the tag hole at the top for the ribbon. Next, the tree and penguin were cut from wrapping paper and adhered with decoupage glue. I was pleasantly surprised that the foil from the wrap and the sparkle from the card were not affected by the resin application.
Lastly, a sequin snowflake with brad was added after the resin cured. I used a Zot adhesive dot by Thermo*O*Web to adhere the snowflake to the resin. Add a ribbon or piece of fabric.
Tag 2:
I love, love, LOVE using tissue with resin because it ends up translucent which is so cool! This tag took no time at all and would be super easy to make a ton of these.
Cut the tissue paper in the tag shape. Add strips of washi tape at the bottom. A lot of washi has sentiments on it and this is where my Season's Greetings came from. Add a layer of decoupage glue on top to seal the washi. Done!
I like to punch the hole for the ribbon before adding the resin. Usually, the resin will not adhere to the hole but if it does it is easy to re-punch.
Tag 3:
Another really quick and simple tag. Stamp a holiday image on card stock with Distress Ink. Next, let the ink dry and cut the image out. Add the resin. You can either add a sticker quote before or after the resin phase. If you add the sticker before, just seal the quote with decoupage glue. Once the resin is cured, add a charm, ribbon, or something else.
Tag 4:
This is the easiest of the resin gift tags to make.  Take a store-bought tag. Layer with resin. Add ribbon, done! The only thing about this tag was it ended up much darker after the resin was added. Interesting. I think it is because the tag is made of kraft cardstock. When you add water to kraft card it darkens. Just a theory.
Tag 5:
I have to say I love how this turned out. Again super simple but effective.
Simply take a Flashcard by Tim Holtz, distress the edges, and punch a hole. Make sure to distress both sides. There is another word on the other side. Coat with resin and cure. Add a charm and a chain. So quick!
This can be used as a necklace. As a tag for a present, or as a charm for the side of your December Daily Scrap Book. I didn't cut the chain yet as I am not sure how I want to use this. I may add another card and wear them like cool holiday dog tags!
Just to give you an idea of how little resin was used. 1 ½ oz of resin covered all these pieces.
Final thoughts and advice.
Some of my resin gift tags will need a second coat of resin to smooth out some gaps. I was pleased with how Resin Obsession super clear resin worked using a sponge and a thin layer of resin. It is very, slightly flexible, and works in a pinch. If you want some flexibility to your pieces, then the Resin Obsession crystal doming resin is a better fit. It cures more pliable, which allows for a thicker coat, that is still flexible but won't break or tear. However, a thicker layer of Resin Obsession with tissue would be a great way to make mica pieces that could be cracked apart and used in art journals or canvas projects.
I hope you enjoyed this tutorial on gift tags!! If you are interested in checking out more of my art you can find me at karenbearse.blogspot.com with links to all my social media on the right of my blog. Have a very Merry Christmas and/or Happy Holidays!
Unpublished Blog Posts of Resin Obsession, LLC © 2020 Resin Obsession, LLC