How to make your own resin tray
Turn wood slices into a cute tray that is just the thing for your home or even as a Father's Day gift. This woodland-themed tray is perfect for a variety of uses.
Resin Supplies needed for this resin tray DIY:
• Wood tray
• Thin Wood slices
• Stain
• Clear coat
• Resin Obsession Super Clear Resin
• Moss
• Rag
• Gloves
• Measuring cups
• Stir stick
Step 1
Stain the wood tray with the color of your choice. I like to stain the top and bottom to make the finished project more finished.  Allow to dry completely.
Step 2
Apply a clear coat.  Allow to dry.
Step 3
Use hot glue to add wood slices and moss to the bottom of the tray. Make sure the moss does not stick up over the wood slices. I did not seal the wood slices in any way before beginning.
]Also add a bead of hot glue all the way around the back of the tray. This will make sure that the resin does not leak out when poured.
Step 4
Add the wood tray to the bottom of a cardboard box that has been lined with wax paper.  This will catch any resin that you spill or leaks out of the tray.
Step 5
You are going to need to pour the resin in two pours. That is the only way I was successful in making this tray. With one pour, I had horrible issues with tons of bubbles that could not be removed. The first pour should just come to the top of the wood slices and cover as much as the moss as possible. Mix and pour resin to add to the tray.
I used 3 tablespoons of resin mixture for the first pour. Mix the resin according to the package directions then pour over the top of the tray. Be sure to wear gloves when working with resin. Remove any bubbles and allow to set at least overnight.
Step 6
Do a second pour covering everything. Be sure that everything is enclosed in the resin with this pour. I used 4 tablespoons of resin mixture for this second pour.
Again remove bubbles and allow to set.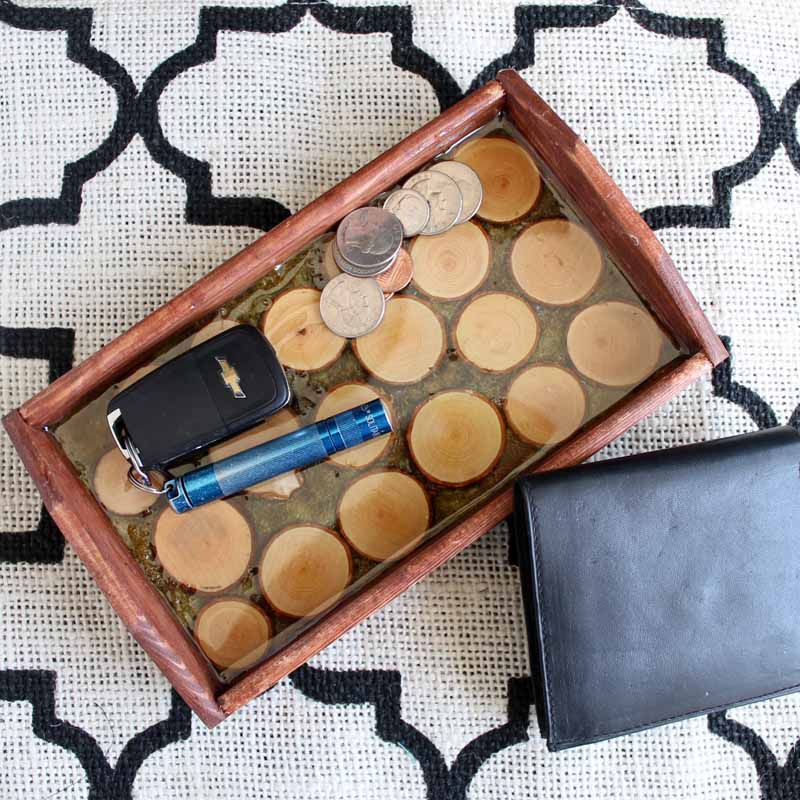 This wood slice tray is perfect for being a drop zone for keys, change, and more.
Plus you get to look at this gorgeous tray every day!
I love the woodland trend and this fits in perfectly.  Add this to your farmhouse décor as an organizer!
What do you think about this resin tray DIY?  Would you do it with a wooden tray or something else?
Want to jump into resin but overwhelmed by all the information out there?  Tried making a few things to resin only to find they were sticky and bubble-filled?  Don't give up!  Instead, get your copy of Resin Fundamentals.  It takes my more than a decade of resin experience and condenses it into the essential details you need to know to create something awesome with resin.

Unpublished Blog Posts of Resin Obsession, LLC © 2020 Resin Obsession, LLC