Hello again! So today, I'll be showing you all how I create wood and resin jewelry. These resin pendants are easily my most talked about items at craft shows. They require power tools and a lot of elbow grease, but the result is something people are always in awe of. This tutorial has much to cover, so let's dive right in!
Resin Supplies Needed
-Large mold at least 1/4 inch deeper than your wood slices
-Mold Release
–Clear craft resin
-Mixing Cups
-Tree Wood Slice
–Resin colors
– Sandpaper in grits 80, 150, 250, 800, 1000, 1500, and 2000
-Table Saw
-Belt Sander
-Eye Hook
-Necklace Chain
-Power Drill
–Jewelry adhesive
–Resin Polishing kit
 Step 1: Prep the mold

This mold is a 7-inch square mold but feel free to use what you have. Before starting, I pre-condition my mold with mold release being sure to cover the whole surface area. Let this dry before pouring resin into the mold.
 Step 2: Select a wood slice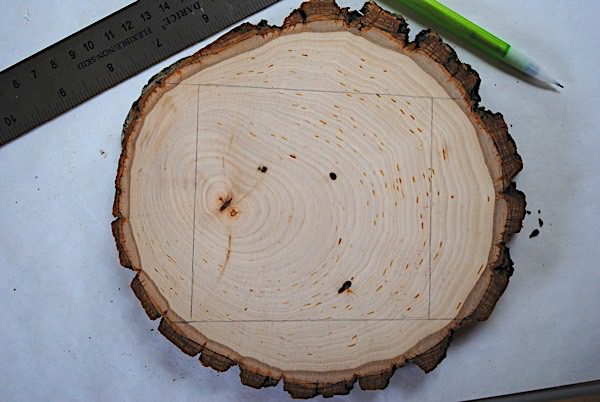 If you're buying your wood, here are some tips on picking a good slice:
-Look for a piece with noticeable age lines (some are too bleached).
-The more ridges in the bark, the better!
-Pick a piece that isn't too thick. About 1″ thick will be the easiest to work with.
After picking the perfect slice, it's time to measure your cuts. If your mold is 7″ square, then you want the woodcuts to be equal to or less than 7″ wide so that it fits into the mold. You'll notice that I divided mine into four cuts, leaving a square in the middle. I want to get as much use out of the bark as possible. The bark adds unique details to wood and epoxy resin jewelry.
͛Step 3: Cut the wood
Now that your cuts are drawn out, it's time to take your wood to the table saw. I'm using a Dremel Moto-Saw. Hold the wood firmly to the tabletop and go very slow to get straight cuts.
My cuts are always wavy and curved, but in the end, it does not make a difference because it will all be sanded down.
Step 4: Add to the mold
There are three things to keep in mind when placing the wood:
*How big do you want your wood and resin jewelry pendants?
*Do you want wood on both ends of the pendant?
*What shapes do you want to get out of the pendants?
There is no right and wrong way to place the wood. But you ALWAYS place the bark side of the wood toward the inside of your resin mold.
Step 5: First resin layer

Once you know where to place the wood, remove it from the mold and mix up approximately 1 1/2 ounces of resin (based upon this size mold and the amount of wood I used). The Resin Obsession super clear resin is perfect for this project.  Not only does it cure bubble-free in molds, but it also cures hard.  Your resin won't get bendy when you cut it with the table saw.  Pour it into the bottom of the mold and make sure it covers the whole surface.
Then, place the wood back into the mold where you had planned. This is a step I initially did not do when I first started making these pendants. But, I noticed that I would do a thick pour of resin, and the wood would float to the top and change positions. I set some weights onto the wood and let it cure for twenty-four hours.
Step 6: Second resin layer
Once you let the wood slice layer cure, it's time to mix up a batch of colored epoxy resin. This amount will vary based on how much wood you are using and the size and depth of your mold.  The easy way to know how much resin you need is to use the Resin Obsession resin calculator.
Add your coloring. You can use opaque or transparent resin colors when you make your jewelry.

Add the resin into your mold.  Be sure to flow resin into all the crevices to distribute it evenly across the mold. Let it cure for at least 24 hours.
You might notice that I don't fully fill the mold with resin.  I leave some of the wood exposed for a few reasons:
-It leaves a place to anchor down the wood to ensure it doesn't float.
-I can save resin by not fully covering the wood.
-It ensures my pendant isn't extremely thick and heavy.
Step 7: Demold
Releasing the resin from the mold is pretty easy. I pick up the entire mold and give it a little twist like I would an ice cube tray and then flip it over to push up on the bottom corner until I can grab it with my fingers to pull it the rest of the way out.
YIPPIE! You have a block of wood and resin for jewelry!
Step 8: Plan your cuts
Draw lines on your wood that you want to use to approximate what you want your pendant to look like. There are no right or wrong cuts.The belt sander will transform everything.
I'm using the same technique as before when using the table saw, slow and steady.
I will get about 10-12 pendants of varying shapes and sizes from the whole block.
As you can see, these are VERY rough cuts, but pick your favorite, and we will shape it into something beautiful using the belt sander.
BELT SANDER TIPS:
⚠️ Before you tackle this step, I need to review a few safety things about the belt sander. This thing is very intimidating and can potentially be very dangerous. I have it set on my basement floor because I have more control sitting. But a sturdy workbench will work too.
-Wear short sleeves and do not wear gloves! Lose clothes like sleeves and gloves can get caught and jammed into the belt sander, which, as you can imagine, would be extremely painful.
-Trim your nails. Yes, I have broken a nail by it scraping against the sandpaper, and yes, it hurts.
-Wear goggles or glasses and a dust mask. Dust will be flying all over the place.
-Read the safety instructions of your belt sander for further precautions.
PS: My belt sander is from Harbor Freight, and I'm using 80-grit sandpaper.
 Step 9: Shaping
My machine was off for the photos, but I wanted to show my hand placement when shaping. I always start by sanding the face of the pendant first so that the wood and resin are flush.
Hold the piece against the running belt, being sure to have a firm grip, with your fingertips as far from the belt as possible. Once you have a flush pendant, you can start shaping. Like before, have a strong grip with your fingers safely placed. Always start with one edge and slowly lower the rest of the pendant towards the sander. You don't want the belt to catch a corner and send your pendant flying across the room (yes, it happens). Try to make your pendant as symmetrical as possible, but don't worry about slight mistakes. Hand sanding can fix that.
Notes about using the belt sander for these wood and resin jewelry pendants:
I use the belt sander dry. I have had no issues with the resin melting or getting soft on these larger pieces, but when I shape and sand the face of the pendant, I do lift the part off the sander often so that it doesn't overheat. Some resins will get soft and crumbly when you do this, but the super clear resin stays hard.  It's why I love it for wood and resin jewelry.
But, if you can use water with your sander, do it. Not only does it keep your piece cool, but it keeps everything from getting so dusty.
Step 10: Finishing

Grab your sandpapers — grits 80, 150, 250, 800, 1000, 1500, and 2000.
Lay them out on your table in numerical order from coarsest to finest. This will be your assembly line. The goal is to buff out all the scratches from the belt sander to return the resin to a shiny clear finish. Using sandpaper grit 800-2000 should be done wet.
This step is pretty exhausting and takes at least 40 minutes to get through, but this is the final step before you make your pendant into a necklace.
Typically I will spend about 2-3 minutes sanding per side at each sandpaper station. I have no specific technique, just quick back-and-forth movements. If you notice tiny white scratches going through your pendant in certain spots at the end, it just means you didn't sand enough. When this happens, start at grit 250 and go back through the rest of the papers.
Step 11: Final polish

You can skip this step if you want a more opaque color like mine. But if you choose to have some translucency to your piece, you'll need to polish it. Buff polish onto the resin in circular motions. Avoid using it on the wood parts; sometimes, it can slightly discolor it. Also, polish will not hide or remove any of the scratches left behind from the sanding but will make the resin shinier and more see-through.
I do not polish or seal the wood. I have tried many times with different products to get a glossy look over the wood, but my jewelry always comes out streaky, or the wood absorbs the liquid. So in my process, for now, the wood stays unfinished after the sanding process.
Step 12: Add findings
You can do this step in two ways:
If you have wood at the top of your pendant where you want the necklace to dangle from, then it's easy to screw in the eyehook. Just keep twisting until it is flush with the wood.
But if the top of your pendant has resin instead of wood, you will need to use a power drill to drill a small hole at the top. I will then use a little bit of jewelry adhesive on the screw portion of the eyehook and place it in the spot you created with the power drill.
Enjoy your new wood and resin jewelry!

I love bringing two different elements together to make a beautiful piece of jewelry.
Eager to learn more about making resin jewelry but overwhelmed with where to start?
It's okay. I felt the same way as a resin beginner. It's why I wrote the ebook Resin Fundamentals.  It gives beginners the vital details to make beautiful resin jewelry from the comfort of home. It's the PDF book I wish I had when I started creating with resin!
Originally written by Michele Rober
Unpublished Blog Posts of Resin Obsession, LLC © 2023 Resin Obsession, LLC