Hello, I'm back again to show you how I created this colorful wood and resin pendant using sticks and twigs. I love this project because whenever I go on a trip or experience a memorable event, I pick up a few sticks from the location and make resin jewelry to preserve the memories. I also find these pendants so enjoyable to make because there are so many ways to use the sticks to create different looks and designs within the necklace.
Resin Supplies Needed:
–Jewelry resin
–Mixing Cups and Stirring sticks
–Resin pendant mold.
–Resin Colors
-Sand Paper (80, 150, 250, 800, 1000, 1500, 2000 Grit)
-Sticks and Twigs (dry)
-Power Drill
-Necklace for hanging the finished pendant
Step 1: Mix and color resin
How much resin is needed is all dependent on how many pendants you plan on making. I am making three medium-sized pendants for this tutorial, so I used 1 ounce total of Resin Obsession super clear resin. Because I have been loving the color purple lately, I combined my two favorite shades of acrylic paint by adding one tiny drop of each in the resin and mixing them together. But, acrylic paint doesn't always work and can make resin cure bendy.  Using epoxy colors will avoid flexible resin.

Set mixture aside to let bubbles pop while you work on step 2.
Step 2: Place the Twigs
There's no right or wrong mold for this project, but the resin mold I am using has different-sized rectangles that I like using for long-chained necklaces. Also, I cut off the stems in this mold because I like using screw-in eyehooks rather than large jump rings, which is my personal preference.
There are no right or wrong twigs either. Any size or shape that will fit in the mold will work perfectly. Just be sure they are dry and can easily be snapped.

Just like there is no right or wrong mold and no right or wrong twigs, there is no right or wrong way to place the twigs either. Have fun with it! Do some haphazardly, some nice and neat, whatever your mood is. They will drift a little when you pour the resin, so you don't need to be too precise with placement.  Part of the fun of making a wood and resin pendant is that no two are alike.
💡 Pro tip: Don't stretch the mold to fit the stick. It will create a lopsided rectangle and make sanding more difficult because it won't even out after the resin is poured.
Step 3: Resin Pour
Pour your colored resin evenly into each of the prepared molds. Your sticks will float to the top, but that is what you want to happen. Once the cavities are full, set the mold aside to cure for 24 hours.
Step 4: Pop Out the Pendants
Once the pendants have cured, pop them out of the molds. Silicone jewelry molds are easy to use, push on the back, and fall right out.
The sanding process in thinner pendants can heat the resin enough to make it pliable.  I find that waiting a few more hours minimizes the chances of that happening.
Step 5: Prepare the Work Station
Like in my last tutorial making wood and resin jewelry, you will want to create a sanding assembly line from smallest grit to largest grit. Pictured from left to right are grits 80, 150, 250, 800, 1000, 1500, and 2000. I sand grits 80 to 250 dry and grits 800 to 2000 wet. You'll want to have a bowl of water nearby to dip your wood and resin pendant into to remove the dust.
Pick your favorite to start.
Step 6: Sand the pendant
Eighty grit (pictured) is the coarsest, so I will use it to do the bulk of the sanding process. Keep using the 80 grit until the sticks and the resin are entirely flush, and the resin has no more shine to the front. I usually only sand the front of the pendant, but you can sand all sides if your arms are up for a good workout.
As far as the sanding technique goes, for grits 80 to 250, I usually do a quick back and forward motion making sure I have equal amounts of pressure when pushing on the pendant. I typically use a circular motion for wet sanding using grits 800 to 2000.  I spend about 2 to 3 minutes per side at each sandpaper station to be sure I am buffing out any scratches left from the higher grit sandpaper.
⚠️ Safety tip: Wear a dust mask during this process. You do not want to inhale resin dust.
You should have something that looks like this when you are done sanding. If you find tiny white scratches on your pendant, go back to the sanding assembly line. Start with grit 250, moving back through grits 800 to 2000.
Step 7: Drill
Using the tiniest drill bit you have, push it as far into the drill as possible. I do this because I have more control when drilling into small pendants. Next, find the center of your wood and resin pendant and create a small drilled hole at the top. (You can use a ruler and mark this spot with a fine tip Sharpie.) Do not drill too deep, but only enough to get the screw of the eyehook started. If you used a mold with cast in place holes, you can omit this step.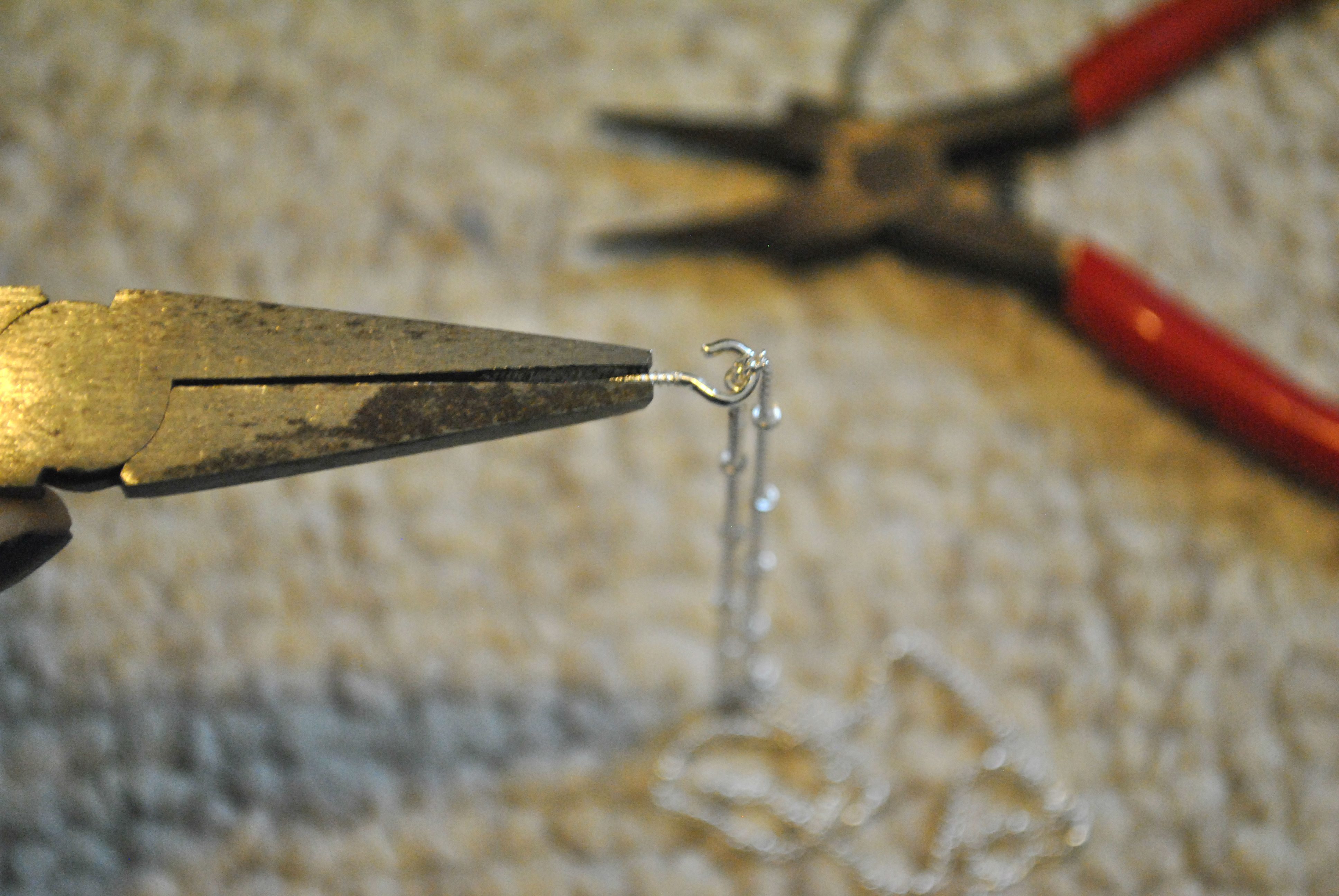 Step 8: Finish Necklace
I find adding the necklace chain to the eyehook easier before screwing it into the pendant. I do this by using two sets of pliers to open the hook slightly and placing the chain before closing it back up.
Next, screw the hook into the hole the drill created until the bottom of the hook is flush with the top of the wood and resin pendant. If you drilled too deep and the hook slides into the pendant with ease, remove the screw and add a little E6000 or mixed resin to the end and slide it back into the charm.
Enjoy your new wood and resin pendant!
Want to be a resin jewelry making pro? Wondering if you will ever get there? I can help! Get a copy of my Amazon best-selling book, Resin Jewelry Making.   It explains the easy-to-follow steps you need to take to be a resin pro in no time.

Originally written by Michele Rober
Unpublished Blog Posts of Resin Obsession, LLC © 2022 Resin Obsession, LLC