What is the best temperature for working with resin?
Did you know that your resin mixing temperature is essential for making sure your resin cures?  Making sure your resin and working area are the ideal temperatures will make sure your resin not only fully cures, but cures crystal clear and bubble free.
Why does the resin mixing temperature matter?
All resin kits (except for UV resin) consist of a resin and a catalyst (or hardener).  By themselves, they don't do much, but when mixed properly, a chemical reaction occurs.  In order for this reaction to complete the way it should, the resin and hardener components, along with the surrounding work area, need to be warm enough to support the reaction continuing.  If you mix the resin together, but your mix or work area is too cold, the resin and hardener mixture is going to lose heat too quickly and not be able to get warm enough to cure.
So how do you make sure you are mixing your resin and hardener at the ideal temperature?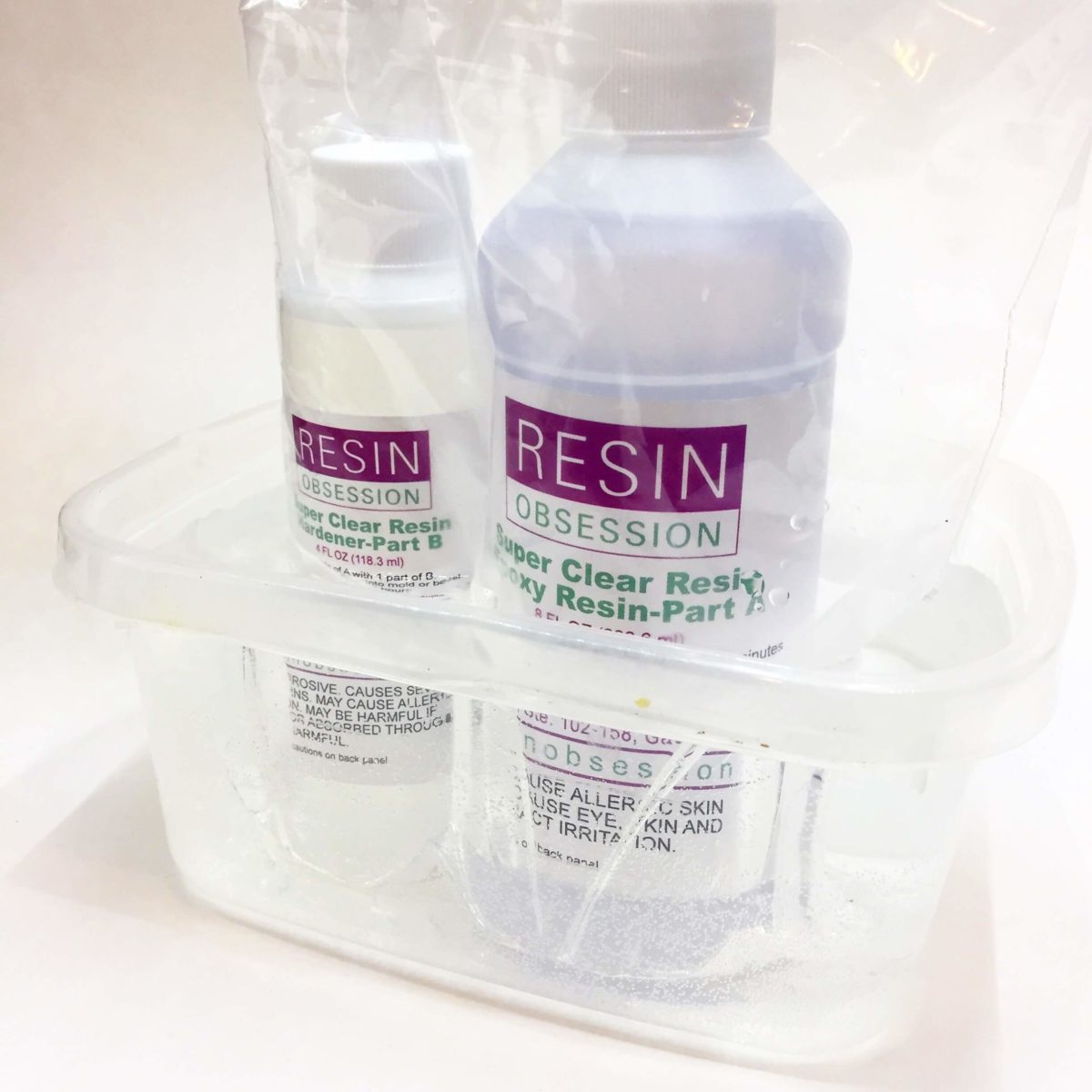 Warm your resin and hardener bottles.  Placing your resin and hardener bottles in a hot water bath (not boiling water — think hot enough for making tea) for 5 to 15 minutes will warm them up nicely for your resin pouring project.  Place the bottles inside a plastic bag before placing them in the water bath so you don't destroy the labels and lose your directions and safety precautions.  Then, before pouring your components, make sure your bottles are dry as you don't want to contaminate your resin with water.  Resin hates water and may not cure.
If the resin is too cold, there won't be enough heat to help get the reaction started.  As a result, your resin may not cure, or may cure soft or with cloudy streaks.  Think of it like this:  remember doing the science experiment in grade school where you put a drop of food coloring in a glass of hot water and compared it to a drop of food coloring in a glass of cold water?  The food coloring in the warm water travels through the water and mixes faster than the drop in the cold water.  The same thing happens with the resin.  A certain amount of heat in the resin is necessary to get things moving.
Pro tip:  Warming your resin and hardener components is also a great way to prevent bubbles in resin.
If you are looking for some ideas on how to warm resin and hardener before use, our cold weather resin casting tips will help.
If heat is great, why not warm the resin up in some boiling water and get it super hot before I use it?
In this case, there is too much of good thing.  Part of mixing together resin and catalyst involves you mixing the two together for a specified period of time in order to get a thorough mix.  If your resin is already very warm when you start mixing, your pot time (amount of time to work with the resin before it starts to cure) will be significantly shortened.  Your resin will begin to cure before you have it cast.
Does the temperature of my resin room make a difference?
Yes, it can make a huge difference!  Ideally, the temperature of the room that you're doing resin crafts in should be about 70 to 75 degrees F.   Below that and your resin may not cure, above that and your resin may cure too quickly.
So what do you do if your resin crafting room is a large area that is hard to heat or cool?  Here are a few ideas:
*Close off a smaller area, like a closet or bathroom and heat/cool that area with a space heater or air conditioner.
*Create a 'hot box' for your resin projects.  You can see how to do that with a plastic bin in our article on how to cast resin in cold weather.
You also need to make sure your resin work area stays at this temperature the entire time the resin is curing.  Otherwise, it may cure soft or take longer than expected to cure.
Struggling to get the results you want when creating with resin?  It's not your fault!  There is so much information out there that knowing the steps you need to take to make something amazing with resin can be overwhelming.  That's why I wrote the book, Resin Fundamentals.  I condensed my more than a decade of experience with resin into a book of the vital details you need to know to get you to resin expert status in only a couple of hours!
Unpublished Blog Posts of Resin Obsession, LLC © 2021 Resin Obsession, LLC