So, you want to make jewelry with resin. Awesome! The first thing you are likely asking yourself is, what do you need to start making resin jewelry? Let me break it down for you in a resin jewelry supply list to help.
Resin
Uh yeah, this is obvious right, but what kind of resin should you choose? For jewelry bezels, the Resin Obsession crystal doming resin will give a beautiful, domed finish to your bezels, regardless of the shape and size. For molds, you need a crystal-clear casting resin like the Resin Obsession super clear resin. This resin mixes thin, making it easy for bubbles to rise to the surface and pop before curing.
If you want to learn more about these resin formulas, then you will want a copy of this resin buying guide.
Mixing supplies
Accurately measuring and thoroughly mixing resin is essential for success, and to get there, you must have the best resin supplies. This includes measuring cups with graduated mixing lines, reusable mixing paddles, and the necessary safety equipment to make sure you stay safe when using resin. If you work with these items carefully, you can reuse them several times, saving you money on your resin projects.
Findings
If you want to make resin jewelry without having to worry about demolding, then metal bezel blanks are for you. Simply add papers, charms, glitter, found objects — here's a list of things you can add to resin — then add doming resin, and you've got wearable jewelry the next day.
If you are using molds, you will need findings to finish the resin charms after demolding. There are many different finding options depending on your style and preferences. Here is a list of finding options for resin jewelry.
Molds
Want more options for creating jewelry with patterns, swirls, and multiple colors? Then resin molds are what you need. All you need to do is find the shape and design you like. We have many molds in our store that not only make fabulous jewelry but also cast with a hole to attach your jewelry finding. This means you don't need to drill to make your jewelry wearable!
Colors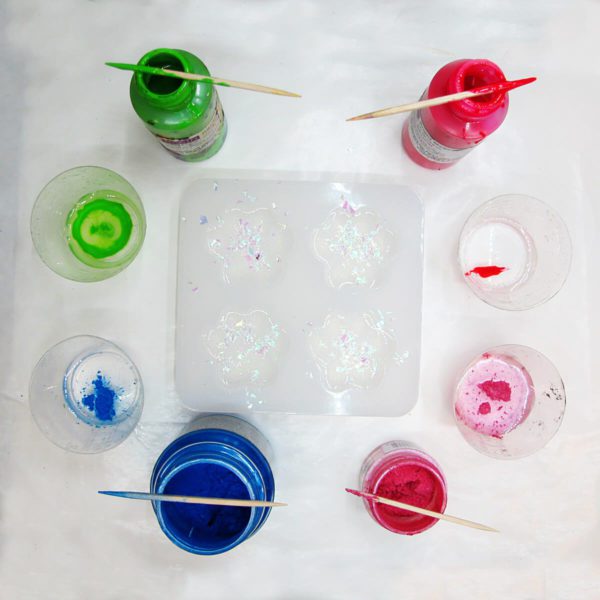 One of the best things about resin is being able to color it anything you want. No more hunting for stones or beads in the color you want. Simply mix the color to make it with resin! Colored resin looks great in molds or bezels.
The easy way to get started making resin jewelry
If you are ready to get started making resin jewelry and want an all-in-one beginner resin kit, then you will love our two kit options:
Get a beginner kit with resin, a mold, and the supplies to get you started with our resin mold beginner kit.
Want to give bezels a try? Then try our doming resin beginner kit which comes with jewelry blanks and the mixing supplies you need.
Do you want more help on what you need to start making resin jewelry? Immerse yourself in the instantly downloadable ebook, Resin Jewelry Making. Learn from my more than a decade of experience creating and selling resin jewelry.
Unpublished Blog Posts of Resin Obsession, LLC © 2020 Resin Obsession, LLC