Interested in making jewelry with resin? Amazeballs. You're going to love making resin rings.
Or resin earrings.
Or resin pendants.
Or resin bracelets.
Or…
Well, you get the idea.
At this point, you're probably asking yourself, what do you need for making jewelry with resin?
Here are the four things to get you making jewelry with resin.
1. Resin
Uh yeah, this is obvious. But, you're probably wondering what's the best resin for jewelry?
It gives a glass-like, domed finish to your bezels, regardless of the shape and size. Plus, popping bubbles is a cinch with this clear epoxy resin.

For molds, you need a crystal-clear casting resin.
The Resin Obsession super clear resin is a first-rate jewelry resin. It cures bubble-free and stays hard, even when you wear it. You won't hear about this resin getting bendy as you do with some other brands.
⭐️ BONUS: Get more details about these resins, plus all the others in our shop, in our resin buying guide.
2. Mixing supplies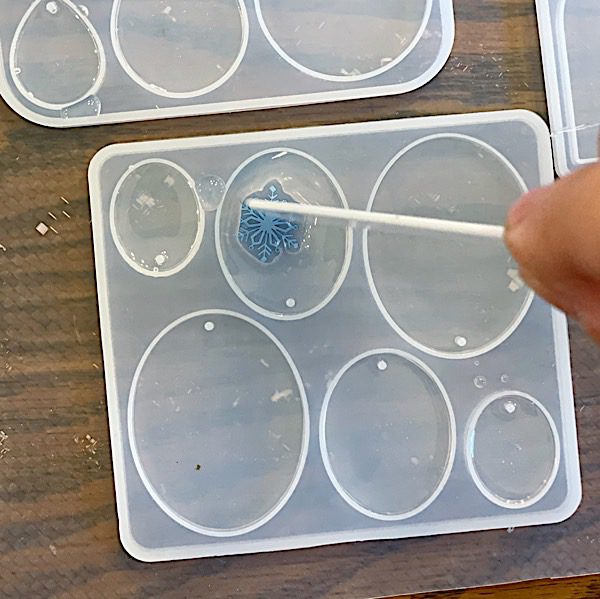 Accurately measuring and thoroughly mixing resin is essential to avoiding sticky resin. That means you need resin tools and supplies like
*measuring cups with measured lines
*resin mixing sticks
*safety gloves
💡 Pro tip: You can clean your resin cups and supplies to reuse.
3. Something to put the resin in
You can use findings
Findings? I didn't realize I had lost anything.
Yeah. I thought that the first time I heard that term too.
Findings is a catch-all term for unused jewelry parts before you use them for jewelry. These include items like:
*jewelry blanks
*bails
*bead inserts
If you want to make jewelry without demolding, then metal blanks are for you. You can add papers, charms, glitter, found objects or most anything really. Then add crystal doming resin, and you've got wearable baubles the next day.
Or you can use resin molds
Pour the resin into a cavity and the mold does the hard work. It forms the resin as it hardens. Once the resin is dry, you remove it from the mold.
Plus, if you use molds that cast with a hole, you don't need to drill to make your jewelry wearable.
⭐️ BONUS: Here's a list of things to include in resin.
If you're using molds, you'll need findings to finish the resin charms after demolding. There are many different finding options depending on your style.
⭐️ BONUS: Here is a list of finding options for resin jewelry.

4. Colors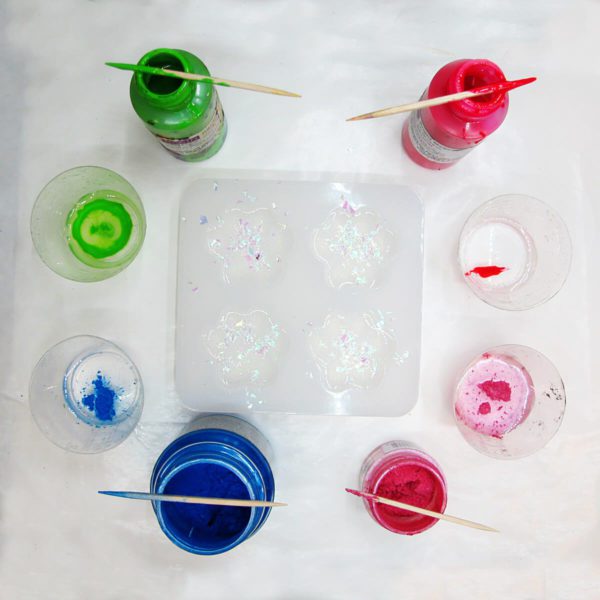 One of the best things about resin is being able to color it anything you want. No more hunting for stones or beads in the color you need. Simply mix in a resin color. it will look great in molds or bezels.
What's the fastest way to making jewelry with resin?
Get started with an all-in-one beginner resin kit
You can make something with resin the same day you receive it.
This resin starter kit comes with jewelry blanks, resin, and the mixing supplies you need.
Ready to fast-track your resin success?
Immerse yourself in the instantly downloadable ebook, Resin Fundamentals. Learn from my sixteen years of resin artist experience.  Buy the PDF book now and get a download link in minutes.
Unpublished Blog Posts of Resin Obsession, LLC © 2023 Resin Obsession, LLC