You're ready to take on an epoxy resin project. (Like these super easy alcohol ink crafts.) So you dive deep into the resin rabbit hole to learn how to make something exquisite. Except when your head surfaces hours later, you're confused about which epoxy resin is the best one. Like read enough descriptions, and they all start to sound the same. (and they promise you everything but world peace)
Or even worse. Maybe you've already used resin only to have a sticky, gooey mess. And you're doubting whether this resin crafting thing is more trouble than it's worth.
I'm glad you're here. Not because you're struggling. But because I can help.
My name is Katherine, and I want to be your resin yoda, young padawan.
For the last sixteen years, it's been my mission to help artists and crafters use epoxy resin to make something they can't WAIT to show off.
All while avoiding mistakes and wasted products. Because I've already done that for you. You can read about my artist misadventures and how I'm fighting the dark side of resin failures.
Let me start by saying that it makes total sense that you'd ask, 'What's the best epoxy resin?'

But here's the thing–
The answer is a little complicated. Kinda like asking
What's the best car?
Where's the best place to live?
Who are the best cats in battle cats?
There's more you need to know before you can answer those questions. Like if it were me, I'd get to know you first.
What do you use your car for?
Do you hate the snow?
Who are the battle cats??
The same thing happens with resin.
You need to know what you're going to make with the resin BEFORE you buy it.
So instead of asking, 'What's the best epoxy resin?'
You need to ask, 'What's the best epoxy resin for what I want to make?'
❌ Because one resin can't do everything.
That means you need to decide what you're making. Then, you can choose the best epoxy for your resin project.
Got that project idea in your head?  Good. Now you must decide if you need a casting resin or a coating resin.
Casting resins are meant to fill a space. They mix in a thin consistency, allowing them to release bubbles quickly. You can pour them in thick layers, but you must use them in something with sides, like resin molds or a table space, because they are a watery consistency. Don't use them to coat a surface because you'll have voids and fish eyes.
Coating resins, also known as doming resins, are designed to coat a surface. They mix syrupy and self-level, giving a glossy surface coating. Because they combine thick, they shouldn't be used in molds because they will hold onto bubbles. Instead, you can use this resin formula to give a shiny finish to jewelry blanks, tumblers, artwork, countertops, tiles, and more.
Okay padawan, let's review.
Because if you get this part right, you're 90% closer to making something FANTASTIC with epoxy.
Filling a space = casting resin
Coating or doming a surface = doming resin
Now that you've decided between a casting resin and a doming resin, you can pick the specific epoxy resin that's best for your project.
How exactly do you do that?
Now's when you need to learn more details about those resin formulas.

Specifically, there are three details you need to know before choosing the best epoxy resin for your project.
Minimum and maximum mixing amount
To ensure your resin cures as expected, you need to mix enough that it gets hot but not so much that the resin flash cures. That means you need to mix between the minimum and maximum mixing amounts.
Pot time
This is the amount of time you have to work with the resin once you mix the two parts together. You may also see this called open time or working time. You need to be sure you don't mix so much resin that you can't use it all in the pot time, and the resin starts to dry.
Curing time
Once your resin is mixed and poured, you must wait for it to harden. Knowing how long this takes helps you budget your time. Because tying up the kitchen table for 3 days may not work for your family. Or maybe it's an excuse to go out to dinner three nights in a row. 😉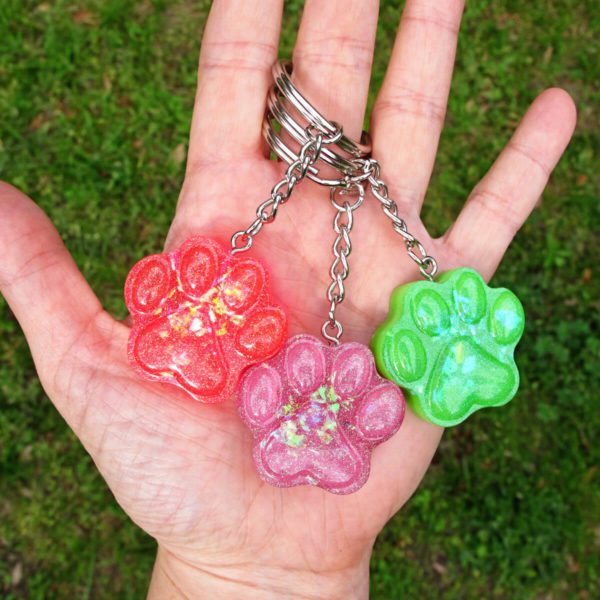 Phew, that's a lot of information. Let's go over this again.
Because this is pretty important, and I want to be sure you've got this down–
If you're using molds, making a river table, or filling a vessel with resin, you need to use a casting resin.
If you're coating a surface, like a countertop, art panel, or tumbler, or want to fill jewelry bezels with resin, you need to use a doming resin.
Once you've decided between those two options, then you can look at details like mixing amount, pot time, and cure time to choose the specific formula.
And here's what I'm really proud of…
When I took over Resin Obsession in 2011, I made it my mission to get artists, hobbyists, and crafters the right resins to make ravashing resin art. (Instead of using whatever you could find and crossing your fingers…)
I work with an incredible team of people to bring you four resin formulas meant for the art market. Formulas that I use myself in my art career.
And they'll work for you too. 🙂
Now — to be completely honest, they might be more than what you need. If you're only looking to try epoxy resin once, then any resin will do.
But, if you're hoping to make something gorgeous, bubble-free, that can turn into a side-hustle art career, then I think you'll love these as much as our tens of thousands of other customers do.
Casting resins:
BEST RESIN FOR RIVER TABLES AND BIG MOLDS: Resin Obsession Deep Pour Epoxy Resin
Mixing amount:  3 ounces to 3 gallons at once
Pot time: 30 to 90 minutes
Cure time:  72 hours
Pour up to two inches thick
Cures hard, durable and bubble-free
No VOCs
UV protectants to guard against yellowing
Toxicologist-certified SAFE resin formula
I used it to make this flower vase.
BEST RESIN FOR SMALL MOLDS: Resin Obsession Super Clear Resin
Mixing amount:  1/2 ounce to 3 ounces at one time
Pot time:  20 to 25 minutes
Cure time:  8 to 12 hours
Won't soften with warmth or body heat
Easy, bubble-releasing formula
VOC Free
Top-notch UV protectants to keep the resin crystal-clear
Toxicologist certified SAFE resin formula
I love this resin for so many projects, but especially for making bangle bracelets. I don't have to worry about them getting soft when I wear them.
Doming resins:
BEST RESIN FOR GIVING A COLORED RESIN COATING: Resin Obsession Artwork Resin
Mixing amount:  3 ounces to 1 gallon at one time
Pot time:  20 to 35 minutes
Cure time:  1 day
Leave clear or tint with resin colors
no VOC's
Self-levels
UV additives to protect against yellowing
Shiny finish
Toxicologist certified SAFE resin formula
Making a new painting for my office was a cinch with this artwork resin. I love how it complements the decor.
BEST RESIN FOR GIVING A CLEAR, GLOSSY FINISH: Resin Obsession Crystal Doming Resin
Mixing amount:  1 ounce to 1 gallon
Pot time:  30 to 50 minutes
Cure time:  24 hours
Beautiful, magnifying effect
VOC Free
Coats evenly to avoid fish eyes
Top-level UV protectants to keep the resin clear and color-free
High gloss finish
Accepts colors readily
Toxicologist certified SAFE resin formula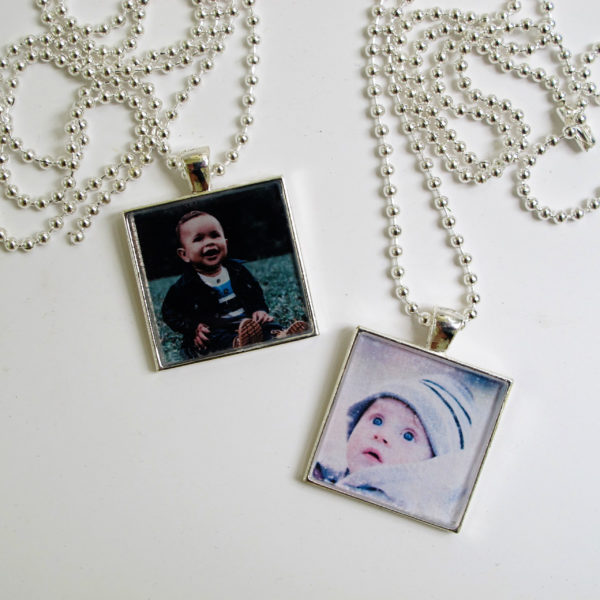 I use it to finish my all-time favorite gift — photo pendants. The high, glossy dome is just what a cute photo needs to make it pop.
Now, if you're like me and can't remember what you had for breakfast some most days…
You don't have to sear this information to memory. (Although I'm convinced I could if only I could flush the Brady Bunch theme song from my head.)
⭐️ BONUS: Get all this information FOR ALL FOUR RESIN FORMULAS in an easy-to-follow, downloadable resin cheat sheet.

Now that you've got your resin, you need resin colors, tools, and supplies for your project.
You can use resin colors to make your resin transparent, opaque, or something in between. The tools and supplies are essential to make sure you measure and mix your resin correctly.
What else do you need to know about using resin?
Plan out your project.
Resin combines well with metal, glass, wood, stone, ceramics, fabrics, concrete, natural botanicals, and paper. There are, however, surfaces resin doesn't stick to, so you want to make sure you aren't trying to include one of them in your project.
Resin is not forgiving of poor techniques.
If you don't measure accurately and stir thoroughly, you'll end up with sticky resin spots, or it may not even cure at all.
Your resin crafting area needs to be warm enough for it to cure properly.
That means your room temperature should be in the low 70s F. Plus, your resin kit bottles should be warm. You can easily do this by placing them in a hot water bath for five to ten minutes before use.
You shouldn't be scared about using resin, but having fun creating with resin means taking care of yourself. That means wearing safety gloves, having good room ventilation, and storing resin properly.

All resins are not the same!
Every resin has different directions, applications, cure times, and more. It's crucial you know all the details about your epoxy before using it so you can avoid a resin disaster.
Ready to try creating your best arts and crafts with epoxy resin but feel hesitant to get started?
I get it.  It's why I wrote the ebook, Resin Fundamentals.  I've condensed my knowledge and experiences into an easy-to-read PDF book for beginners.  It's what you learn from me at in-person classes, but from the comfort of a cozy chair. Buy now and receive an email download link in minutes.
Unpublished Blog Posts of Resin Obsession, LLC © 2023 Resin Obsession, LLC