If you're asking yourself what can I put in resin jewelry, you will love this list. There are so many things that can get put in resin to give it your own creative spin. The possibilities are endless.
Here are ten of my favorite things to include in resin jewelry
Stickers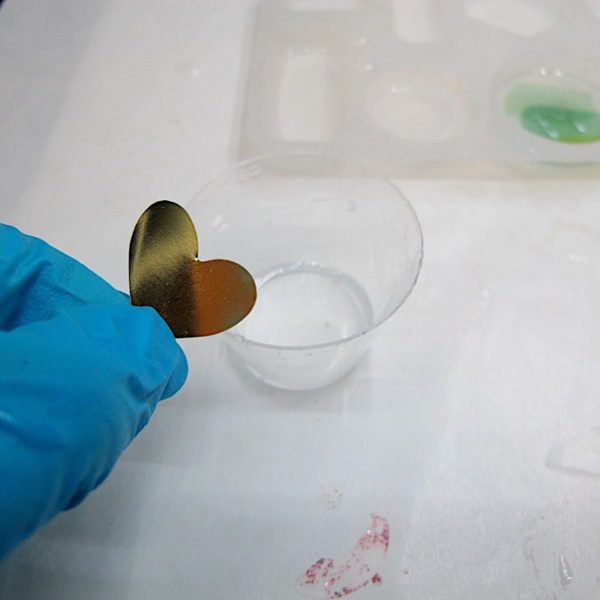 Stickers are the quintessential resin additive. They require no special skills and give an instant sparkle to your resin jewelry.
⭐️ BONUS:  How to use stickers in resin

Candy
Adding candy pieces to resin, especially if it's something seasonal, is an easy way to make something cute to wear. Be sure to seal it first with a clear, polycrylic spray so the pieces will keep their color in resin.
⭐️ BONUS:  Use candy to make Valentine's Day candy heart pendants

Beads
Glass beads of all shapes, sizes, and colors look great in resin jewelry. Vary the shape and colors to give your resin jewelry even more visual interest.
⭐️ BONUS:  See how to use glass beads in a recycled spoon pendant.

Metal leaf
If you've spent any time around here, you know how much I love metal leaf. A little bit goes a long way to give resin a sophisticated look.
⭐️ BONUS:  Here's how to use gold leaf to make a resin ring

Glitter
There's a reason resin crafters say, 'When in doubt, just use glitter.'  It's because you can never go wrong with a little sparkle with glitter in your resin jewelry.
⭐️ BONUS:  Here's how to use glitter and resin to make hair barrettes.

Scrapbooking papers
While I'm not a scrapbook crafter, I'm fascinated by the papers. The colors. The patterns. The textures. It sounds like I should be a scrapbooker, right? So I use them to include my favorites in a jewelry project.
⭐️ BONUS:  Here's how you can use scrapbooking papers and clear epoxy to make earrings.

Transparency papers
This is a favorite resin DIY project. Print attractive designs or photographs onto transparency papers. Trim to fit, then include in your next resin project. Print at home or get sheets printed at a local copy store. Either way, you don't need to seal them before including them in your project.
⭐️ BONUS:  Here's how to include transparency sheets in a resin pendant
Flowers
Is there anything more classic than including flowers in a resin jewelry bezel? It's a unique way to remember a moment or honor a loved one.
⭐️ BONUS:  Here's a resin pendant DIY with baby's breath

Wood
Bring scrap wood and colored resin together to make a resin pendant.  This advanced jewelry project takes extra equipment, but the results are sooo worth it.
⭐️ BONUS:  How to make a wood and resin pendant.

Temporary tattoos
Turn a temporary tattoo into a permanent jewelry design.  No painful needles necessary.
⭐️ BONUS:  How to make a cute resin ring with temporary tattoos.
Bonus
Here are 10 MORE ideas on things you can include in resin.  Easy resin pendant ideas.
Confused about creating with resin?
Don't be!  Buy your copy of the ebook Resin Fundamentals and learn the essentials beginners need to know to create with resin.  In only a couple of hours, you'll understand the important details to make something beautiful with epoxy.
Unpublished Blog Posts of Resin Obsession, LLC © 2023 Resin Obsession, LLC