Who's into resin and recycling? Cool. I was hoping you would say that. Here's how you can turn a domino into a pendant with resin.
💡 Pro tip: If you don't have dominos, you can substitute Scrabble© tiles.
Resin supplies list:
Dominoes
Toothpicks
Clip art or scrapbooking paper
Coarse grit sandpaper
Straight-edge blade knife
Step 1:  Prep the domino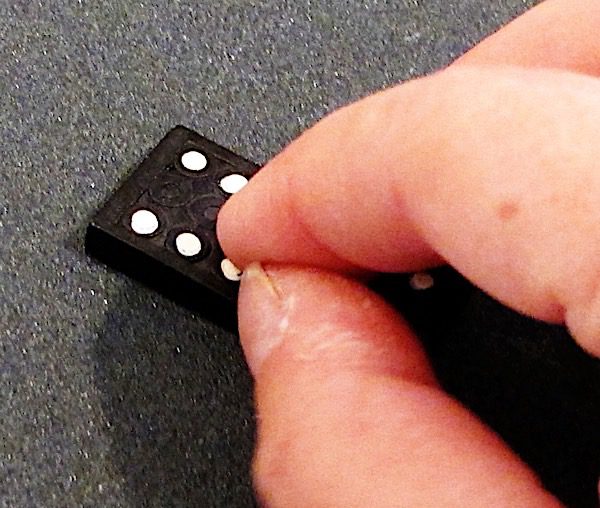 You'll use non 'dot' side of the domino for your resin pendant surface.  Cool fact — those dots are called pips.
Sand the side down to even it out if necessary. You'll need to sand off any ridges or bumps so your paper glues on without divots.
💡 Pro tip: While it's tempting to cover up the dots on the domino, the paper will push down into the indentations. Your paper will have a 'punched' look. Besides, it's fun to show you made your resin pendant with a wooden domino.
 Step 2:  Seal the paper
Seal your paper on both sides with the Mod Podge. It needs to dry for several hours or overnight. If you're in Florida, like I am, drying can take an entire day because of the humidity.
Step 3:  Glue the paper to the domino
Once your paper is dry, prepare it for your domino pendant.
First, apply a thick layer of glue to the flat side of your domino.
Then, place the glue applied side of the domino to the back of your paper.
Let your paper dry.
Step 4:  Trim away excess paper
Once your glue is dry, trim the edge with a straight-edge blade. Get as close as you can to the edge without cutting the piece. You can use scissors if you don't have a blade knife.
Step 5:  Apply more glue
Brush the second layer of glue on your paper, including the edge. Gluing the edge will keep your piece from soaking up stains.
⭐️ BONUS: Here are more details on sealing papers for resin.
Step 6:  Add resin
Here comes the fun part.  It's time to add the resin to your domino pendant surface.
You'll want to use the crystal doming resin for this project for a few reasons. It
*cures with a high-dome
*finishes extra glossy
*evenly levels all by itself
It mixes 1 part resin to 1 part hardener by volume. You'll need about two ccs of mixed resin per pendant. That means if you mix an ounce of resin, it will cover 15 pendants.
⭐️ BONUS: If you have never mixed epoxy resin before, this shows you how to mix resin and hardener.
Drip your resin onto the pendant, a few drops at a time. Then, use a toothpick to draw the resin to the edge.  Drip on a few more at a time until you get the high dome you like.
💡 Pro tip: When adding resin to the surface, add a little bit, then let it spread. This will keep you from adding too much and the resin running over the edge.
Cover your domino pendants with a plastic dome while waiting for the resin to cure.
⭐️ BONUS: How long does it take for resin to dry?
Step 7:  Glue on the bail
Apply a small dot of e6000 glue to the inside of the bail and the back of your domino pendant.
Allow the glue to sit for 2 to 3 minutes.
Then, press both surfaces together.  Remove any extra glue with a fingernail or other small scraper. Allow the e6000 to cure for at least 24 hours before wearing.
💡 Pro tip: Don't worry about scraping off every last bit of glue. Once the e6000 cures, you can trim away any extra with your blade.
Enjoy your domino resin pendant!
Looking for more resin jewelry making ideas?
Join thousands of creators worldwide who've gotten a copy of How to Make Resin Jewelry in Bezels.  It shares 15 jewelry projects that you can make, even if you're a resin beginner. Plus, you'll get my pro tips to help you make something you can't wait to show off. Buy the PDF ebook now and get a download link in minutes.
Unpublished Blog Posts of Resin Obsession, LLC © 2023 Resin Obsession, LLC