You know all those amazing pictures on your phone? Yeah. The ones that you've snapped of family, friends, vacations, and most important — your fur babies? They're begging to be set free. By including them in a piece of jewelry. Like a photo pendant you finish with resin.
And I promise this is something you can do even if you're a resin beginner.
And by the way, a resin photo pendant makes a great gift.
Or keep giving bad gifts. I suppose it depends on how much you like the person.
Step 1: Gather supplies
Your favorite photos as a digital file
Resin Obsession crystal doming resin
Stirring sticks
Mixing cups
Safety gloves
Paper sealer
1-inch square blank pendant trays
Drying mat
Optional:
Paper punch to match the size of your pendant blanks
Step 2: Prepare your photographs
There are many photo editing apps available for this step. My favorite is the free version of Canva.  You can crop and resize pictures to exactly one inch wide by one inch tall.
Then, print your photo onto bright white paper using a color printer.
💡 Pro tip: Color laserjet printers print a crisper picture than inkjet printers. If you don't have a laser printer, many professional print shops do. It will cost you a couple of dollars.
Step 3: Seal the picture
Brush a couple of coats of clear-drying glue on each side. Let your paper completely dry.
⭐️ BONUS: Here's how to seal papers for resin.
What happens if you don't seal it? Your paper stains and your photo pendant will look like something you left in the rain.
Step 4:  Cut out your picture
This is where that paper punch comes in handy. All you have to do is place your printed picture in the punch, then cut. Not only does it come out the right size, but it also comes out with perfectly straight edges.
If you don't have a punch, don't worry. You can cut out the photo for your resin pendant with scissors or a straight-edge blade. (but you might want to lay off the coffee that day. #justsayin)
Step 5:  Glue your picture to your bezel

Apply a layer of glue to the inside of the bezel. Be sure to coat it well, including the edges and corners. Press your paper into the bezel.
Then, coat your photo with another layer of glue. Set the pendant aside to fully dry before going to the next step. If you don't, your resin will mix with the glue and look cloudy.
Step 6: Mix the resin
Using the crystal doming resin is important for this step. It makes a high dome and finishes glossy. That's what is going to make your photo pendant pop.
It mixes 1:1 by volume, meaning you mix 1 Part A to 1 part B by the volume marks.
⭐️ BONUS: If you've never mixed resin before, this article details how to mix resin.
Step 7: Add the resin to the pendant
Add a small amount of the epoxy resin to your pendant, then let it spread. If you add too much too quickly, you'll spill resin over the edge and make a mess.
Because this is a doming resin, it will self-level by itself. That means you don't have to worry about holes and an uneven finish.
💡 Pro tip: I place pendants on one of our drying mats for projects like this. The holes in the mat help the bezels lie flat. The bails (the part that the necklace goes through) can keep that from happening.
Step 8:  Remove bubbles
Go over the top of the photo pendant with a heat gun to zap bubbles. You can use a toothpick to grab bubbles too.
💡 Pro tip: Bubbles tend to get stuck in the corners of the pendant.

Set it aside to cure.
The crystal doming resin is 90 percent cured at 24 hours. Allow seven days for it to cure as hard as possible.
Step 9:  Hang on a necklace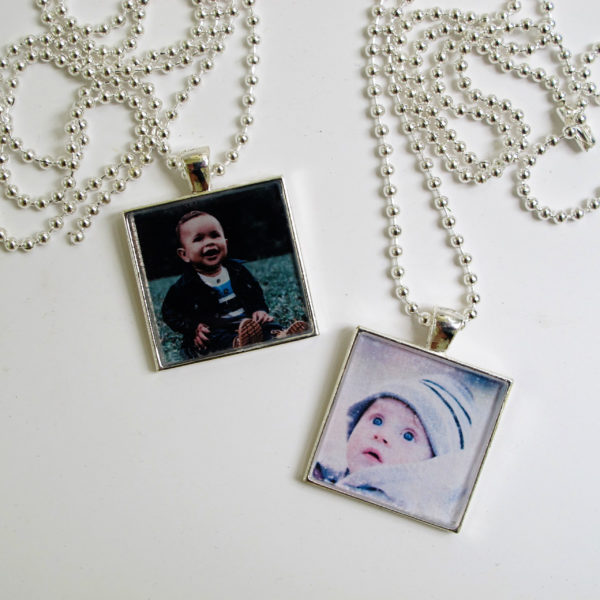 Once your photo pendant is dry, you can wear it on a necklace.
So what's the easiest way to make a photo pendant?
Use a resin starter kit.  It comes with the resin, mixing supplies, and bezel blanks to get you making beautiful gifts in no time. Simply choose your glove size, and you're all set.
Inspired to try more resin projects beyond making a photo pendant?
Then you'll want a copy of the ebook, How to Make Resin Jewelry with Bezels. Learn the basics of creating jewelry with resin in jewelry blanks. It's got 15 projects a beginner can make. Devour the PDF ebook in an afternoon and go from confused to confident with resin!
Unpublished Blog Posts of Resin Obsession, LLC © 2023 Resin Obsession, LLC