The last time you left your resin, you were stoked.  You spent hours creating a masterpiece, then waited for what seemed like an eternity.  Now, you uncover your art only to find that the surface is uneven.  You see pits and voids and ask yourself, why does my epoxy have dimples?
Yeah, that's pretty aggravating.
💡 Pro tip: You can also refer to these dents and holes as fish eyes in resin.  I like how calling it a fish eye somehow makes it sound more exotic and unplanned. But not as much fun as these fish eyes you can read.
Here are a few explanations about why you may have dimples on your epoxy surface:
1. You didn't use the right resin.
When pouring resin to coat a surface, it must mix thick enough so that it wants to stay on the surface.  Not all resins want to do this.  Resins meant for casting, mix thin, and won't self-level.   If you want the best epoxy resin to coat a surface, you need to choose one specifically for that job.  That means you want to use a doming resin for your project.
💡 Pro tip:  If this is new to you, learn more here:  What's the difference between doming resin and casting resin?
Resin Obsession has two doming resins that work great for coatings:
If you want an excellent quality artwork resin at an affordable price, then check out the Resin Obsession artwork resin.  It takes colors well, or you can leave it clear.

If you want a coating resin with our best UV protection, then you will love the Resin Obsession crystal doming resin.  It's great for small jewelry projects and coating tumblers.

2. You didn't use enough resin.
Even if you use the right epoxy resin for your project, if you don't use enough of it, it's not going to cover your surface evenly.  It will pull away in places and create dimples.  Doming resins are formulated to self-level to a depth of one-eighth of an inch.  You need to be sure you mix enough resin to cover your surface length and width to an eighth of an inch deep.
Now before you go all crazy thinking you need to do math, here's where you can hit the easy button.  Use the Resin Obsession resin calculator.  It calculates the amount of resin you need to coat a surface or fill a mold, making sure you don't waste precious resin or get dimples in your epoxy.
💡 Pro tip:  Mix a smidge more than the calculator tells you.  Why?  Speaking from experience, I find I always need a little extra.  I like to have enough to make more of a resin color I'm already pouring or mix a little for a new color.
And if you do have a little extra, you can use it to make this leftover resin ring.
3.  Something is repelling the resin from your surface.
While resin mixes with a lot of things, oil isn't one of them.  While adding liquids like silicone oil or hair serum can create cells in resin, it can also cause dimples in epoxy.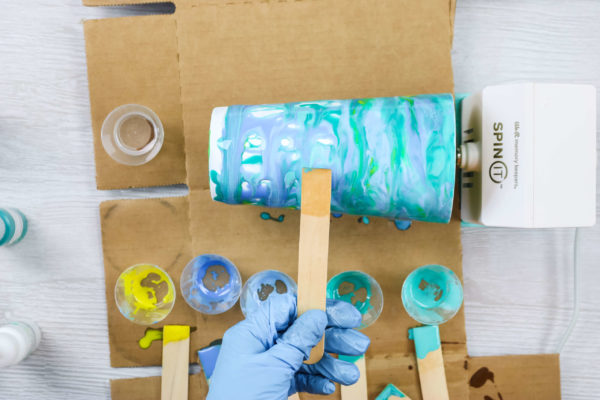 If you are making an epoxy tumbler, you need to make sure the surface is clean before coating it with resin.  Wash with a good-quality soap and water or wipe with isopropyl alcohol first if possible.  Oily surfaces also include wax and tape adhesives, so make sure those are off of your resin surface as well.
4. Your surface has dents and valleys that the resin can't completely fill.
A doming resin only self-levels to 1/8 inch deep.  Even if you use enough resin, the resin isn't going to rise up taller than that without a little help.  This is where using painter's tape or masking tape to create a dam around your project is essential to get the resin to layer deeper.
💡 Pro tip:  Since doming resins are meant to pour in a thin layer, pouring them deeper can mean more bubbles.  You will want to use a heat gun to get rid of those resin bubbles.

5. You manipulated the resin towards the end of the pot time.
I get it.  It's tempting to continue to work on your masterpiece as long as you can.  But, there is a 'point of no return' where working the resin won't let it self-level.  When you work with it right as the pot time is running out, you will get dimples in your epoxy that won't go away before curing.
So what do you do if this happens to you?  I'm so glad you asked!
Here's how you fix dents and holes in your resin painting.
Tired of making resin mistakes?
Good. I've made them all for you! 😜  Instead, learn from my sixteen years of resin experience to fast-track your success.  It starts with getting a copy of my ebook, Resin Fundamentals.  For less than the price of a resin kit, you can buy the downloadable PDF that shows up in your email inbox in minutes.
Unpublished Blog Posts of Resin Obsession, LLC © 2023 Resin Obsession, LLC