I've been wanting to do a resin keychain project for a while now, and quite frankly, struggled most with choosing a shape.  I finally settled on this paw print silicone mold in our store and I'm pleasantly surprised to say that I like these resin keychains a lot!
Step 1
You want to put a little thought into the mold for this project.  What I liked best about this paw print mold is that it fits nicely in my hand and won't take up too much room in my purse.  Since I'm using a silicone mold, I'm also using the Resin Obsession super clear resin to make these keychains.  It is a casting resin, meaning it is specially designed to work in molds.
Step 2
Mix 15 ml total of the Resin Obsession super clear resin (resin + hardener).  You don't need much for this first layer of resin.  You only want enough to fill the paw pads plus a little bit more.
If you have never mixed resin before, you will want to read this before making your keychain:  how to mix resin and hardener in five easy steps.
Step 3
Add in a small amount of Stampendous crystal micro glitter.  You don't need much as you only want the resin to have a slight shimmer to it.  You can always add more glitter if needed.
Step 4
Pour your glittered resin into the mold, only filling the paw print pads and a bit more.  (I will explain more as to why this is important.)

Step 5
After pouring the first layer of your resin keychain, gently sprinkle a few flakes of Stampendous shaved ice on top.  The flakes will sit on top of the resin and adhere to it while it is curing.
Set the mold aside to cure.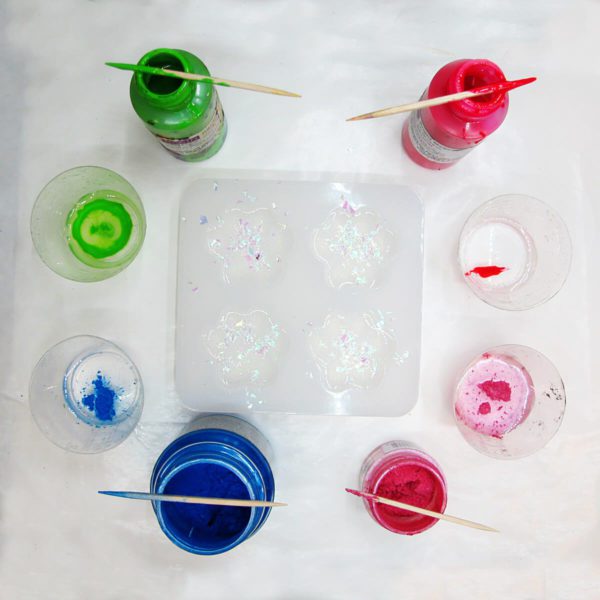 Step 6
For the next keychain layer, mix an ounce total of the Resin Obsession super clear resin.  Then, divide it into separate cups to color it.
With these resin paw print charms, I used (from top left and going clockwise), Resin Obsession opaque green pigment, Resin Obsession bright magenta pigment, Pearl Ex Flamingo pink, and Pearl Ex sapphire blue.  Stir well after adding your colors.
Step 7
Pour the colored resin into your silicone mold cavities, filling all the way to the top.
Step 8
Once your paw print mold is full of resin, set it aside to cure.
Step 9
To demold, peel the mold away from the resin while pulling the keychain charm.

Step 10
I'm using keychain hardware that has an eyepin attachment.  This means I will need to drill a hole in the resin.
To drill, mark the spot with a Sharpie, being sure to mark in an area of colored resin.  This will keep the keychain user from seeing the pin stem.  Take all safety precautions when using a drill, including tying your hair back and wearing safety glasses.
Pro tip:  Start with a drill bit smaller than you think you need.  You can always redrill with a larger size if the hole is too small.

Step 11
Screw the pin stem into the hole.  If you are worried the stem isn't secure, you can add a dot of E6000 or mixed resin to help secure it.
Finished keychains
Your resin keychain project is finished!  Now, where are my keys?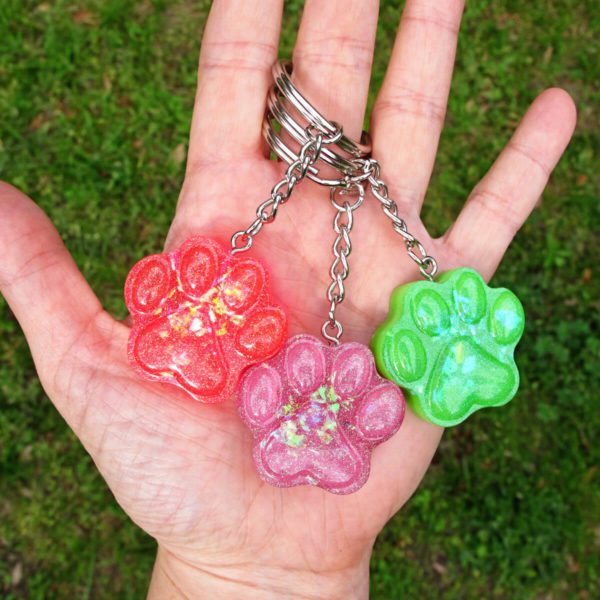 I love how these keychains fit nicely in my hand.  The bright colors will also be easy to find in my purse.
By putting the shaved ice on the resin, instead of mixing it in, it stayed behind the glitter, giving even more dimension to the keychain charms.
If the back of your charms end up having sharp edges, you can sand them down.  Here's how:  How to sand resin.
I liked this mold so much, I made another batch of resin paw print charms to use as magnets.  This time, I opted for larger particle glitter that sank in the resin.
I love that the Stampendous micro glitter is the only one I've ever found that doesn't sink in resin.  It stays suspended and gives a glittery effect throughout.
Technical note
When pouring the first layer of resin, the only reason you want a little bit is that you want the colored resin to take up the back two-thirds of the charm.  That will hide the pin stem when you drill.
Which color resin keychain do you like best?
Want to make your own resin projects but don't know where to start?  Then grab your copy of Resin Fundamentals.  The immediately downloadable PDF book will take you from confused to confident with resin in only an afternoon!
Unpublished Blog Posts of Resin Obsession, LLC © 2021 Resin Obsession, LLC