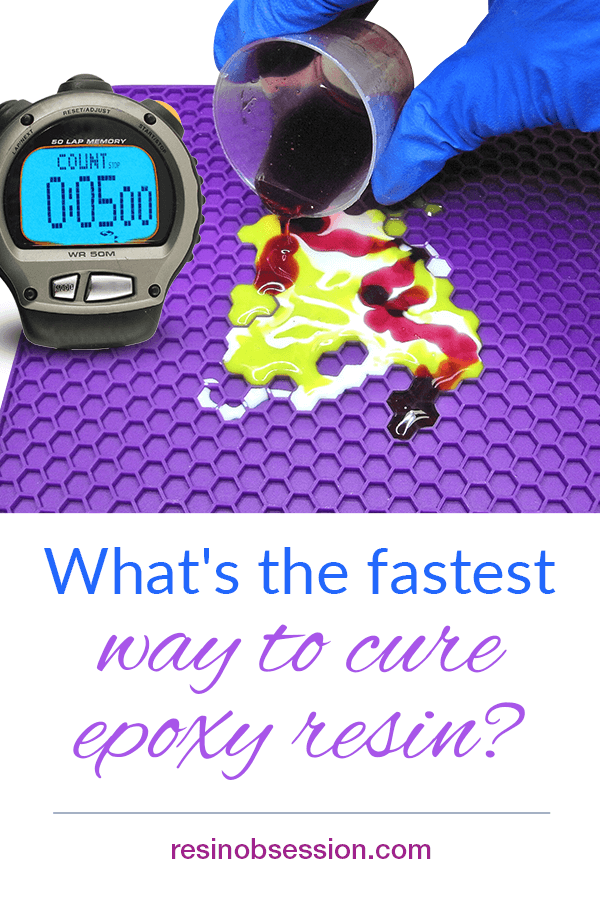 If you're asking yourself how to make resin dry faster, you're in the right place. I'm going to share those tips with you.
But…
It's not without risk.
But with great risk comes great reward. (This guy said that in case you're wondering.)
First, we need to have a beginner resin chemistry lesson.
WAIT! Don't back out now. I promise I'll make it short.
Two-part resin kits contain a bottle of resin and a bottle of hardener. They are sold together and designed to go with each other — like a lock and key.
Once you combine them, a chemical reaction occurs, causing the mixture to heat and solidify. Without heat production, the combination would never harden.
Likewise, if your resin casting area isn't warm enough, the mixture won't harden because it can't stay warm enough. The surrounding environment has to support the reaction with warmth.
That means we can speed up resin curing by attacking one or both of those variables: the warmth of the reaction and your casting area temperature.
Warmth of resin reaction
1. Warm-up your clear casting resin bottles in a hot water bath for about five to ten minutes. By warming the bottles, you can jump-start the reaction with extra heat. This will make the resin dry faster.
⭐️ BONUS: If you want to see how to do this, check out the article what temperature should I mix resin.
2. Once you've used the resin, apply extra heat. You can do this with a heat gun or propane torch. But be careful. There can be 'too much of a good thing.' Applying too much heat in one area can make that spot cure quickly. Your resin can also crack. If you don't believe me, see what happens when your resin overheats.
Casting area temperature
Resin likes a temperature in the low 70's F or low 20's C. So what are some ways you can raise the temperature?
1. Create a resin 'hot box.' Increasing the resin working area's temperature can make resin dry faster. You can use a lamp with an incandescent bulb (do they even make those anymore?) over the resin. It produces enough heat to keep the air warm.
You can also add a heating pad to your resin hot box to create warmth.
⭐️ BONUS: Learn how to create a resin hot box in this article with cold weather resin tips
2. Cast your resin outside if the temperature is above the 70 to 75 F temperature range. The air temperature needs to stay above this temperature for the entire drying time.
3. Cure your resin in a warm oven. A 150F toaster oven is excellent for helping resin to cure faster.
⚠️ IMPORTANT: Once you've used an oven for resin curing, don't use it for food purposes again.
How should you NOT make resin dry faster?
❌ Don't add more hardener than the resin kit directions say. This can reduce the pot time of your resin, and it may start to cure before you get it all poured.
❌ Don't use a different hardener than the one that came with your kit. Hardener for jewelry resin is not the same as hardener for deep pour epoxy.
❌ Don't mix more than the maximum of each component than what the directions say. Your resin and hardener will heat up too quickly and flash cure.
⭐️ BONUS: We've got all the maximum mixing amounts for the Resin Obsession epoxies in our resin buying guide.
❌ Don't add anything extra like solvents to get your resin to dry faster. This can make your resin cure bendy.
Want to know a secret? Creating with resin is easier than it looks if you have the right help.
I've guided thousands of resin crafters worldwide, and I would love to help you too. I wrote the ebook Resin Fundamentals with the aspiring resin artist in mind. Learn from my fifteen years of resin artist experience. Once you follow these specifics, you won't believe how easy crafting with resin can be. Buy the downloadable PDF book now, and you can read it in minutes.
Unpublished Blog Posts of Resin Obsession, LLC © 2023 Resin Obsession, LLC