So you've decided to give resin a try. Awesome. You're in for a fun way to make art, crafts and jewelry–even if you're a resin beginner.
But you know what makes me sick? (besides gas station sushi)
When amazing creatives like you get dragged down with resin details.  Especially when they're inaccurate, misleading, or don't tell the full story.
(I'm guessing this isn't the first page you've read today about how to make resin crafts.)
I've been a resin artist for more than 15 years and I'm not going to lie.  There were days that were hard.  Like ugly cry hard.  And when I started crafting with epoxy, there wasn't the plethora of information that's there for you know.  I had to figure it all out myself.
So the first thing you should know:  The overwhelm or hesitancy you're feeling right now is not unusual.
It's normal to not want to
*squander your time
*waste your money
*make something ugly
I get it. You're searching for a simple way for beginners to make something with resin.
The second thing you should know:  I've lived all the resin stuff.  I've made the resin mistakes.   I'm not just some website trying to sell you crap supplies or get a bunch of eyes on the page to sell advertising.
This isn't some rando person writing about resin because they've been hired to do it.
And know nothing about the topic.  (I've got drips on my countertops to prove it.)
Yes, I want you to buy your resin supplies at Resin Obsession, but I do have a conscience.  I'm going to give you the best freakin' resin advice I can.  Then you can decide if we're a good fit for each other.
Ready to press the easy button? I've gotcha.
Step 1: What are you going to make with resin?
Knowing what you are going to make is essential to choosing the best resin for your beginner project. Resin to coat artwork is not the same resin you use in molds.
So how do you know which resin you should use?
Answer this question: Are you using the resin as a coating or to fill a space?
Whoa. I didn't know there was going to be a test.
Don't worry. There isn't.  But, the first step I see resin beginners take is to buy resin before they ever know what they're going to make. And then they wonder why they have
*Bubbles (which should be #21 on this list)
*Fish eyes, divots, and dimples
*Uncured, sticky resin
Resin for coatings is not the same as resin for filling.
If you want a shiny, glossy finish on
*tumblers
*jewelry blanks
*art canvases
*photographs
*countertops
*tiles
Then you want to use a resin for coating, also known as doming resins. You'll get that beautiful, glass-like finish that covers evenly.
If you want crystal-clear
*mold projects
*river tables
Then you want a casting resin. They're able to cure bubble-free and durable.
The good news is that Resin Obsession sells both kinds of epoxy resin.
Now despite what you've read, there isn't a one-size-fits-all resin.
Sure, you can use one resin to make everything you want, but you won't be happy with the results.
I've got more resin reading for you beginners if you want extra credit points for that non-existent test:
⭐️ BONUS: What's the best resin for jewelry?
⭐️ BONUS:  Get the unconventional truth about what resin to use.
⭐️ BONUS: How to choose the best epoxy for the job.
Step 2: Prepare your resin work area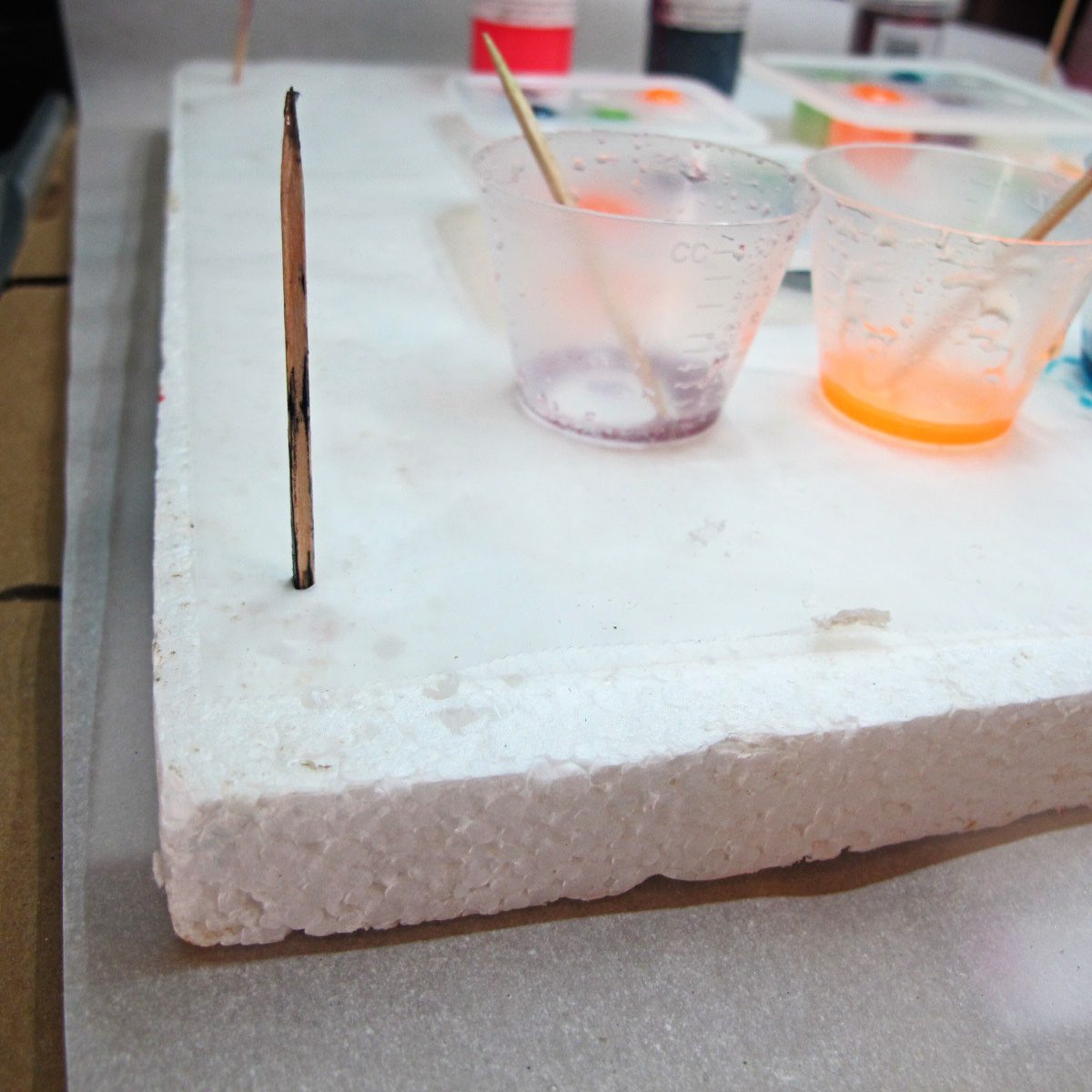 Working with resin can be messy. (Or in my case, will be messy.)
You need to protect your area with suitable materials to ensure the resin doesn't ruin your desk or table. You can use a silicone baking mat as a protector or tape a garbage bag to your table.
⭐️ BONUS: If you don't have either of those items, here are surfaces resin won't stick to.
Step 3: Understand resin safety
Resin kits are chemicals. You should treat them with care and respect. (Much like a Nirvanna CD from 1992)  Wear safety gloves and work in a well-ventilated work area.
Now I can't make you do anything. I fail at getting three teenage boys to pick up their dirty socks.
So instead, go into it with the 'safety third' mantra from this guy.
SPOILER: It explains that we can't expect every possible outcome. Beginners need to do what you think is best for keeping yourself safe when crafting with resin.
Cool?
⭐️ BONUS: Here are the resin safety precautions I take.
⭐️ BONUS: Take a walkthrough of my resin studio so you can see what 'proper ventilation' means to me.
Step 4: Buy your resin supplies
Besides resin, you'll need measuring cups, mixing utensils, and safety gloves. You may want resin colors and resin molds for your beginner project.
⭐️ BONUS: Here's an extensive list of resin supplies you need to start casting
⭐️ BONUS: Must-have supplies for making resin jewelry
⭐️ BONUS: Resin art supply list
Step 5: Plan out what you are going to make
Didn't we already do this in step one?
Yes, from a big picture point of view. But now's the time to plan for what beginner resin projects you'll make. Think about your space, steps, and the time it's going to take.
Once you mix the resin, you only have a limited time to use it. You don't want to waste precious time figuring out the details of your resin project (which is a common challenge for beginners).
⭐️ BONUS:  If you're stuck for ideas, here are 15 easy crafts perfect for resin beginners.
Step 6: Mix and pour the resin
Yes. It's about time, right?
Carefully measure and thoroughly mix your resin. Then, use your resin right away. You only have a limited time to use it once it's mixed.
How do you know how long you have to use it after mixing?
That number should be included with your resin kit instructions. (You'll see it called the open time, pot time, or working time.)
⭐️ BONUS: We've got those details for you in our resin buying guide.
But wait there's more! (in the buying guide that is)  You'll get all kinds of cool stuff like whether the resin is a casting or doming resin, making it easy to buy the right one.
⭐️ BONUS: If you're a visual learner like I am, here are five easy steps to measuring and mixing epoxy resin. The article has pictures and videos.
And still no test. 😉
Step 7: Let the resin cure
Cover it with a large container to keep dust and hair from the resin while it cures. It helps if the container is see-through so you remember why it's on your table. (If you can barely remember what you had for lunch today.)
Leave it for the cure time (also in that FREE resin buying guide that I wrote especially for beginners to get you on the right track).
Step 8: Finish your work
Once your resin dries, put on the final touches. You may need to add jewelry findings to make resin charms wearable or sand off sharp resin edges. With resin art projects, you may need to remove drips from the back of your artwork surface.
And the most important step. Marvel in your creativity.
Want more information for beginners on how to get started with resin? I want to help. Resin Fundamentals is the downloadable PDF book that can get you to resin pro status. Buy now and get a download link in minutes. Read the book in only a couple of hours.
Unpublished Blog Posts of Resin Obsession, LLC © 2022 Resin Obsession, LLC