You know that thing you keep telling yourself. Yeah. That voice that says you aren't creative? Well, you need to tell that voice to ZIP IT. Here are 15 easy crafts you can make. At home. With resin.
Now if creating with resin is new to you, don't worry. You can still do this. Go read how to get started with resin, then come back to this article. I'll be waiting.
Making a paperweight to decorate a desk or table is one of those projects for all resin skill levels. This is one of my fav easy crafts project. You don't need to follow any specific rules other than making sure you measure and mix the resin correctly. (TBH, you need to do that any time you mix resin.)
You can add in all kinds of fun stuff. This is a terrific project to preserve memorabilia and trinkets.  Get good at this project and you'll want to make make a paperweight with resin for flowers.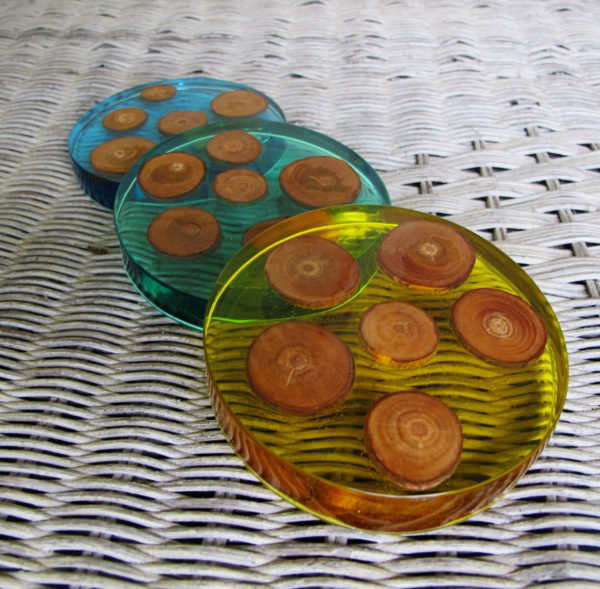 I don't know if these coasters are more fun to make or give as gifts. I love how they have a 'man-cave' vibe even though they are handmade. What guy wouldn't like getting these for a gift? The hardest part will be choosing your resin colors.
You don't have to paint with resin to make a beautiful wall hanging. This is one of those easy resin crafts that doesn't require resin skills, but does need time and patience. You'll use a premade box and add the resin in layers, adding fun stuff to each layer. It's the perfect item to have on a shelf or entryway.

The tree of life represents our connection with everything.  It's a beautiful reminder of our place within nature and how we connect. And don't worry, there's a super easy trick to get the tree of life onto your coaster. You will love how these look on your coffee table. Plus, they make a great housewarming gift.

Love canvas art but wish it had an extra shine? Epoxy resin to the rescue! You can add a layer of doming resin to give it a glossy finish. But, you need to make sure it's the right one, so you don't have a resin surface full of dimples, dents, and divots.

But, if you have painting skills, you can paint the fish onto resin yourself. This epoxy project requires patience as it takes a few days to create. But you'll love how it makes the resin look three-dimensional. You won't believe these fish aren't real. (and once again these fish don't need feeding.)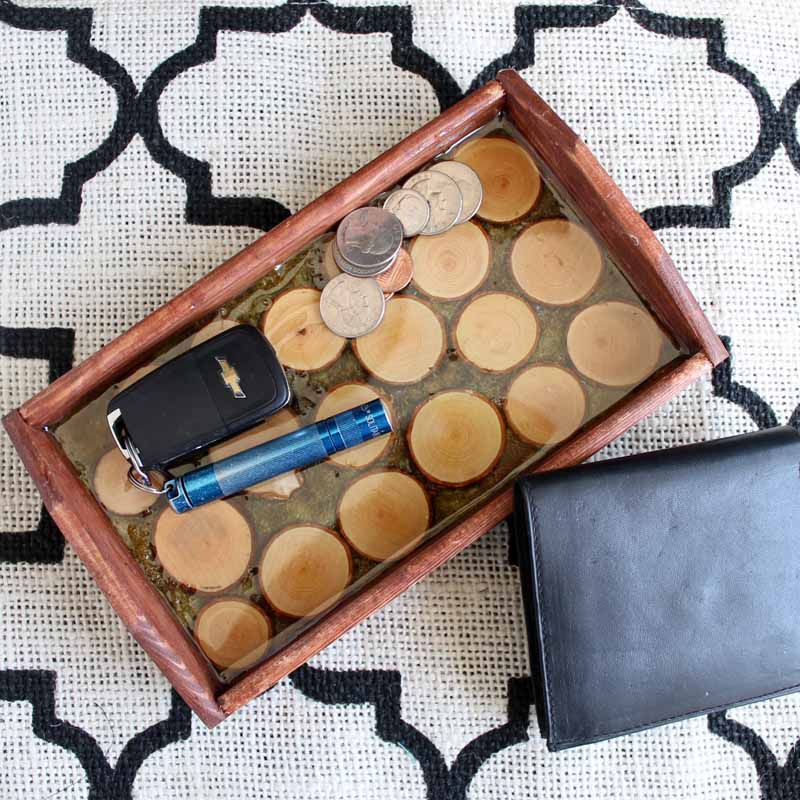 How many times have you lost your keys because you toss them somewhere only to forget where that is? Instead, make a tray with resin that will serve as a landing spot for your keys, phone, and anything else in your pocket. It also gives a cozy, rustic look to your home's entryway. Let people think you bought this from some bougie shopping store instead of making easy crafts at home.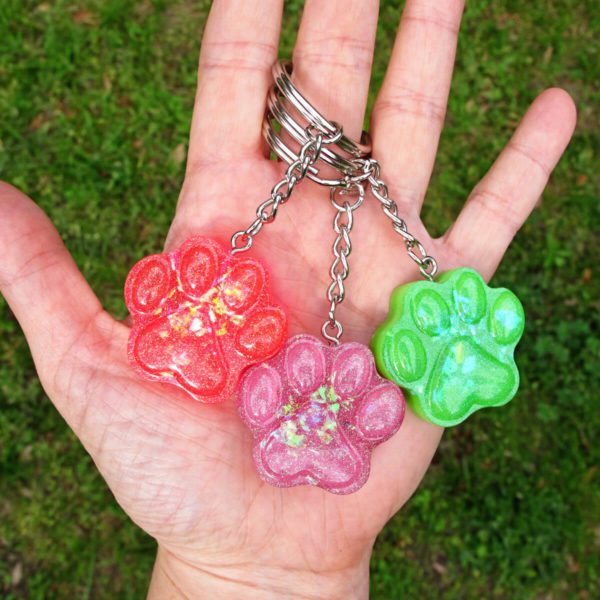 Speaking of lost keys, maybe the trick to not losing them is by making a key ring that's hard to lose. Blend that with a love for animals, and you've got the best afternoon crafting project. Your car keys will thank you. And so will your family when you can get out of the house on time…
If you've got some word-working tools, you've got options for making resin jewelry. After combining resin and wood, cut and sand the resin into unique shapes. You can connect scrap wood with resin to turn it into something inventive.
Where are my people who like wearing big, chunky rings? Then I've got the easy crafts project for you. It all starts with a funky ring mold. Use a resin for jewelry, add some flashy resin colors, then pour into your mold. The hardest part of this project will be waiting for your resin to cure.
Are you looking for a way to unplug from technology? Or maybe when the technology unplugs from you. (thanks down wifi) How about going old school with a board game? Especially if it means that you can use your resin skills. This tic tac toe set also travels well, meaning it's already called shotgun for your next road trip.
Combine resin with another one of your passions for this project. Find something you love, like dried flowers, brick toy pieces, beads (you get the idea), then add to resin. Pour it into a business card holder mold and you've got two of your favorite things on your desk.  Throw in a cat on your desk and it's a trifecta!

Where are my nature lovers? This easy project will make it to the top of your favorite crafts list. Especially when the weather turns colder. Start with the metal leaf earrings, then add clear or colored resin. Add sprinkles, glitters, or beads. Then let the resin cure. Yes. It's that simple.

This is the quintessential classic of all resin jewelry projects. There's nothing like wearing a stylish resin bracelet, Especially when you made it yourself. You've got endless color possibilities with this one.

Okay, using resin in earring molds is my favorite of all the easy crafts on this list. Why?  Earring always fit. Plus, they add a sense of style, even if my hair is a hot mess. If you like them colorful, then you will love using alcohol tints to make these Petri-style earrings.
Ready to take on more easy crafts with resin but need help getting started?
Then you will love my ebook, Resin Fundamentals. I wrote it with the resin beginner in mind. Instead of feeling hesitant to get started, read this book the same day you buy it. You'll feel confident to tackle your first or next resin project.
Unpublished Blog Posts of Resin Obsession, LLC © 2022 Resin Obsession, LLC