Not only is resin jewelry fun to make, but it's an awesome way to spend an afternoon with creative time for yourself.  And when you're making resin jewelry, you can keep your epoxy resin clear, or you add colors and found objects to your resin.  Plus, you can mold it into unique shapes.  The possibilities are endless.
Here's what you need to know about how to make resin jewelry that will make you look like a pro.
Step 1: Get ready for your project
Please don't skip over this part.  I get that you want to jump into a project, but I'm helping you avoid an ugly cry moment later.
Make yourself aware of your resin's pot time and cure time.
Pot time refers to the amount of time you can work with the resin after it is mixed until it starts to cure.  Don't mix any more resin that you can comfortably use during that time.  The cure time is the total amount of time needed for the resin to completely cure.
💡 Pro tip:  There are many more terms you might run into when using resin.  Bookmark this resin vocabulary page so you can refer to it later.
Choose your crafting area carefully.
Protect your table with a non-stick surface.  Have a clear dome (like a plastic storage container) to cover your resin charms while they are curing.  There's nothing like a little dust or cat hair to ruin your curing resin.
Resins best cure at a temperature in the low 70s Fahrenheit which could mean you may need to run the heat or air conditioning if your room is outside of these temperatures.
You need to wear gloves to protect your hands in addition to having adequate room ventilation.
Read these safety articles so you know how to properly handle and dispose of your resin.
If you want to cast your resin with something inside it, you need to prepare the item before mixing your resin.
Completely seal your image or finding with a clear-drying glue such as Mod Podge.
💡 Pro tip:  How do you know if you need to seal something before including it in resin?  Ask yourself if getting it wet affects the appearance.  If the answer is yes, then you need to seal it.
Step 2: Prep your mold
When using a resin mold for a project, mist it with a light layer of mold release.  This will keep the resin from sticking to the mold, especially if something should go wrong.
Step 3: Mix the resin
Follow the label directions.  Precisely.  You need to mix a specific amount of the resin (Part A) with a specific amount of the hardener (Part B).  Don't go a little more or a little less.  Use graduated mixing cups so that you can be exactly sure of the amount you are pouring.
By the way, there is no set of universal resin mixing instructions.
💡 Pro tip:  Use two separate cups for measuring; one for resin and one for hardener.  If you over pour one or the other into separate cups, you can return it to its original container without contaminating your entire stock.
Stir the resin carefully with a stirring stick.  While you should expect a few air bubbles, do not mix too roughly, or you will end up with more air bubbles than your favorite fizzy drink. Stir the cup for a minute or two, making sure you scrape the sides of the cup with your mixing stick.
The video below shows resin mixing in action:
Step 4: Color
If you're adding colors, glitter, micas, etc., add a drop or tiny amount and mix.  Add more if needed.
Step 5: Use it (or lose it)
Add the resin to your mold or bezel.
💡 Pro tip:  If you want to add something (such as a bead or picture) pour a tiny bit of resin in first, then place your item in, otherwise, you may trap an air bubble underneath.
Step 6: Check for bubbles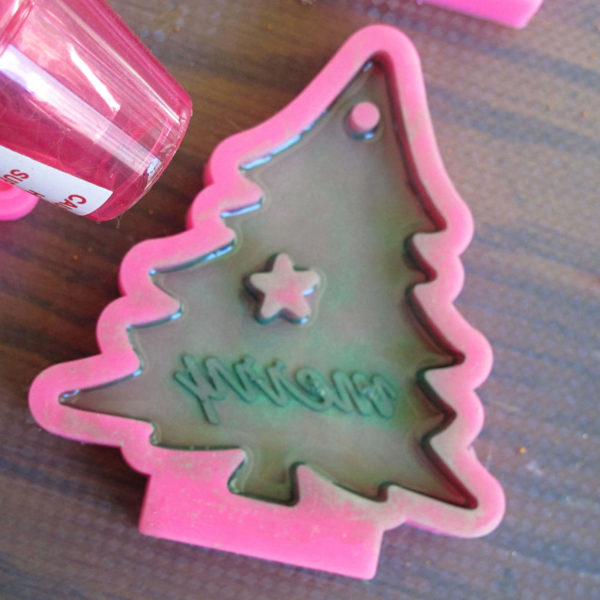 Even if you carefully mix your resin, you'll have a few bubbles to deal with.  Use a heat gun to get the ones that stubbornly stick around.  Some people use a propane torch or lighter, but not only can you start a fire (BAD), you can also damage your mold and it permanently sticks to your resin (MORE BAD).
Check your projects again several times over the next hour as more bubbles may have shown up.
Step 7: Finishing
Wait until your resin is fully formed before touching it.  Then, you can demold them by gently twisting the mold while grabbing the edge.
Trim any excess resin with scissors or sand the edges with sandpaper.  Start with a coarse grit wet/dry sandpaper (400 or 600), then work down to very fine grit sandpaper (1500 to 2000) to get a smooth edge.  If you need to do a lot of sanding, sand the charm underwater so you do not breathe the dust.  (Not you, just the charm.)
You can use a Novus polishing kit to give your cured resin an extra shine.

If you created resin charms, you will need to add findings to make them wearable.  Otherwise, if you used 'ready to wear' bezels, you should only have to add a necklace, ear wire, etc, to be able to wear them.
Looking for more resources on how to make resin jewelry?
I wrote the resin ebook, Resin Jewelry Making, with the beginner in mind.  I've concentrated on the details beginners need to know to make something you can't wait to show off!  Buy the PDF book now and you get a download link to your email in minutes.
Of course, the easiest way to get started is with a resin kit for beginners.  It has everything you need to make jewelry the same day you receive it.
Unpublished Blog Posts of Resin Obsession, LLC © 2023 Resin Obsession, LLC