Ready to try making resin crafts with epoxy? Yeah! Get ready for a ton of fun.  As you gather your ideas, though, you see so many resin choices. It's enough to make you hesitant to get started.
How are you supposed to know which is the best epoxy resin for crafts?
It's okay. I've been there too. I was just as confused when I started almost 15 years ago. I made a lot of mistakes, plus had more than a couple of ugly cry moments. Eventually though, I was able to learn a few essential secrets to making something beautiful with resin. So let me walk you through what you need to know about choosing the best epoxy resin to make your crafts.
Do you want the resin to fill a space or coat a surface?
Resin is resin, right? Like why does this matter?
Because there is no 'one size fits all' resin.
Yep. That's right. You can't buy one resin to make every craft you want to with resin. Each formula has specific properties to make sure you get the best results possible.
If you are going to fill a mold or another open space with sides to contain the resin, you want to use a casting resin.
These resins
*Mix in a thin consistency, so they release bubbles easily
*Can be poured in thick layers
*Cure hard and durable
Best small pour casting resin
Resin Obsession super clear resin
This is my go-to resin for making small mold projects. You can mix up to three ounces at once. Then, pour it into your mold, and it's ready to demold in under 12 hours! Plus, it contains top-level UV protectants to ensure your resin stays clear for a long time.
Do you know what else I love about this resin? It cures hard and durable. That means resin rings and resin bracelets won't soften with body heat. Jewelry made with this resin maintains its shape beautifully!
Here's a tic tac toe game set I made with the super clear resin.
Best large pour epoxy resin
Resin Obsession deep pour resin
This resin works great for making wood river tables. The thin consistency of the resin means it can fill cracks and holes in wood for complete penetration. The slow-curing formula avoids overheating and resin cracks. Plus, you can pour it up to two inches thick at once. Should you need a resin layer deeper than that, simply let the resin partially cure, then pour your next layer. Mix and pour as little as 3 ounces to as much as 3 gallons at once. Tip: you can also use this thick pour epoxy for casting large figurines, paperweights, and orgones.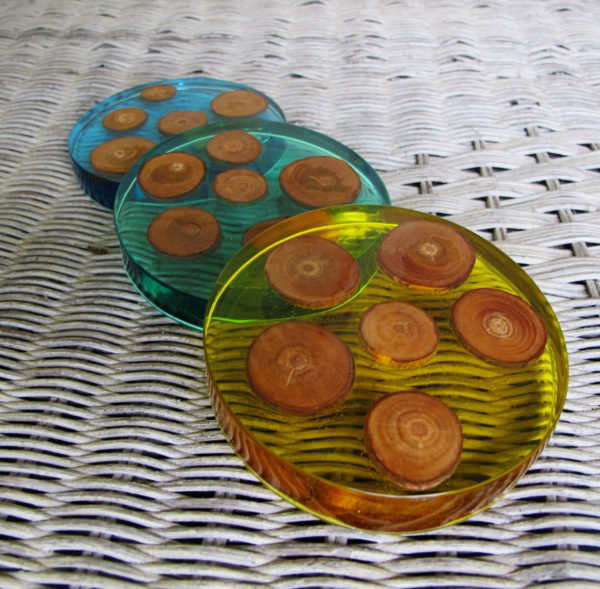 In fact, that's how I like to use it! Here are resin coasters I made with the deep pour epoxy.
If you want a resin to coat a surface, like giving a glossy coating to a tile, recoating a countertop, or covering a drink tumbler, you need a doming resin.
This formula
*Mixes thicker
*Clings to a surface better and makes it easier for you to avoid holes and fisheyes in resin
*Self-levels to produce an even finish
Because they mix thick, though, you shouldn't pour them in layers deeper than 1/8 inch because all the bubbles may not escape before it starts curing.
Best clear craft resin for coatings
Resin Obsession crystal doming resin
This is my epoxy resin of choice when I need a beautifully clear, glossy finish on my jewelry bezels, tumblers, artworks, and photographs. It contains our best level UV protectants, plus it has a thirty to fifty-minute working time. So if you are anything like me and find that time gets away from you once your resin is mixed, you will love having the extra time. Plus, it cures durable, so I never worry about my jewelry looking scuffed.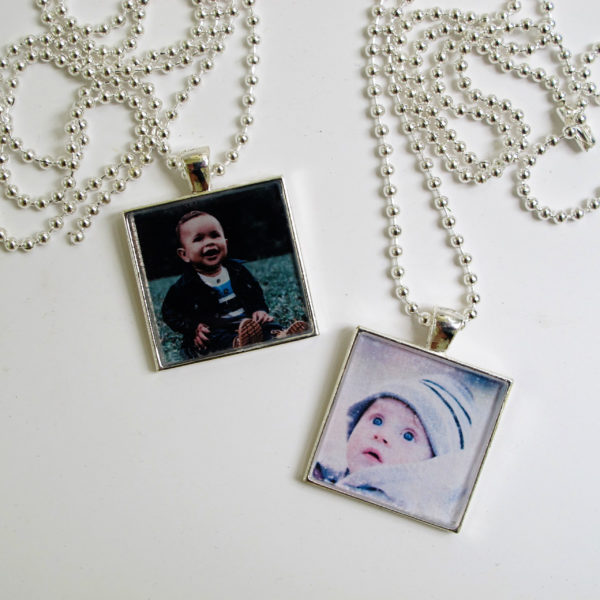 I used the crystal doming resin to make these photo pendants. I love how it gives a glossy finish to the photos and makes them pop out of the bezels.
Best craft resin for coloring
Sometimes though, you need a resin that's a great value, especially when you're coloring it. That's where our artwork resin comes into play. It takes colors well. They don't sink or fade and keep their beautiful hues for years. In case you decide to keep it clear, don't worry. It does contain UV protectants to guard against yellowing.
This resin also has a shorter working time, which comes in handy when pouring colors. In addition, the thickness of the resin means your colors are less likely to blend and make a muddy, undesirable color.
I love this epoxy resin for all my colored resin painting projects. For example, I used it to make this ocean-themed resin painting.
Whichever of these epoxy resin for crafts you choose, rest easy using them for your next project. They are all
*VOC free
*Toxicologist certified safe for arts and craft use
*Conforms to ASTM D-4236, which is the highest government standard for art material safety
*Made in the USA
We still recommend exercising good care when using these resins. Please follow resin safety precautions, which include understanding how to use your resin, wearing safety gloves, and working in a well-ventilated area.
How do you mix epoxy resin for crafts?
Once again, all resins don't mix the same way. Read and understand your epoxy resin directions entirely before starting your craft. Some use equal parts of resin and hardener (parts A and B), while others measure more resin than hardener.
Once your parts are measured, pour together, and stir until the resin mixture is clear and streak-free. This will take two to three minutes, depending on how much resin you are mixing. Make sure you scrape the sides of your cup and mixing utensil during this process. If you don't, this resin will only partially cure and leave a sticky surface on your epoxy crafts.
Let me take a moment here to talk about bubbles. One of the best ways to avoid bubbles in your resin is to be very careful when mixing. That means you don't whip or scramble your resin. Instead, be deliberate but careful about mixing.
If you want more help, then walk through my process on how to mix resin and hardener.
How much epoxy resin do you need for crafts?
Well, that all depends on what you're making! This article explains a few ways to figure out how much resin you need for a project, including a link to our resin calculator.
What can you include in epoxy resin for crafts?
Pretty much anything you can think of! Here are some of my favorites:
*Resin colors
*Dried flowers
*Glitter
*Candy
*Beads
*Stickers
*Paper
*Metal charms
*Paper clips
Pro tip: You shouldn't include anything 'wet' in resin. That means no fruit, fresh flowers, or anything else with a lot of moisture. Not only can the extra water affect resin curing (resin HATES water), but they will spoil and change colors. If you want to see how that turns out, here's what happened when I used fresh flowers in epoxy resin.
Now that you know what epoxy resin for crafts you should use, what are some of my best tips to share with you?
1. Make sure you understand your kit's directions. Resin directions are not universal! You need to know how much of each part to mix together, how long you have to work with the mixed resin (pot time), and how long it takes to cure.
2. If you are using your epoxy resin for wood crafts, be sure your wood is sealed first. If it isn't, it will release so many teeny tiny bubbles into the resin that they are almost to get out before the resin starts to cure.
3. Your cured resin crafts will only be able to tolerate warm items, not hot items. Unfortunately, that means you won't be able to put a pan straight from the oven directly onto a resin countertop without it leaving a mark.
Ready to try using epoxy resin for your crafting projects but want more help getting started?
It's why I wrote the book Resin Fundamentals. I've condensed my resin knowledge into an eBook you can download and read this afternoon. It's all the exact details you learn at my in-person classes, but all from the comfort of home. Buy the book now, and you get a download link in your email inbox in minutes.