Making projects with epoxy resin is a fun and creative way to spend an afternoon. Plus, you can get started relatively inexpensively. If you're ready to craft with resin, you can jump to the list of 12 epoxy projects here.
But, if you're a resin beginner, here are the resin basics to get you familiar with using epoxy.
What is resin?
To make these craft projects, you'll need two-part epoxy resin. These kits contain two bottles: the Part A resin and the Part B hardener. When specific amounts of each are mixed, the combo heats up, and the resin hardens.
What's the difference between resin and epoxy resin?
Epoxy is a type of resin. You may see other resin types like polyurethane or polyester. We aren't going to use them in these projects because they're tough for resin beginners. Epoxy is the easiest resin for beginners to use.
How do you use epoxy resin?
Every resin kit has specific instructions. Follow them carefully so that your resin dries without sticky spots.
Epoxy resins generally mix by volume, combining a certain amount of Part A with a specific amount of Part B. You'll mix the parts together for a few minutes, until the mix is clear and streak-free. Then, you can use your resin.
If you want an in-depth lesson on how to mix resin for epoxy craft projects, this will help: how to mix resin and hardener in five easy steps.
How much epoxy resin do you need for craft projects?
The easiest way is to use our resin calculator. It does all the hard math for you.
You'll take measurements of the space you intend to fill or coat with resin.
But don't worry if you mix too much resin. Here are some creative leftover resin projects.
Is it safe to use epoxy resin?
Like any other chemical, there are certain precautions you need to take to keep yourself safe. Wear protective gloves and work in a well-ventilated area.
Here are more details about how to use resin safely.
What epoxy resin should you use?
If you are working in molds, use a casting resin.
They mix thin, like water and can be poured in thick layers.
For pours of 3 ounces or less, you want to use the Resin Obsession super clear resin

*20 to 25-minute open time
*Dry in 12 hours
*Cures crystal clear and hard
*Safe toxicologist reviewed formula that conforms to ASTM D-4236
For pours of 3 ounces or more, you want to use the Resin Obsession deep pour resin

*30 to 90-minute open time
*Pour up to two inches thick at once
*Dry in 48 to 72 hours
*Cures hard and crystal-clear
*Safe toxicologist reviewed formula that conforms to ASTM D-4236
If you want to add coating to a surface, use a doming resin.
They mix thick, like honey, so they will self-level and make an even finish.
For small projects like jewelry and tumblers, the Resin Obsession crystal doming resin works excellently.

*30 to 50-minute open time
*Cured in 18 to 24 hours
*Our best level of UV protection
*Safe toxicologist reviewed formula that conforms to ASTM D-4236
For larger crafting projects like coating paintings, photographs, countertops, and other large surfaces, the Resin Obsession Artwork Resin is a perfect choice.

*20 to 35 minute working time
*Dry in 18 to 24 hours
*Economical choice for large projects – a great combination of value and UV protection
*Safe toxicologist reviewed formula that conforms to ASTM D-4236
What supplies do you need for epoxy craft projects?
While there are going to be some specific things you will need for each project, there are resin supplies you need to make anything with resin:
RESIN
Besides the detail here, our resin buying guide makes it easy for you to know which resin to buy.
SURFACE COVERING
Because working with resin can get messy, you must protect your area from spills and drips. This list covers the surfaces resin won't stick to and work to protect a table.
MOLDS
Resin molds or some other vessel to pour the resin into.
DIFFERENT HUES OF RESIN COLORS
When coloring your resin, you might be wondering which are the best resin colors for resin crafts. Colors designed specifically for resin will get you the best results.  Why?
*They won't affect curing.
*They won't dull or change colors with time.
*They'll color resin the same way every time.
Here are the colors I like to use:

FOUND ITEMS
This is a catch-all term for other fun things like beads, papers, foils, and other fun things to put into resin. Here are ten ideas of things you can add to resin.
MIXING CUPS
Resin cups are essential to make sure you accurately measure the resin and hardener.
STIRRING UTENSILS
Plastic stir paddles are a great way to make sure you get your resin thoroughly mixed. Thorough mixing is vital to making sure that not only your resin cures but cures without any sticky spots.
GLOVES
Resin kits contain chemicals that can irritate your skin. Protecting your hands with safety gloves is a must.
HEAT GUN
A heat gun works quickly to remove bubbles. Plus, it's safer than using a barbecue lighter or propane torch.
Now that you got the epoxy basics, what are some craft projects you can make with resin?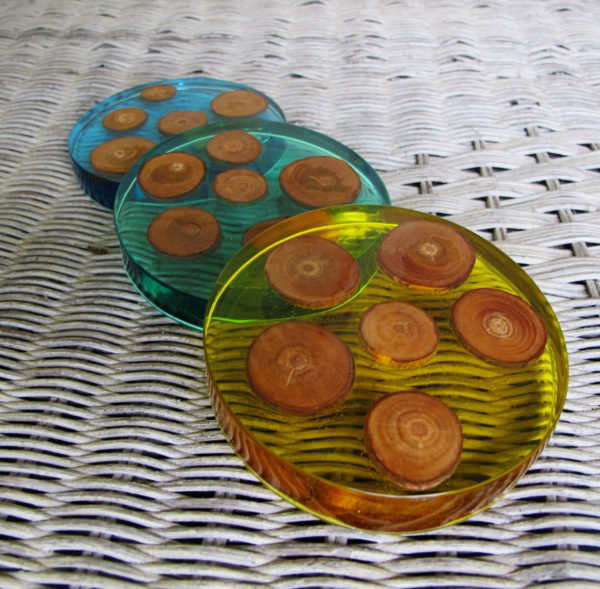 These make the perfect man-cave coaster.  They give beverages that extra special touch.
Give an ordinary stainless steel tumbler an amazing finish with epoxy resin.
Turn an ordinary cake stand into a work of art onto itself.
Decorate a cake stand with sprinkles
Make a handmade box for small jewelry items, paper clips, and other things you don't want to get lost.
Take a favorite photograph and forever immortalize it in resin.
Here's how to add a glossy layer of resin to a photograph
Give your favorite beverage the sparkle it deserves.
Apply glitter and resin to a drink tumbler
Get your favorite paper book in on the holiday celebration.
Make a holiday-themed bookmark
Give a dollar store frame a makeover with epoxy.
Learn how to embellish a frame with resin.
What else can you make with washi tape? How about colorful jewelry.
Learn how to make washi tape earrings with an epoxy finish.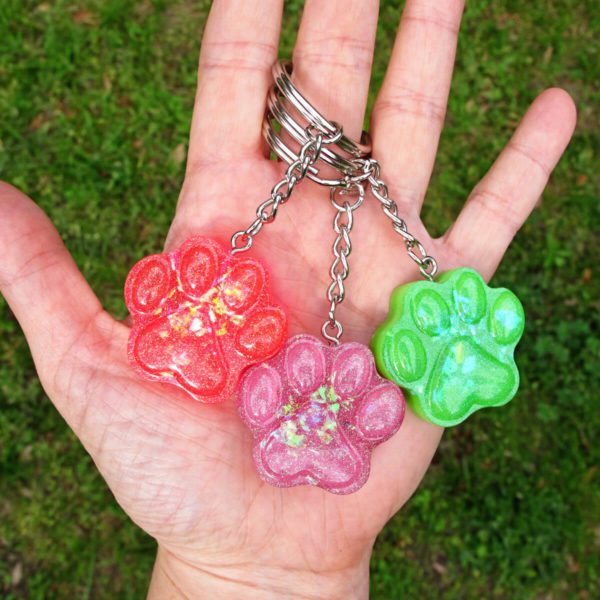 Having a fancy resin keychain may not keep you from losing your keys, but it can't hurt.
Here's how to make a paw print keychain.
Start with a wood tray and add some other fun stuff.  It will be the perfect resting place for keys, smartphones, and pocket change.
Embellish a wood tray with resin
It's the classic resin project.
Here's how to make a resin bracelet.
Want more epoxy craft projects?
Then you will want to get the resin crafting book, Ten Epoxy Projects.  It's got several creative projects you can make this weekend. Buy the PDF ebook and receive an email with the download link in minutes.

Unpublished Blog Posts of Resin Obsession, LLC © 2023 Resin Obsession, LLC