Getting started with resin can be fun and challenging, but sometimes it can be hard to know where to begin. I've been there and I feel your pain!  Let me break it down for you with some of my basic resin casting instructions to help you get started making your resin jewelry and crafts.
Step 1
If you are working with molds or something that needs a pour of more than 1/8", make sure you are working with a casting resin. Casting resins mix in a thinner viscosity, making them ideal for deep pours and intricate molds. If you aren't sure of the difference between casting resins and doming resins, this article will help: Casting resins versus doming resins.
For this project, I'm using the Resin Obsession super clear resin which is a clear casting resin.
Step 2
Gather the other supplies you will need. This includes:
Mixing cups
Stirring utensils
Molds
Mold release
Heat gun
Resin colors, glitters, found objects, etc. (optional, but adding them to resin makes your project unique)
Protective gloves
Paper towels, baby wipes, and acetone to clean up spills
Want to know what else you might need? Check out our beginner supply checklist.
Step 3
Once you have selected your casting resin, read the directions carefully. You need to fully understand the resin and what it can do. Here's some basic information you need to know:
*How much resin (part A) and how much hardener (part B) to mix together, either by weight or by volume.
*The minimum and maximum mixing amounts of the resin. If too little resin and hardener are mixed together, it won't cure. If too much mixed together and it may cure in your mixing cup.
*The pot time. This is how much time you have to work with the resin mixture before it starts to cure.
*The cure time. This is the time when your resin is fully hardened.
If you aren't sure what these terms mean, this article will help:  common resin crafting terms
Step 4
Carefully measure the resin and hardener. The resin kit instructions will specify if you should do this by weight or by volume. If doing it by volume, use graduated mixing cups to get the most accurate measurements. If doing it by weight, a digital scale makes the process easier.
Step 5
Mix both parts together and blend well. You need to mix both components together, scraping the sides of your cup and stirring utensil during the process. Your package instructions should tell you how long to mix, but if it doesn't, go for ten percent of the resin's pot time, up to three minutes.
Want more help on this topic? Check out how to mix resin and hardener.
Note:  This is the step where you will also want to add colors, glitter, mica powders, etc. into your resin.  If you aren't sure how to do that, check out this article on how to color clear epoxy resin.
Step 6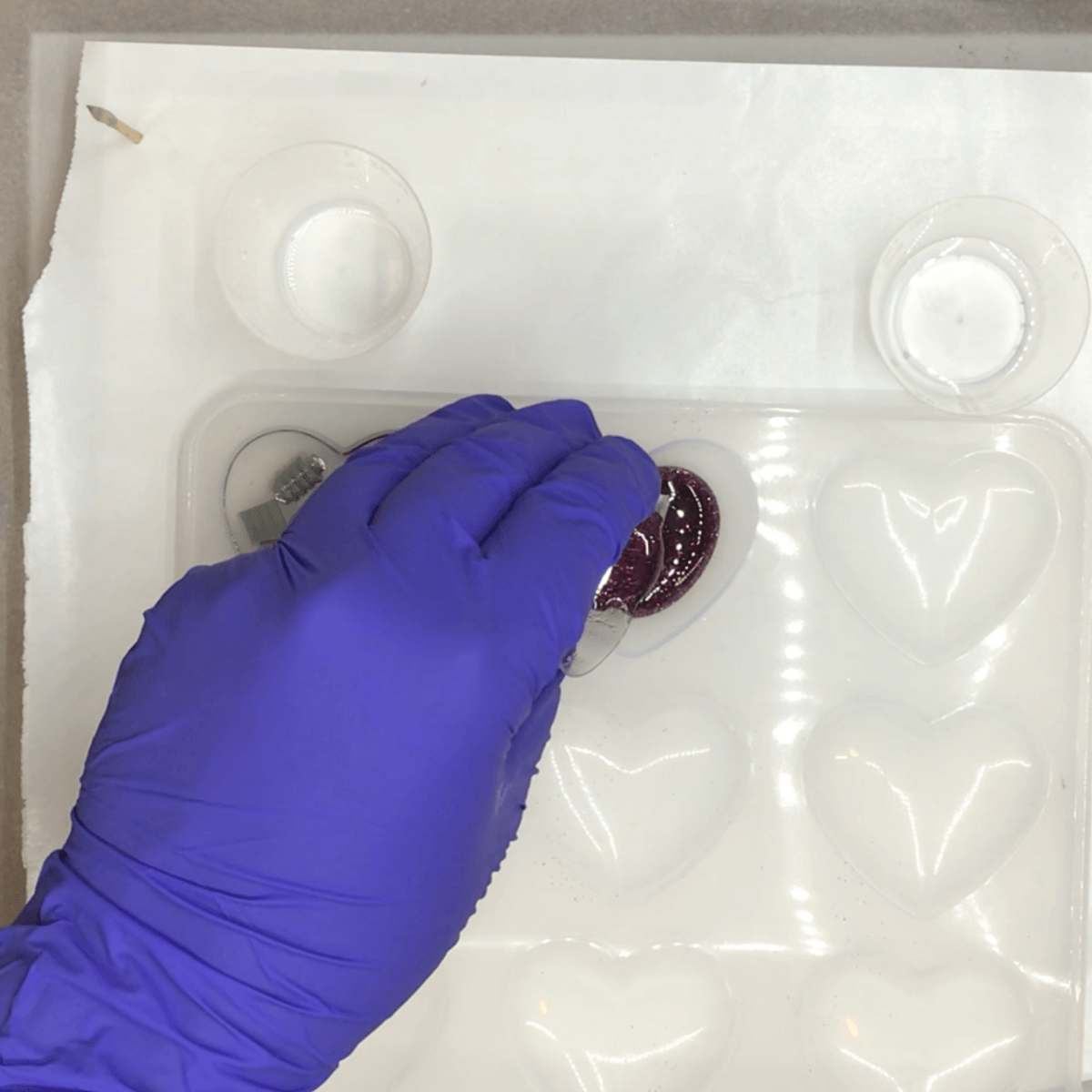 Cast the resin into your mold or vessel. Carefully pour the resin into the container. Look for bubbles and remove them with a toothpick or heat gun. Check again several minutes later as sometimes bubbles will rise to the surface as the resin continues to heat up.

Cover your item, if possible, and allow it to fully cure.
Step 7
Demold at the end of the cure time. Carefully twist and remove the resin from the mold.
Step 8
Finish as necessary. Sand down any rough or uneven edges and polish up if necessary. Here's where you can learn how to sand resin and how to polish resin.
Step 9
Finish your charms as desired.  For these, I glued magnets to the back with E6000.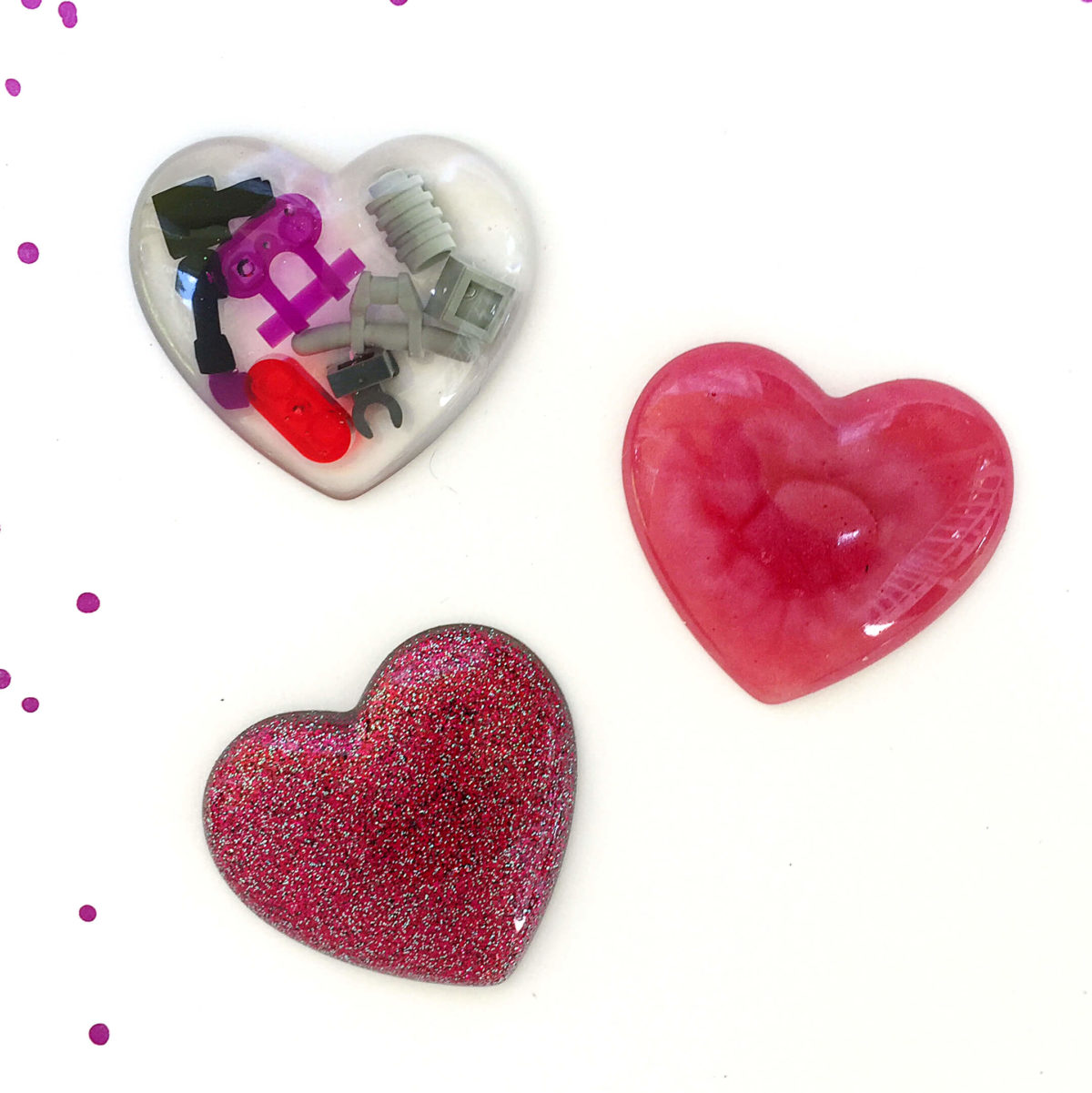 Enjoy your newly handcrafted resin creation!
Want to see how to do this?  Learn basic resin casting techniques in this short video:
Want to learn more about basic resin casting?  Then you will want to get your copy of Resin Fundamentals.  The instant PDF download will take you from confused to confident with resin in an afternoon!
Unpublished Blog Posts of Resin Obsession, LLC © 2021 Resin Obsession, LLC