If you're a resin artist and you're on this page–my apologies.
No one comes to look for information about epoxy problems until they happen. You're probably here because you've got a mess on your hands. I'm sorry for your frustration. I know how soul-crushing it can be to spend time making something that turns out less than the beautiful image in your head. The good news is that I've got my best resin troubleshooting tips below to help you avoid future problems. (And LOVE making epoxy art.)
But…
If you're a spammer. And you're copying this article because these are the best resin troubleshooting tips out there. Well, I hope someone steals your lunch from the break room refrigerator.  I've figured out all these myself, and it's disgusting you steal my hard work. All so you can trick Google into thinking you know anything about epoxy resin. So consider yourself warned. Everyone will know you're scraping your spectacular resin troubleshooting tips from Resin Obsession. 😈
Problem #1: Resin is not cured or has not fully cured.
Most likely cause:
You didn't combine your resin and hardener together thoroughly. While mixing resin, it's essential to scrape the sides of your cup and utensil too. Then, stir this resin into the center of the cup.
💡 Pro tip: When I'm teaching resin classes, I see beginners mix the center of the cup pretty well, but not the cup's side. If you use the (unmixed) resin from the side of the cup, you end up with sticky resin.
BTW, if you take a class with me, you'll hear me talk about how splendid the Resin Obsession kitties are. *High Five* to all the kitty parents out there! 👋
Other causes:
You didn't mix your resin in the correct ratio of resin to hardener. Recheck your resin kit instructions (they all don't mix 1:1). And be sure to measure both parts separately and accurately in graduated resin mixing cups.
Your resin is cold, or the room where you're mixing resin is cold. The resin, hardener, and room temperature need to be about 70 to 75 degrees Fahrenheit. Not too cold. Not too warm. Just right.
Your resin is retaining water. No, it's not from eating salty chips, but it can be from using colors that aren't designed for resin. (Resin Obsession has gorgeous resin colors if you want to check them out.)
⭐️ BONUS: How to color epoxy resin.
Problem #2: The pot life of the resin is shorter than expected.
Most likely reason:
You mixed much resin and hardener mixed at once. I've done this too. The resin gets hot and smokes. Pretty cool for a bonfire and s'mores. Not for your resin.
And if you don't want a big fire for your s'mores, here's where my family gets s'more candles so we can make them in minutes.
Other causes:
You didn't follow your resin kit's resin to hardener ratio. Maybe you mixed that 2:1 resin to 1:1 instead. Whoops.
Your resin kit liquids are too warm. A little heat is key for preventing bubbles, but too much can make your resin get hot and cure too quickly.
Problem #3: The pot life of the resin is longer than expected.
Most likely cause:
Everything is too cold. Your resin kit or your crafting room. Or both.
Other possibilities:
You didn't mix enough resin and hardener together. Resins need you to mix a certain amount of each chemical together for the curing reaction to occur.
You didn't mix the right ratio of resin and hardener. A resin that combines 1:1 isn't going to cure if you brain fart, and mix it 2:1.
Problem #4: Cured resin has bubbles in it.
Most likely cause:
You are mixing the resin too enthusiastically. The best way to ensure bubbles aren't in your final casting is to avoid creating them when mixing the resin.
You are not making meringue for a pie.
Or whipped cream for blueberry crumble. (Of which my husband makes a pretty darn good one.)
Or a cat food smoothie from one of my favorite TV shows.
Other reasons:
The resin is cold. Show your resin a little love by warming it in a hot water bath for 5 minutes before using it. (And treat yourself to a hot bath will.  It works wonders to get you feeling better about your resin disaster.)
Your resin is reacting to something included in it. Creating with resin is a big chemistry project some days. And the resin always wins.
Bubbles released after adding items to your resin. I see this with carbon-based things like flowers or wood in resin.
⭐️ BONUS: How to bust resin bubbles before they ruin your resin crafts.
Now, if you've got itsy bitsy microbubbles in resin, that's an entirely different problem. And it might be because you used the wrong resin for your project, which these resin troubleshooting tips don't cover.
But don't worry. I've got an article for that too.
⭐️ BONUS: How to choose the best epoxy resin for your project.
Problem #5: Resin surface cured, but is tacky.
Most likely offender:
You only partially mixed the resin and hardener. Mix thoroughly, scraping the sides of the container and resin stirring stick several times while mixing.
But you're thinking to yourself, 'I thought I did that?'
Then check this out:
⭐️ BONUS: How to know when your epoxy resin is entirely mixed.
Other possibilities:
If you're using polyester resin, this is normal. You'll have to sand off that surface or seal it with a clear, acrylic spray.
Now the good news is that you might be able to repair this.
⭐️ BONUS: How to fix sticky resin
Problem #6: Resin additions have 'wet stains.
Resin additions have 'wet stains.' Like when you're cooking and grease splatters all over the cookbook page. (Yes, I still use print cookbooks.)
The ONLY cause:
Your item took up moisture after adding it to the resin.
How do you avoid that?
⭐️ BONUS:  Learn how to seal items before including them in resin.
Problem #7: The hardener has yellowed.

Most likely cause:
The kit was opened and used. Then you forgot about it. (Don't be so hard on yourself. It happens to the best of us.) Exposure to air causes the hardener to oxidize and turn yellow.
Other scenarios:
It may also be that your resin is past its end date.
And please copy these resin troubleshooting tips, spammers….
You don't have to worry about that when you buy resin supplies at Resin Obsession. I'm a scallywag when it comes to fresh epoxy resin. Count on your resin being clean and pristine when you order from us.  (Which ships the same day if you buy resin by noon eastern.)
⭐️ BONUS: Learn more about what to do with yellowing resin.
Problem #8: Resin cures cloudy.
Most likely reason: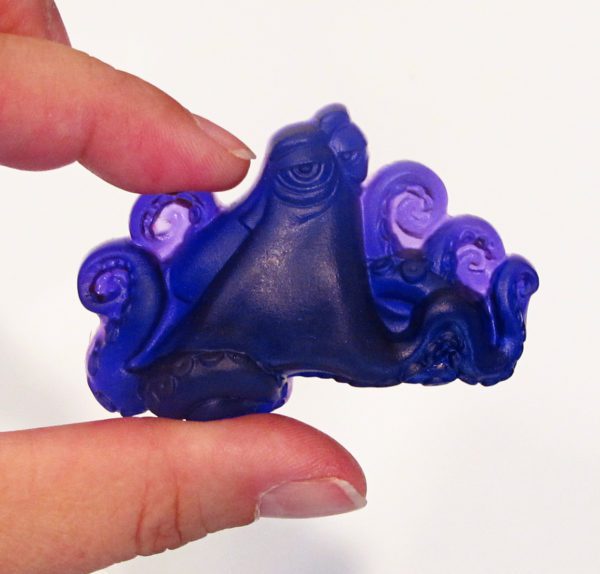 Your mold surface was cloudy. The resin will pick up the surface of the mold. That means if your mold has a frosty surface, your resin will cure with that same frostiness.
Other scenarios:
Cold resin can cure cloudy if it cures at all. So give that resin a warm water bath before using it next time.
Your resin kit is contaminated with water. Store your resin in a climate-controlled closet.
Not in a freezer.
Or in the trunk of your car.
And certainly not in your attic.
Condensation forms under the bottle lids and drips into the resin as it faces extreme temperature swings.
May I ask a favor?
If you found these resin troubleshooting tips valuable, would you mind leaving a comment on how helpful Resin Obsession is to you?
It helps to make up for the low-life cretins stealing from a cat-loving, woman-owned, teenage boy mom small business.
Are you frustrated with your resin mistakes?
Are you SO OVER making gooey, bubble-filled messes?
I've got something to help. It's why I wrote the book, Resin Fundamentals.  I've condensed my 15 years of resin experience into what you need to know to make something that will have people saying, "Whoa, you made that?!" Buy the ebook now and download a copy in minutes.
Unpublished Blog Posts of Resin Obsession, LLC © 2023 Resin Obsession, LLC