If you're asking yourself,  'What kind of resin should I use?', let out a big sigh of relief. Because you're in the right place to get that question answered.
And I get why you're confused about what to buy. There are so many out there promising the life of pi in the sky. All the descriptions start sounding the same, and you don't want to make a mistake. Or worse — waste your money buying the wrong stuff.
Hang with me.  I'm going off-topic for a moment, but I PROMISE by the end of this article, you'll know what kind of resin to use.
Let's pretend you're on your way to the office party potluck dinner, and you've signed up to bring a cake.  You head to your favorite grocery, grab the first cake you see, and run off to the party. It's only AFTER you've put it on the table and peoples' eyes go wide that you see it's a fruitcake.
Sorry, fruitcake lovers, but that stuff is gross.
And even worse, you're now the butt of the office party jokes, and your secret Santa gets you fruitcake gifts for eternity.
Do you see how you need an idea of what you want the cake for before you ever buy the cake?
The SAME THING happens with resin.
So if you were to ask me, 'What kind of resin should I use?' I'll reply with, 'What are you making?'
Because you need to know WHAT you're making with resin BEFORE you buy it.
Just like that fruitcake, no one formula works for every situation. And anyone who tells you differently is a nickel-plated duck dollop.
💡 Pro tip: If you're a beginner, I cannot stress here enough that you need to start with an epoxy resin.  Why?  Relatively speaking, epoxy is the easiest to work with.  It's the most forgiving of beginner resin mistakes, plus it's the easiest to mix and measure.
So now you may be asking yourself, "What kind of epoxy should I use?"
Once again, it depends on what you want your final project to look like.  Here's the BIG THING to know the answer to when choosing a specific epoxy:
Are you filling a space or coating a surface?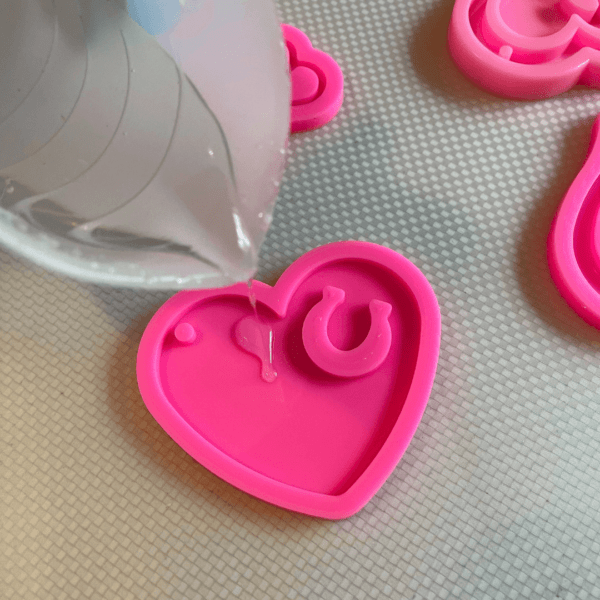 If you're pouring it INTO something, like a mold or a space for a river table, you want a casting resin.  These are low-viscosity resins that release bubbles easily that you can pour in thick layers.  But because they mix watery, they will run off a surface, making fish eyes, so they aren't suitable for countertops or artwork.
If you're pouring resin ONTO something to create a glossy surface, you want a doming resin.  This kind of coating epoxy is high-viscosity, so it evenly levels after applying to a surface.  While it can run over the sides when added to a flat surface (for example — applying epoxy to a canvas print), it levels smoothly and gives a shiny finish.  But, because it's thick, it's harder to remove bubbles.  That's why you don't want to use it with resin molds or epoxy table projects.
⭐️ BONUS:  If want to go down the resin rabbit hole on this stuff, I've got even more good stuff for you explaining the types of epoxy.
Like the differences between doming resins and deep pour epoxy
You'll get all those details in our [FREE] Guide to Choosing a Resin
Awesome!  You've picked a type. Now what?
If you're wondering where you can buy clear epoxy, Resin Obsession has you covered.  Choose from multiple formulas to help you make something amazing.
And this RESIN QUIZ makes it easy to know which formula you need.
Which epoxy should you use?
Learn which epoxy resin is the best one for YOUR project.

Now to be completely honest here, what we sell might be more than you need.
Like if crafting with resin is just a bucket list thing, then any resin can help you make that.
You don't need one with
✅ top-notch UV protection
✅ the highest safety level designation
✅ made in small batches to give you the freshest product possible.
That big box store stuff that's been there so long it looks like a doctor's office urine specimen (might) work for a bucket list project.
But buy resin and supplies from Resin Obsession, and you'll get the clearest, freshest stuff possible.
And as an added bonus, our resin kits are blessed with kitty kisses. At no charge.
If epoxy is so great, why would I use anything else?
Once you've got advanced skills, there are a couple of other formulas to try.
In that case, you will want to use a quick-curing polyurethane.  These usually fully harden in under thirty minutes, so you can make a project and have it ready to use or wear in under an hour.  Unfortunately though, this formula is very moisture sensitive.  Any amount of water will make the resin bubble and cure looking like a sponge.  It's also not a type I recommend for beginners since you only have 1 to 1 1/2 minutes to mix and pour it before it starts curing.
If you're working in molds, you might want to try a polyester.
These resins cure hard and are generally cheaper than epoxy.  But they STINK and don't have a long shelf life. If you want to try it, here's what else you should know before using polyester resin.
Want more help getting started?
It's why I wrote the ebook, Resin Fundamentals.  I designed it for beginners to get you from confused to confident in only an afternoon. Buy the PDF book now and get a download link in minutes.
Unpublished Blog Posts of Resin Obsession, LLC © 2023 Resin Obsession, LLC