Creating with resin is an easy and inexpensive way to get started making your own jewelry. You don't have to invest in precious metals or expensive equipment, and many resin jewelry-making techniques can be learned from the comfort of your own home. You can use resin to make earrings, rings, bracelets, pendants, necklaces, and more. If you want to make jewelry with resin, you are likely asking yourself, what is the best resin for jewelry? What a great question!  There are a few things you need to know before you choose a resin for jewelry making.
Resin for jewelry is more expensive than other kinds of resin.
While you can use marine resins, flooring resins, and other 'utility' resins you can find at home improvement stores for making jewelry, you won't be happy with the results. These resins mix with an amber tint and may not cure as clear as a resin for jewelry. These resins may also not contain UV additives to help keep them clear and will yellow quicker than jewelry resins.
The best resin for jewelry making also depends on you and your skill level.
Epoxy resin is the best choice for beginners as it is the easiest to measure and mix and get great results. While a polyurethane or polyester resin will cure hard, they require someone confident in their skills. You must be able to work quickly when working with these resins, not to mention the extra steps you need to take to measure and mix them successfully.
Are you working in molds or jewelry bezels?
Not all resins are the same! It's crucial that when you are making resin jewelry, you use a resin that's designed for molds or one that's designed for jewelry blanks. The same resin won't get you the best results in both cases.
So now that you know a jewelry-grade epoxy resin is what you need, how do you decide which one?
If you are working in bezels, you need to use a jewelry resin that will produce a domed finish. By domed finish, I mean it will self-level to build a raised, but gently curved surface on your jewelry blanks. This is what magnifies everything in the bezel and gives it extra sparkle and shine. Because doming resins mix thick (like honey), they are meant to be poured in an eighth-inch depth or less to allow bubbles to escape before the resin starts to cure. Jewelry-grade doming resins can also be used to coat artwork surfaces or give a beautiful finish to drink tumblers.
If you are working in molds, you want a casting resin since these resins mix thinner, like water, allowing bubbles to escape easily. They are meant to be poured in molds in greater depths, allowing you to get crystal-clear bubble-free resin charms. Because they mix thin, though, they won't give a domed finish but instead will cast with a flat surface. Jewelry grade casting resins can also be used to make other projects like resin coasters and paperweights.
So now that you know the best resin for jewelry either needs to be a doming resin or casting resin, how do you know which specific one to buy?
These are the best professional-grade resins for jewelry making:
For molds, you need to use one specially designed to release bubbles like the Resin Obsession super clear resin
*mixes 2 parts A to 1 part B by volume
*bubbles release easily
*contains UV protectants to guard against yellowing
*cures very hard and durable, even when cast in thin layers
*meets the highest level of safety standards with a toxicologist reviewed formula deemed safe for jewelry and art purposes
For bezels, you need to use a doming resin formula to get an even, glossy finish.  The Resin Obsession crystal doming resin is perfect for this.
*mixes 1 part A to 1 part B by volume
*self-leveling formula to create an even finish
*contains UV additives to protect against the resin turning yellow
*easily used for larger mixed-media projects
*meets highest level of safety standards; formula reviewed by a board-certified toxicologist and deemed safe for jewelry and art use
If you want more details on these jewelry grade epoxy resins, we have a resin buying guide that details what you need to know when it comes to purchasing a resin. It describes even more things on how to choose a resin, including the pot time and cure time for these resins.
Now that you know what is the best resin for jewelry, how do you get started?
1. Decide what you want to want to make with resin.
Specifically, will you be using molds or bezels?
2. Select your resin.
If you are using molds, you will want to use a jewelry-grade casting resin, whereas you need to use a jewelry grade doming resin if you are working with jewelry blanks.
3. Cover your workspace with a protective covering.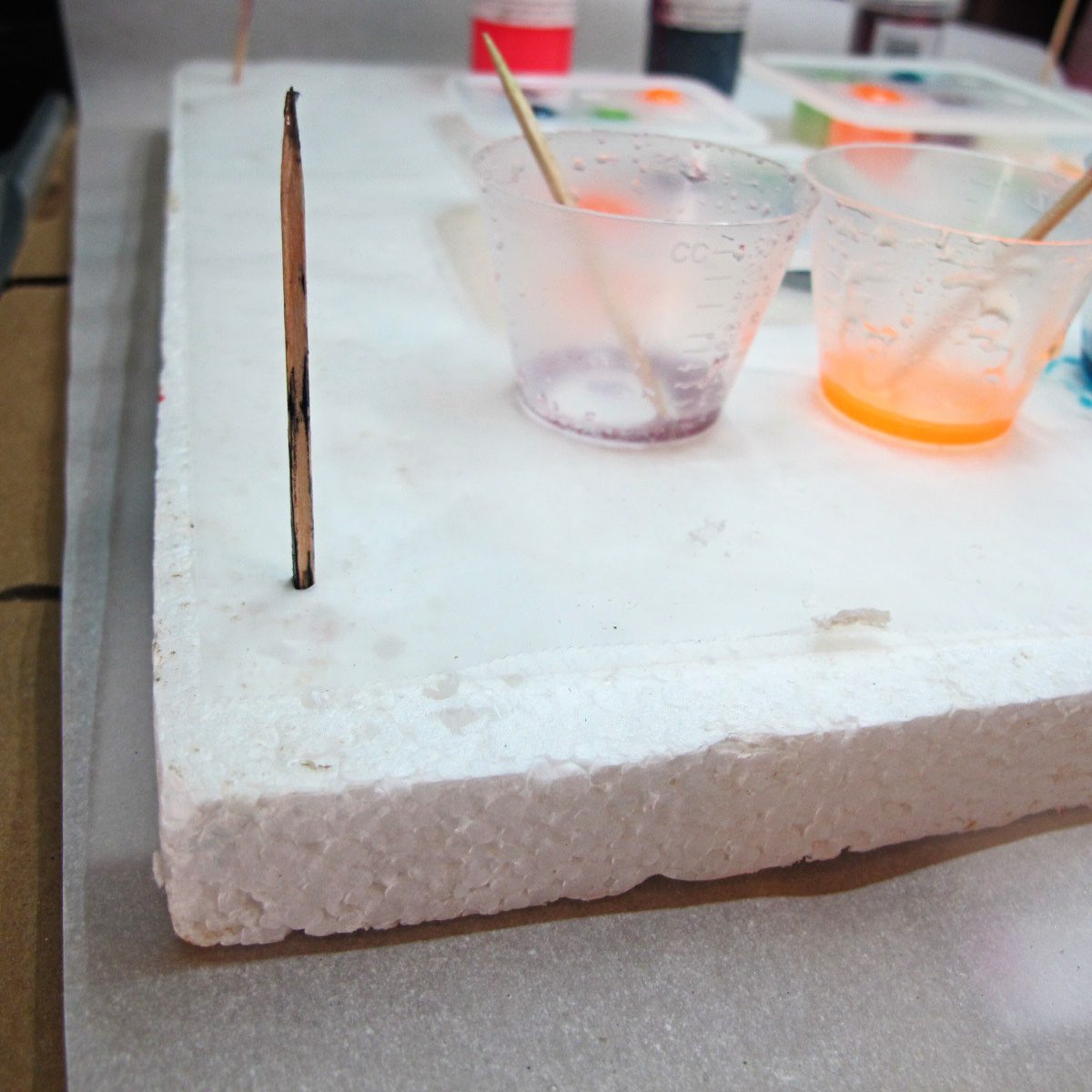 Wax paper or freezer paper works well to protect table surfaces against resin drips.
Resin kits contain chemicals and should be treated with care and caution to avoid any problems when working with them.
Here's a beginner resin supply checklist to help you get ready to make resin jewelry.
6. Mix and pour your resin.
If you have never done this before, having resin success comes down to accurately measuring and thoroughly mixing your resin. Here are the five easy steps you need to take to measure and mix resin.
7. Let the resin cure.
Once cured, it can be demolded if you are working in molds.  Otherwise, let it stay in its jewelry bezel.
8. Finish your work if necessary.
Sometimes you need to sand resin or polish resin to help it look its best.
9. Enjoy your finished work!

Stuck on what to make with resin?  Here are some project ideas to get you started:
Ten resin jewelry ideas even if you have no experience with resin.
If you want an easy way to get started making resin jewelry, try one of our all-in-one resin beginner kits.  You get everything you need to get started, including the resin, mixing supplies, safety gloves, and more.  Buy a beginner kit here:
Want to immerse yourself in resin jewelry making from the comfort of home?  Then you will want to grab your copy of the instantly downloadable ebook, Resin Jewelry Making.  Go from confused to a confident resin jewelry maker in an afternoon!
Unpublished Blog Posts of Resin Obsession, LLC © 2021 Resin Obsession, LLC