I have seen several resin tumbler projects and wanted to show you how to make them by marbling the epoxy. This project is easy and perfect for those who want to customize their drinkware. Use any insulated tumbler that you love and personalize the project with your favorite color combination.
Resin supplies needed:
● Insulated tumbler
● Tumbler turner (I am using the Spin It from We R Memory Keepers.)
● Resin Obsession Crystal Doming Resin
● Resin Obsession resin opaque pigments in the colors of your choice
● Mixing cups
● Stir sticks
● Gloves and other protective equipment
● Painter's tape
● Cardboard or other protective paper
● Craft paint
● Paintbrush
Step 1:  Prime the cup with white paint.
Start by painting your tumbler if it's not powder coated already. The one I'm using was plain steel, so I gave it a few coats of white paint before starting. I primed it with white paint in case any of the tumbler peeks through the resin.
💡 Pro tip:  You can use the tumbler turner for the painting as well as the pouring.
Allow the paint to dry in between coats as well as when you are completely done, before adding any resin.
Step 2:  Cover your crafting area.
When ready to pour your resin, be sure to cover your area completely because resin will drip off the tumbler. I'm using scrap cardboard that I can throw away once the resin cures.
Step 3:  Cover the cup with tape.
Cover the bottom of the cup with painter's tape.  This will catch any resin drips.  You'll peel this off later.

This part of how to make an epoxy resin tumbler is important!  Add painter's tape to the inside of the cup to catch any resin that may spill or drip over into the inside.
NOTE: My tumbler has a lid and straw so that is what will be used for drinking. If you are going to drink directly from the tumbler, ensure your resin is food safe or leave a lip that is not coated at the top.
Step 4:  Mix the resin.
Now it's time to use resin. Plan on using 1 ounce of mixed resin per cup.
Measure equal parts of the crystal doming resin in a large mixing cup and stir well. Then, divide this into as many smaller containers as you have colors.
Please always remember to wear safety equipment when working with resin.
If you haven't mixed resin before, read this first:  how to mix resin and hardener.

Step 5:  Color the resin.
Add drops of pigment to each of your smaller cups. You can add white or black to the original colors to create lighter or darker shades.
Mix well.

Step 6:  Start the rotating motor and add the resin.
Turn the tumbler turner on low and allow your cup to spin. Straighten the cup if necessary so that it spins correctly. Drip your resin onto your cup surface.
You'll want to drip each color randomly as the cup spins, getting each color all over the cup.
My resin tumbler looked like this once I had all of my colored resin applied. It will start to run together and blend at this point.
Use a stir stick to start pushing the resin around on the cup surface. Just barely touch the tip to the surface so that the components spread and do not mix too much.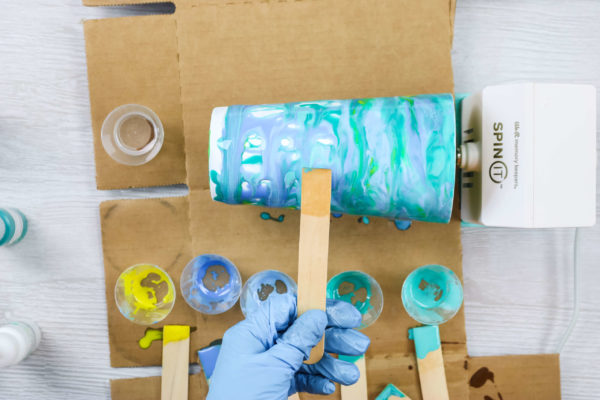 Continue with this method all the way down the cup until you're happy with the coverage. Remember you can always add more resin if you need it, but it is hard to remove it once it is added.
At this point of making the epoxy tumbler, you might wonder how to make the colors come together.  Besides using your stick, you can also use a gloved finger to blend the colors together.

Step 7:  Let the cup spin while the resin cures.
Once you're are happy with your design, pop any bubbles while your cup continues to spin. Then, leave the cup spinning for about 4 hours while the resin hardens. I like to leave a little bit of resin in a cup beside my project so I can check on the cure before turning off my turner.
When the resin is thick enough that it doesn't run, you can turn off your turner but leave the cup in place for the entire cure time. I left mine for about 18 hours, then took it off the turner.
Step 8:  Finish.
This epoxy tumbler is almost done!  Remove the tape from both ends and give it a wash with dish soap before using it.  Tumblers coated with resin shouldn't go in your dishwasher, but they can take a good handwashing any day.
This gorgeous marbled cup is perfect to keep for yourself or give as a gift. I will warn you that resin tumblers are a bit addictive. It is such a fun and easy craft plus there are so many ways to make them!
Give this marbling look a try on a tumbler or even another project. Wait until people start asking you where you got your epoxy tumbler, and you tell them how easy it is to make!
If you want to try a different tumbler project, here's how you add a glittered resin finish to a steel tumbler.
Excited to try making other crafts with resin but worried about making a mistake?
I get it.  I've been there too.  It's why I wrote the downloadable ebook Resin Fundamentals.  It's helped thousands of other artists worldwide go from confused to confident when creating with resin.  Buy your copy of the PDF book now, and it's ready to download in minutes.

Originally written by Angie Holden
Unpublished Blog Posts of Resin Obsession, LLC © 2023 Resin Obsession, LLC