So you want to make a resin coaster, but you need some ideas.  And you need them to be easy.  Especially if you're a resin beginner.
I can help with that.
Here are ideas for ten resin coaster projects you can make. Even if you're new to epoxy resin.
Bottle cap
This is the classic resin coaster project. Grab bottle caps from your favorite beverage and include them in resin. It's why this coaster makes the most awesome man-cave gift.
Wood slices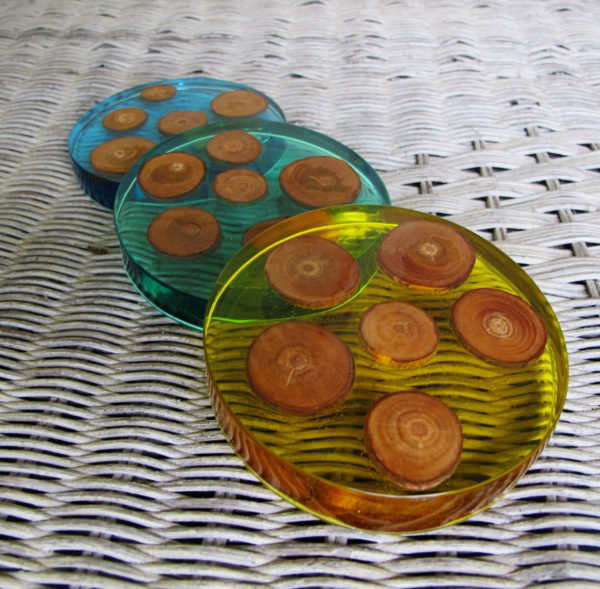 Grab some wood slices and include them in resin. You'll love making these for a housewarming or Father's Day gift.
Tree of Life
Bring the tree of life into your next epoxy coaster project. The mold does all the heavy lifting. All you need to do is fill in the space with colored resin after demolding.
Buttons
Grab your stash so mismatched buttons and throw them in a coaster mold. The fun mix of shapes and colors makes this a funky resin project.
Geodes
Fake it until you make it, right? Well, here's how you turn that mantra into geode coasters. For a fraction of the price of natural geode you can make a lookalike with resin.

You're only halfway through this resin coaster ideas list.  Keep going for more easy home crafts.
Jar lids
You don't have to use coaster molds to make coasters. You can use other vessels to hold the resin. In this case, use antique mason jar lids to capture the resin and decorative effects.
Sunflower
You don't need a natural sunflower to make this coaster. A sunflower mold can do the hard work for you. Pick your epoxy colors, and you're all set.
Animals coasters
Love resin and wood projects? Then you'll love making these animal coasters. And if you've got drawing skills, even better!

Alcohol inks
Using alcohol inks for resin to create a Petri pattern works for coasters too. Grab your inks and let your imagination do the rest.
Photos
You didn't think I'd leave your favorite pictures off this list, did you? Photos and resin go together like broccoli and Cheetos. Really.
Here's how you can add your favorite photos to resin coasters.

Ready to try these resin coaster ideas but want more help getting started?
Then you'll want the ebook, Resin Fundamentals. I've condensed my 17 years of experience into the vital details resin beginners need to know to be successful. Buy now and get an email download link in minutes.
Unpublished Blog Posts of Resin Obsession, LLC © 2023 Resin Obsession, LLC