How to create uniquely patterned pendants by using resin and alcohol inks
Resin colors can be used for more than simply coloring the resin.  If you use alcohol-based colors, you can use them to create unique patterns in the resin.  This is one of my favorite ways to create artistic resin jewelry charms!
Resin supplies used in this tutorial:
Hypodermic needles and syringes
Step 1
To start, I mixed 15 ml of Resin Obsession super clear resin (10 ml Part A plus 5 ml Part B).  I added two drops of white pigment into Part A, then added an extra drop of Part B to ensure curing.
Step 2
Not shown:  I prepped the mold with a light mist of Petrolease mold release 30 minutes before casting.

Step 3
I poured a small amount of white resin into each cavity.  You don't need much, only enough to cover the bottom.  Pick up the mold to move the resin around or use your stir stix to guide the resin into covering the bottom of each cavity.
Allow the resin to fully cure before pouring the next layer.
Step 4
Once the first layer has cured, mix another 15 ml of Resin Obsession super clear resin.  Apply it over the top of the cured layer of white resin.  You don't want a thick layer.
Step 5
While the resin is still wet, add drops of the ICE resin tint to the mold cavities.  For the first layer, I like to start with lighter colors.  The drops from the bottle create circles approximately 1 cm wide.
Add drops of color as desired, but don't go crazy.  You want to leave a little 'white space' for your next layers.
Let the resin fully cure, or at least cure long enough that you can pour the next layer of clear resin without it blending with the inks.  In the case of the super clear resin, this was two hours.
Step 6
Not shown:  I mixed another 15 ml of Resin Obsession super clear resin and added it to each cavity making sure the resin was an even, thin layer.
Because I wanted drops of a different size than the first layer, I used a pipette to draw up some of the ICE resin tints, then squirted it onto the wet resin.  I wasn't delicate here.  I squeezed the pipette so it was like I was sneezing onto the resin.
Once again, the resin needs to at least partially cure before pouring the next layer.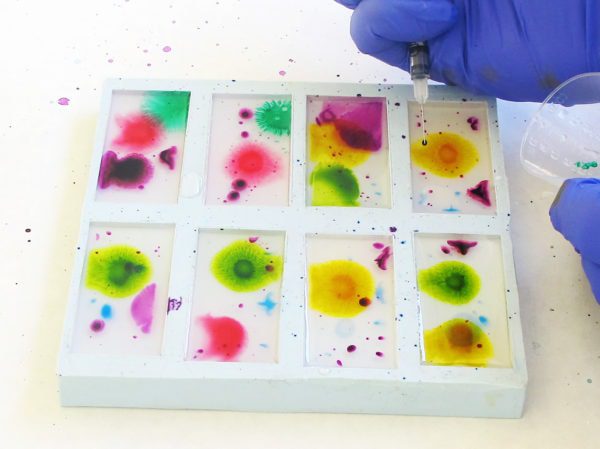 Step 7
I started the next layer by mixing and pouring another 15 ml of Resin Obsession super clear resin.
For the last layer, I wanted to have more control over exactly where the dots got placed. I used an insulin syringe (which has a 27 gauge needle) to draw up micro drops of color and place them exactly where I wanted them.
One more time, I allowed everything to cure.
Step 8
After demolding, I used a fine emory board to go over the sharp edges of the castings.
Step 9
Next, I used E6000 to glue Aanraku leaf bails onto the resin charms.
If you haven't used E6000 to glue on bails before, here's a quick video showing you how:

Step 10
I finished the pendants by hanging them on ball chains.
I'm thrilled with how the resin and alcohol inks came together.  Each pendant is a mini work of art!
The pictures don't do the pendants justice.  Seeing them in person, you can see the layers of resin and alcohol inks and how the pendants have a depth to them.
What do you think?  Which color pattern is your favorite?
If you are interested in some of my techniques, this shows me in casting action:
Want to learn other fun jewelry making techniques with resin?  Then you will want to get your copy of
Resin Jewelry Making
.  The Amazon best-seller has helped thousands of artists worldwide make resin jewelry that has people saying, 'I can't believe you made that?!'  Buy a copy of the ebook now and download in minutes.
Unpublished Blog Posts of Resin Obsession, LLC © 2021 Resin Obsession, LLC