Let's have some colorful resin fun, shall we?  I'm going to show you how to use alcohol ink in resin.
I'm not showing the popular Petri resin pattern, but instead showing something even more simple to create art you can wear.
You're going to need these resin supplies:
Insulin needles and syringes
A note about how to use alcohol inks in resin before we get started:
The alcohol ink you use is pretty darn important.  You can't use any alcohol ink and get the colors you're expecting.  You MUST use alcohol inks for resin.  If you don't, the colors can change or disappear altogether.
Step 1:  Prep the mold
Apply a light light mist of the resin mold release 30 minutes before you want to use the mold.  This ensures your cured resin slips out easily and protects your mold.
Step 2:  Mix and color resin
Mix 15 ml (1/2 ounce) of Resin Obsession super clear resin (10 ml Part A plus 5 ml Part B).   This jewelry resin is perfect for this project because it's meant for molds.  It mixes in a way to release bubbles easily.
If you're wondering how to measure that small an amount, it's why the graduated mixing cups are necessary.  There are lines on the side to make sure you measure the right amount of resin.
By the way, inaccurate measuring is one of the biggest reasons why your resin doesn't cure.
Color the epoxy resin with a couple of drops of white pigment.
Step 3:  Add to the mold
Pour a small amount of white resin into each cavity.  You don't need much — only enough to cover the bottom.

Allow the resin to fully cure.
Step 4:  Add clear resin
Mix more clear epoxy and pour into the mold.  You only need enough to cover the white layer.  i.e. Don't fill the mold.
Step 5:  Add the ink
This is my favorite part of how to use alcohol ink in resin.  It's time to add your colors!   While the resin is still wet, add drops of the ICE resin tint to the mold cavities.
For the first resin layer, start with lighter colors.  Otherwise, they will disappear when you add darker colors.  (You'll see what I'm talking about in a minute.)
The bottle creates drops approximately 1 cm wide.
Yes, this will be your favorite step too, but don't go crazy with the colors.  You want to leave a little 'white space' for your next layer.
Let the resin fully cure, or at least cure long enough that you can pour the next layer of clear resin without it blending with the inks.  With the super clear resin, this takes two hours.  (Another reason to love this resin.  Not all resins cure this quickly.)
Step 6:  Add more clear resin and ink
Mix another 1/2 ounce of Resin Obsession super clear resin and add it to each cavity.
Here's one of my favorite hacks for how to use alcohol ink in resin.  Use a pipette to draw up some alcohol color, then squirt it onto the wet resin.  Don't be delicate here.  Squeeze the pipette like you're sneezing onto the resin.  (without a COVID mask)
Once again, let the resin partially cure before pouring the next layer.
Step 7:  Add a third resin and color layer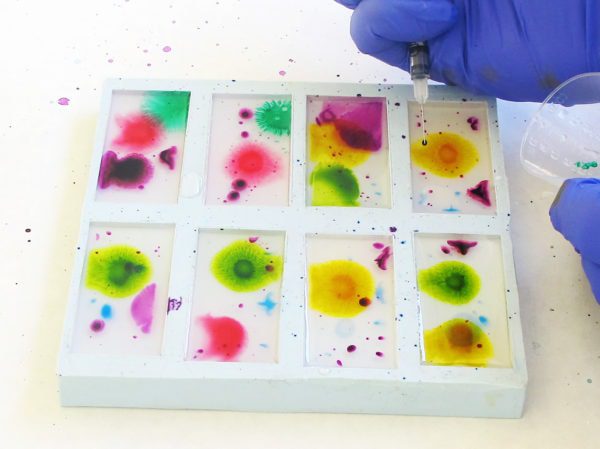 Mix and pour another 1/2 ounce of Resin Obsession super clear resin.  Then, here's how you bring it all home.
Grab an insulin syringe (which has a 27 gauge needle) to draw up alcohol ink.  Then, you can drop micro drops of color exactly where you want them.
Let everything cure one last time.
Step 8:  Demold and finish edges
After demolding, you can use a fine emery board to go over any sharp edges.
Step 9:  Attach a bail
You've made this great resin charm.  How are you going to make it wearable?
Attach a glue-on bail with E6000.
If you haven't used E6000 to glue on bails before, it's pretty easy.  Here's how:
Finish the pendants by hanging them on a necklace.
Look at how the resin and alcohol ink comes together.  Each pendant is a mini work of abstract art.
The pictures don't do the pendants justice.  Seeing them in person, you can appreciate the layers of resin and alcohol inks and how the pendants have a depth to them.
What do you think?  Which color pattern is your favorite?
If you want more details, you can see exactly how to use alcohol ink in resin here:
Want to learn other fun jewelry-making techniques with resin?
Then you will want to get your copy of Resin Jewelry Making.  The Amazon best-seller has helped thousands of artists worldwide make resin jewelry that has people saying, 'I can't believe you made that?!'  Buy a copy of the ebook now and download in minutes.
Unpublished Blog Posts of Resin Obsession, LLC © 2022 Resin Obsession, LLC