In trying to decide what I (yes, I mean I because my husband TOTALLY forgets to take care of his mother) should get my mother-in-law this year for Mother's Day, I thought this photo collage board finished with resin would be the perfect Mother's day DIY gift idea.  She is like many older folks who have 'everything they need' but she loves having pictures in her home.  She especially loves having pictures of her grandchildren, so I decided to make them the focus for her gift.
Resin supplies needed:
Wooden board for the collage (I got mine at a home improvement store)
Picture hanger
Spray paint in your desired color.  (I wanted something that looked vintage, so I chose this turquoise-ocean color.)
Level
Decoupage glue
Sponge brush
Pictures in assorted sizes.  (I touched them up in Canva, then printed them onto bright white laser jet paper.)
Coarse sandpaper
Brown marker
Artwork resin
Mixing cups
Safety gloves
Protective surface covering. (Here's some ideas if you need some — surfaces resin won't stick to)
Heat gun
Dome to cover the board
Step 1
Gather your supplies.  You will need to think about where you are going to do this since you are working with spray paint and need an area where your resin can stay undisturbed for 24 hours or more.
Step 2
After setting up the wooden board outside, spray paint the front and back.  Mine took two coats of paint.  Then, let it dry for 24 hours before moving on.
Step 3
The next step in this Mother's Day diy gift idea is to make the board so my mother-in-law can hang it if that is what she wants to do.  This part was a little tricky since this board is only 1/2 inch thick.  It was hard to find hangers that wouldn't go all the way through when I nailed them on.
Before you nail on the picture hanger, you want to be sure it's level.  (and hang onto that level, because you are going to need it again.)
Step 4 – optional
Because I wanted the board to look like vintage, I picked a couple of the edges and sanded them with sandpaper.
Then I used a dark brown marker to fill in the sanded edge.  This gives it a 'shabby chic' look.
Step 5
Now it's time to apply the decoupage glue to the board.  I like decoupage glue in this case because it's going to give us a thick base of glue to apply the pictures.
PRO TIP:  It goes from wet to sticky rather quickly, making it hard to work with.  Work on areas of the board for your Mother's Day DIY gift rather than applying glue to the entire board at once.
Step 6
Apply your photos to the glued area, being sure to press firmly.  You don't want to trap any bubbles between the picture and the board.
Step 7
Once all your photos are on the board, you want to apply a final layer of glue.  Make sure you cover the photos well, otherwise, your pictures will take up moisture stains.  If you aren't sure how to do this, you can watch a couple of videos on how to seal papers for including in resin.  Let the glue fully dry before going to the next step.
Pro tip:  This glue is thick and can take awhile to dry, especially in the Florida humidity.  I let a fan blow air on it for 24 hours to help it dry.
Step 8
It's almost time to apply the resin!  Before you do that, you need to find a place to do your project where it can stay undisturbed for a day or more.  You will also need to protect the surface because the resin will drip.
Before you put on the resin, you need to elevate the board.  I used two small plastic cups and placed the board on that.  Use your level again to make sure the surface is balanced.  Otherwise, your resin won't coat the surface evenly.
Step 9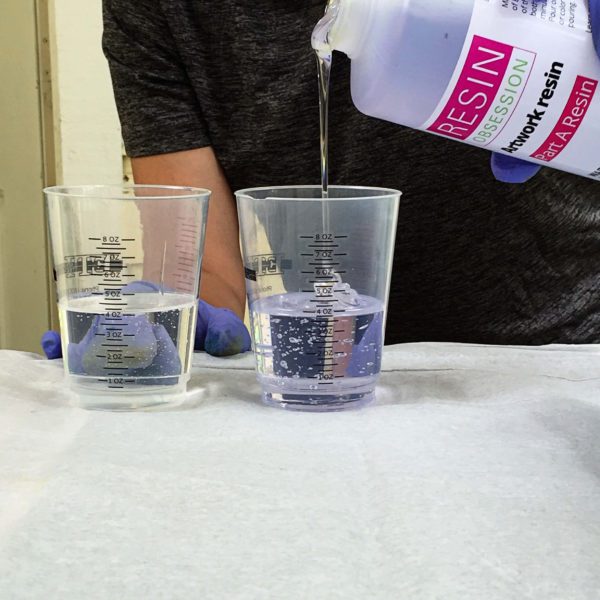 It's resin time!  This board needs six ounces of artwork resin to cover it.  If you aren't sure how much resin you need for your board, this resin calculator does the math for you.  Measure equal parts of A and B by volume.
Stir the parts together for a few minutes until you see the streaks disappear and everything is evenly blended.  If you haven't done this before, this article explains more:  How to mix resin and hardener
Step 10
Pour the mixed resin onto the surface of the photo collage board, starting in the center.  Let the resin gently spread.

Step 11
Use your mixing stick to push the resin over the collage board surface.
Step 12
Before you let the resin on your Mother's Day gift idea cure, you need to give over the surface with a heat gun.  This will pop the tiny bubbles that happen during resin mixing.  While many of the bubbles will rise to the surface and pop on their own, using the heat gun makes sure you get all of them before the resin starts to cure.
Step 13
Because dust and hair can get into the resin while it's curing, you want to cover it until it's fully solid.  I placed a plastic bin over the top to keep the resin surface clean.
Let it cure for 18 to 24 hours.
Step 14
Because some of the resin will drip over the side, you will need to remove those drips.  In this case, I used pliers to peel them off.  You can also sand them off with a dremel tool or sandpaper.  If you don't want to worry about resin drips, this video shows you how to take care of that:
Step 15
Now it's time to enjoy your resined photo collage!  It looks great hanging on a wall, but could also be displayed in an easel.  There's a lot of possibilities here!  I'm excited to gift it to my mother-in-law for Mother's Day and think she will love it.
Want to learn more of the basics beginners need to know about resin?  Get your copy of the PDF ebook, Resin Fundamentals.  It has everything to get beginners up to resin expert status in an afternoon!

Unpublished Blog Posts of Resin Obsession, LLC © 2020 Resin Obsession, LLC