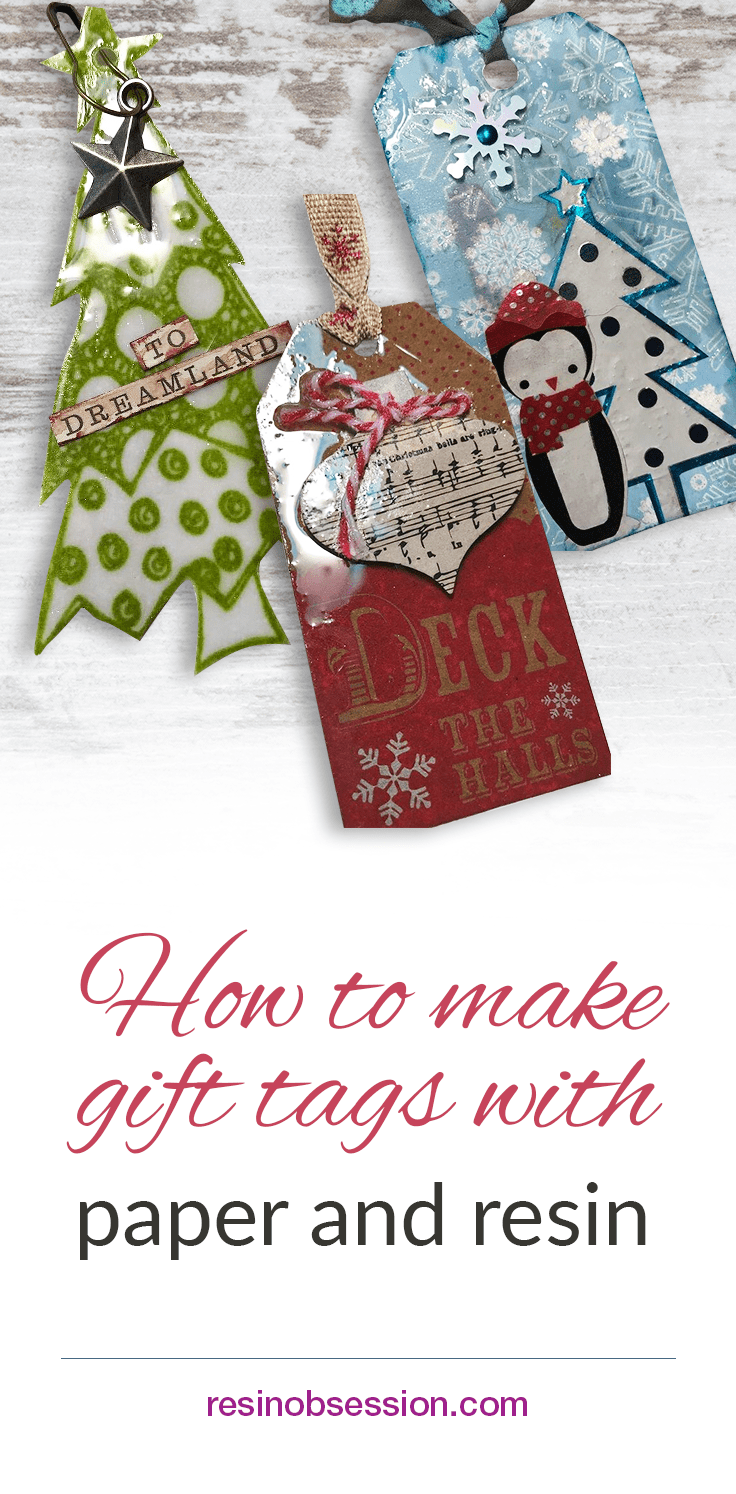 Hello Resin Fans. Let's DIY gift tags for Christas. The fun thing about this resin project is you can use many items after the Christmas crazy and make tags throughout the year. Then, by Christmas time, you are ready to go! (Plus, recycling is always a win-win.) Also, what about re-using gift tags year after year so they become a memorable keepsake? Or if you DIY gift tags for your kids' gifts, the tags could become ornaments on their tree when they move out.
Resin Supplies:
– Resin Obsession Super Clear resin
– Gloves, cup, stir stick, timer, piece of foam
– Tissue paper, Christmas cards, wrapping paper
– Store-bought finished Christmas tags
– Holiday ephemera, shapes, sequins
– Flashcard and charms, clip bails, and ball chain
– Stamps and Distress Ink
– Washi tape
– Ribbon or fabric ribbon
– Decoupage Glue
– Zots adhesive dots
– Hole punch
Step 1:  Make the paper tag
I used stamps, markers, gift wrap, and Christmas cards. Some I cut out using a tag die, but you can use a clothing tag as a template. Simply trace and cut.
Step 2:  Cover in resin
Once your tags are made, coat them in resin. Resin Obsession crystal doming resin works great for this. It mixes thick, so it sticks to the paper evenly. Follow the directions included in the package. Be sure to use gloves as resin is super sticky. Here is a quick post if you need to learn how to mix resin.
I used a piece of sponge to spread the resin as I wanted a thin layer. I coated both sides of the tag, starting with the backside. Then, I set the tag on my parchment paper with a light coat of resin. Slide your tag a bit to settle it into the resin. This helps prevent bubbles and gaps from being created on the backside of your piece. Let the resin cure overnight.

⭐️ Pro tip:  Do a test to see which markers you like best with your DIY gift tags. This makes a great reference for future mixed media projects.
Here are five DIY gift tags you can make:
Tag 1:
Cut a tag shape from white card stock. Then, add a stamped image. Re-stamp on card stock and color using a sharpie marker.
Next, cut out the shapes of the ornaments and adhere them with decoupage glue. Add another glue layer over the entire tag so the ink won't smear when you add resin. Then add a piece of ephemera (the Christmas tree).

On the backside of the tag, add a Christmas card piece cut in the tag shape. Punch a hole at the top for the ribbon to be added after the resin cures. Add other fun designs you find. I cut the tree and penguin from wrapping paper and adhered them with decoupage glue. Lastly, I added a sequin snowflake with brad after the resin cured. I used a Zot adhesive dot to glue the snowflake to the epoxy resin. Finish it with a ribbon or piece of fabric.
Tag 2:
I love, love, LOVE using tissue with resin because it ends up translucent, which is so cool! This tag took no time at all, and it would be super easy to make a ton of these.
Cut the tissue paper in the tag shape. Add strips of washi tape at the bottom. A lot of washi has sentiments, which is where my Season's Greetings came from. Add a layer of decoupage glue on top to seal the washi. Then add the resin.
If resin fills up the holes of your DIY gifts tags, you can re-punch them.
Tag 3:
This is another speedy way to DIY gift tags. Stamp a holiday image on card stock. Next, let the ink dry and cut the image out. Add the resin. You can either add a sticker quote before or after the resin phase. If you added the sticker before, just seal the quote with decoupage glue. Once the resin is cured, add a charm, ribbon, or something else.
Tag 4:
This is the easiest of the gift tags to DIY. Add a layer of resin to a tag you buy. Add ribbon, done!
Tag 5:
I have to say I love how this turned out. Again super simple but effective.
Take a Flashcard by Tim Holtz, distress the edges, and punch a hole. Make sure to distress both sides. Coat with resin and let it cure. Add a charm and a chain, and it's ready for a gift. So quick!
I love how you also wear this gift tag as a necklace.
Just to give you an idea of how much resin I used, it took 1 ½ oz of resin to cover all these pieces.
Want to DIY gift tags, but want more help getting started?
Then grab a copy of Resin Fundamentals. It details everything beginners need to know. Join thousands of artists worldwide who've used it to fast track their resin learning curve. Buy it now and get an email download link in minutes.

Originally written by Karen Bearse
Unpublished Blog Posts of Resin Obsession, LLC © 2020 Resin Obsession, LLC