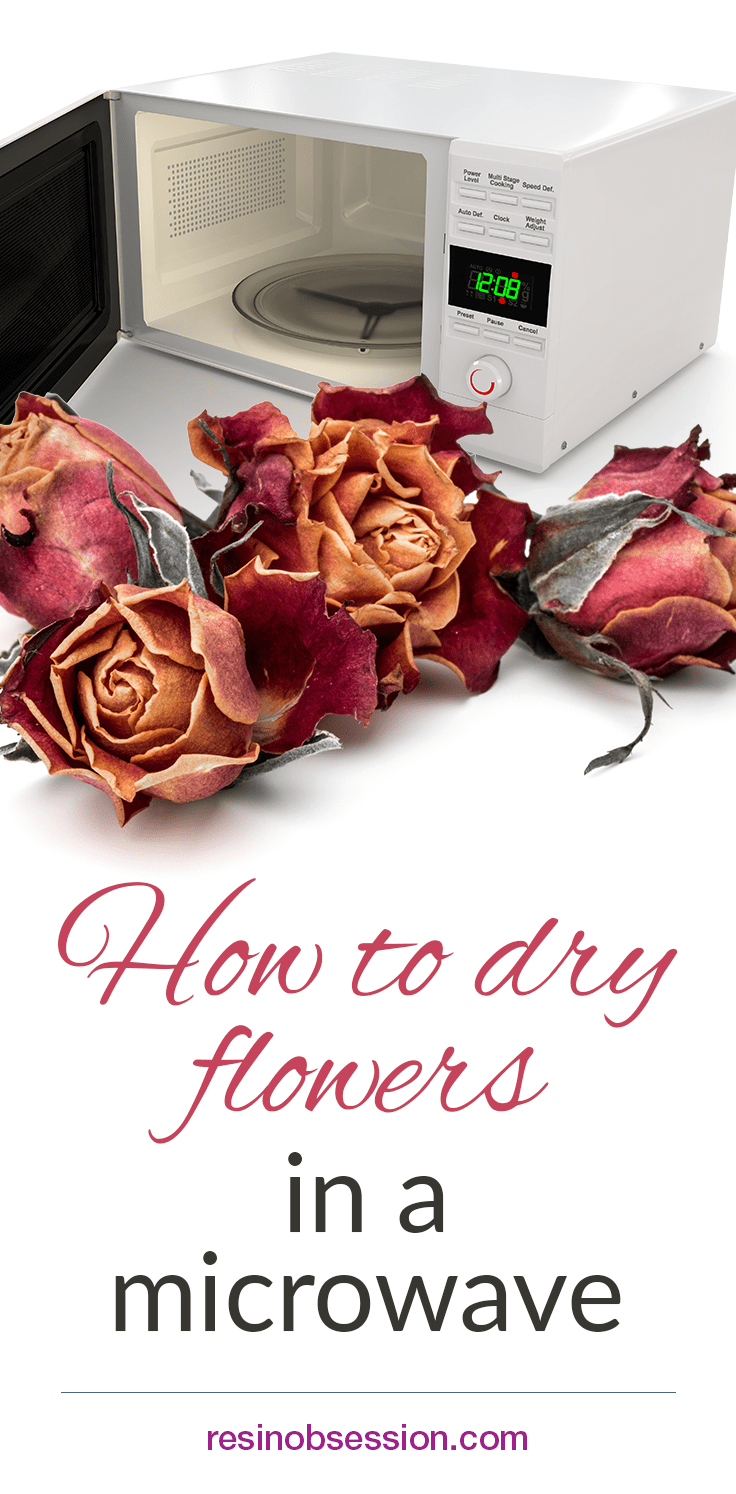 So you want to learn how to dry flowers in a microwave.  That's cool.  Or that's hot.  Depending on who you ask.
Why dry flowers in a microwave?
Most importantly, because fresh flowers turn brown in resin and look like dog 💩.
So you'll definitely need to dry them before including them in your next resin project. And there are pros and cons to drying flowers in a microwave.
Pros:
Instant gratification! In under five minutes, you can have dried flowers to use in resin.
Cons:
There is a bit of a learning curve.  You'll need to try a few times to determine what works best with your microwave wattage.
Your flowers will come out flat.  There isn't a good way to keep them three-dimensional.  But I've got a fix for that in a minute.
💡 Pro tip:  Don't start with your favorite flowers.  You'll fail at a few, and they'll end up crispier than a day at the beach without sunscreen.
Step 1:  Place flowers on paper
Take fresh flowers and place them onto a rectangle of white office paper.  Then, fold the paper over onto the top of the flowers.
Step 2:  Place in a paper towel
Next, put the paper, with the flowers inside, into a folded paper towel.
Step 3:  Nuke 'em
Place the flower sandwich into the microwave.  You'll need a heavy, flat-surface item to press onto the flowers during warming.  Then, microwave your flower sandwich on high for 30-second increments.
💡 Pro tip:  For my microwave, I found 1 minute to 1 minute, 15 seconds was best for drying the flowers.  And glass will get SCREAMING HOT when you do this.  And might even crack.  😭
Ta-da!  You just learned how to dry flowers in the microwave.
I think if I were going to do a lot of these, I would invest in this microwave flower press.
But what if you don't want flat flowers?
Then you'll want to dry them in flower desiccant.  It takes 1 to 2 weeks to do this, but they'll maintain their natural shape.
And when you're ready to preserve your flowers in resin, we've got the clear epoxy to make it happen.
Now that you've got dried flowers, how do you use them in resin?
I've got you. Buy your copy of the ebook Resin Fundamentals.  You'll learn from my 17 years of resin experience to get to pro status in only a couple of hours.  Buy the PDF book now and get a download link in minutes.
Unpublished Blog Posts of Resin Obsession, LLC © 2023 Resin Obsession, LLC