Hey there, epoxy resin creators, if you are looking for simple things to make with resin, then you are going to love this list of ten easy epoxy projects for beginners.
For this list, I included projects that needed minimal equipment, skills and supplies. That means, all you need to focus on is mixing the resin.
Leaf earrings
Here's why this project is awesome for beginners: the metal earring blanks do all the heavy lifting for you. All you need to do is add resin. (and something sparkly never hurts too.)
Learn how to make these leaf earrings.
Coaster
If earrings aren't your thing, maybe you want to try something you can use. Resin coasters are awesome to have ready for your get togethers. And, they make great housewarming gifts.
Here's how to make an epoxy coaster this weekend.
Boho earrings
Making earrings is a perfect project for a resin beginner. The hardest part is choosing the colors for your earrings.
See to make boho chic earrings.
Bookmark
Where are my bibliophiles? Tear yourself away from reading those best-sellers long enough to make a resin bookmark. And this might have to be a fun side project for your next book club.
Learn how to make a resin bookmark.
Charms
Let me share a little secret with you. The easiest way to make resin charms wearable is to use resin jewelry molds that cast with the findings holes in place. That means instead of drilling holes in the resin charms, the resin forms around a stem, leaving a hole when you remove the charms. That means you don't need any special equipment or skills to turn your charms into wearable jewelry. Simply demold, attach jewelry findings, and wear.
Here's the easiest resin jewelry project you'll ever make.
Holiday magnets
Love making handmade gifts at the holidays, but running out of ideas? That's where this resin magnet project comes in! Make dozens of these in a weekend to give to friends, neighbors, and co-workers as a cute holiday gift. (And they can double as pendants!)
Letters
Personalize a wall with resin letters. And the best part of this epoxy projects for beginners? You don't need a mold.
Here's how to make these resin letters.
Keychain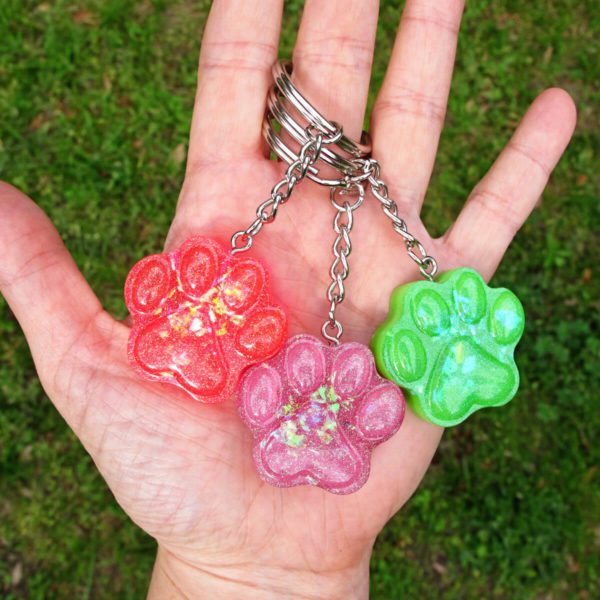 How fun is it to make something with resin knowing you'll use it daily? That's the magic of resin keychains. And who knows…maybe they'll keep you from losing your keys too.
Here's how to make resin keychains.
Trinket dish
You've got a big shell collection. Now what?
Turn the big ones into trinket dishes. These are great for keeping on a nightstand or next to the kitchen sink. Plus, people won't believe you made them.
Here's how to make shell trinket dishes.
Business card holder
How do you tell people you love making resin crafts without telling them you make resin crafts? By displaying this business card holder on your desk. Personalize with your favorite colors or memories to make it uniquely yours.
Here's how to make a business card holder (that can also double as a phone stand).
Ready to get started with these easy epoxy projects for beginners but want more help getting started?
I get it. There's a lot of information out there about how to craft with resin, and it's hard to sort through it all.
It's why I wrote the ebook, Resin Fundamentals. I've condensed my 16 years of resin experience into a book you can read this afternoon. Go from confused to confident with resin in no time. Buy the PDF book now and get a download link in minutes.
Unpublished Blog Posts of Resin Obsession, LLC © 2023 Resin Obsession, LLC