With the Coronavirus outbreak keeping many at home, finding easy resin crafts to make is an awesome way to spend an afternoon creatively.  Like who doesn't need a distraction from everything going on?!  But finding resin crafts to do when you are bored, can be hard.
Let me help!  Here are easy resin crafts to do at home — even if you have no experience with resin.
Domino resin pendant
Turn a domino game piece into a stylish pendant.  Simply add colorful papers and finish with a dome of resin.  (and this works for other size game pieces too!) Learn how:  domino resin pendant tutorial
Lookalike opals
Making faux opals is easy with the right resin supplies.  All you need to do is pour the resin in layers and add some sparkly glitter.  Here's how:  How to make faux dichroic glass and faux opals
Decorate a cupcake stand
Make sure your cupcakes get the attention they deserve by serving them on something amazing.  Use resin to embellish a cake stand with some of your favorite baking add-ins.  Here's how:  cupcake stand DIY
Resin ring
You might be looking at this resin craft project and think, 'How is this going to be easy to make?'  You let the ring mold do all the work.   Plus, making resin rings is one of the few times you get to look at the jewelry while you're wearing it.

Resin coasters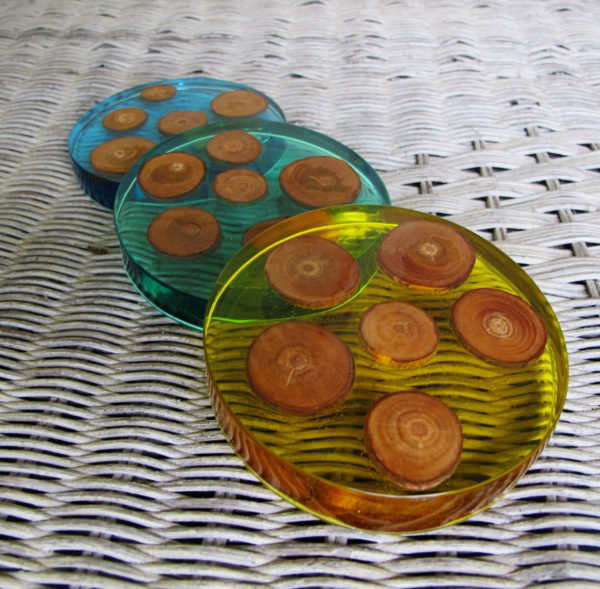 This has got to be one of the easiest resin crafts to do at home.  You can buy coaster molds or simply find something else to use as the coaster and fill it with resin.  Add something in like these wood slices, and they will be your go-to man cave coaster.  Learn how to make wood and resin coasters.

Resin Christmas ornaments
It doesn't matter the time of year, it's always prime time to make Christmas decorations.  Start with pre-made ornaments, then add resin in various colors to make something truly special.  Here's how:  Resin Christmas tree ornaments.
Photo resin pendant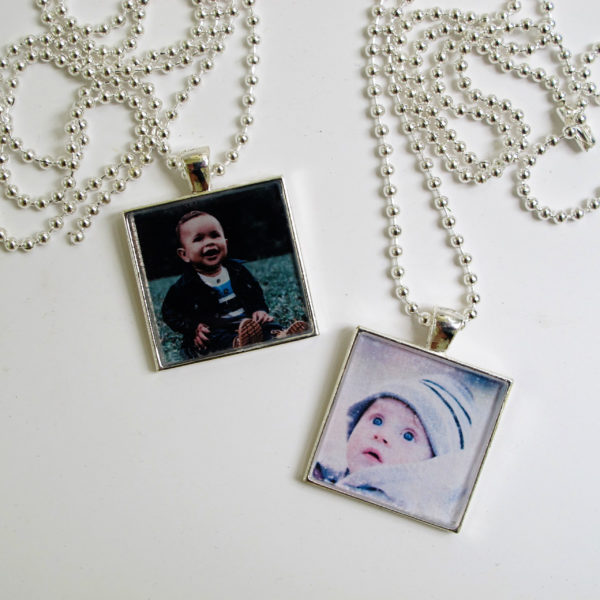 Making resin pendants doesn't get any easier than this.  Print your favorite photograph onto white paper, trim to fit a jewelry bezel, then fill with resin.  You can even change the paper design to anything you want.  These pendants also make great gifts.  Learn how to make them here:  photo resin pendant
The easiest way to make resin earrings
There is no way I could talk about easy resin crafts without sharing this project with you.  All you need are premade metal findings to make these resin earrings that are so dainty and cute.  Here's how:  Easy resin earrings DIY
Resin paperweight
This is another easy resin crafts project to do at home, especially if you are bored are wondering what you will make next.  Paperweights are a perfect way to dress up a desk or you could even get a jump on the handmade holiday gifts.  Learn how to make a resin paperweight.
Boho chic earrings
I love how these earrings look a lot harder to make than they really are.  The hardest part is choosing the colors to make these earrings.  (By the way, there is no wrong answer.)  Learn how to make these boho chic earrings with resin.

I hope you enjoy making these easy resin crafts to do at home.  Which one is your favorite?
Want even more of my best easy resin crafts ideas?
Then get your copy of Resin Jewelry Making.  The instantly downloadable book contains several projects with step-by-step instructions.  You can feel confident making them, even if you have never crafted with resin before!
Unpublished Blog Posts of Resin Obsession, LLC © 2021 Resin Obsession, LLC