If you've spent time on Instagram scrolling for jewelry inspo, you've seen trends like alcohol ink pendants and boho chic earrings. If you want to make them too, you can. All it takes using resin jewelry molds.
But before jumping into making resin jewelry with molds, there are a few things you should know first.
You can't use any mold to make jewelry.
Have a stash of chocolate molds? Or maybe candle molds? Perhaps some soap molds?
You get the idea.
While I appreciate your urge to repurpose, you can't use any plastic mold with resin. Why? Mixed resin can stick to non-resin plastic molds and damage them. Or not come out at all.
Don't believe me? Here's what happened when I poured epoxy resin into a soap mold. Spoiler: it wasn't a happy ending.
⭐️ BONUS: Learn the differences between plastic and silicone molds for resin
Resin molds for jewelry will eventually wear out.
Your molds aren't going to last forever. How long your resin jewelry molds last comes down to either the number of times you've used it or how long you've had the mold.
Resin jewelry molds are only suitable for so many uses. It's been my experience that silicone molds for resin last for 2 to 3 dozen castings. If you get more than that, consider yourself lucky.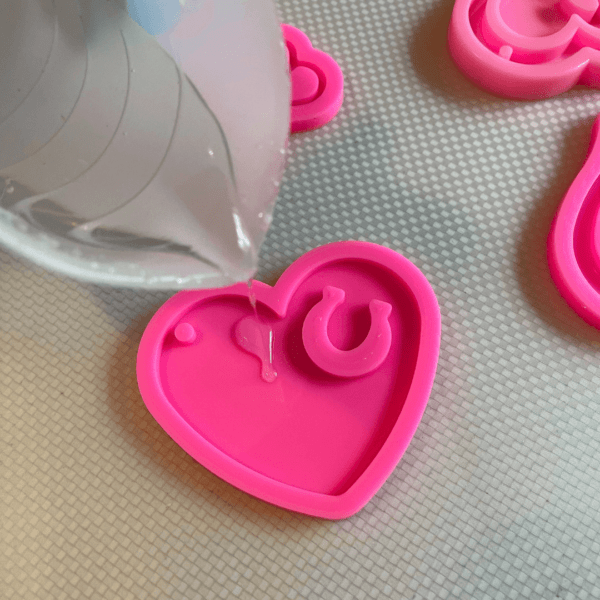 The other problem is time. If you only use the mold a time or two, then put it away, it will someday dry rot. The mold becomes brittle and tears when you demold your resin.
⭐️ BONUS: Learn why resin sticks to silicone molds.
There's a big price difference in resin jewelry molds.
There are different processes to make resin jewelry molds. Some methods press the mold material (silicone or plastic) onto a template. The other technique involves pouring liquid silicone around the template.
Poured molds will sell for more than pressed molds. More silicone molding material equals more cost.
The good news is that poured silicone resin jewelry molds last longer than pressed molds.
⭐️ BONUS: Here are silicone mold care tips to safeguard your investment.
Not all resin jewelry molds make shiny jewelry.
I see resin beginners mess this one up a lot. You assume that because the mold is silicone, it must create a glossy surface.
Have you tried using silicone baking molds to make resin jewelry?
The surface comes out cloudy, and you blame it on the resin. Instead, the mold is what's making the resin cloudy.
If you want a shiny surface to your resin, you must use a mold made from a shiny template. (which baking molds usually aren't)
So how do you know if your mold will make shiny resin jewelry? Look at the mold cavities. If they're shiny, your resin jewelry will be shiny too.
⭐️ BONUS: If your resin jewelry comes out frosty, here's how to fix a cloudy resin surface.
Too much heat will damage resin molds for jewelry.
Resin gets hot. So shouldn't the mold be able to handle the heat?
Of course. But that doesn't mean you can torch it like you're trying to get snakes out of your house. (Which sounds like a perfectly reasonable response to that situation.)
Keeping a heat gun in one place for too long can soften or warp a mold.
⭐️ BONUS: Here's how to use a heat gun with resin molds.
Clear silicone molds cost more than colored silicone molds.
Clear silicone costs more, like leather seats versus cloth seats in a car.
So what makes clear silicone awesome (and why are they worth the extra price)? Because you can see what you're doing in the molds when making resin jewelry. You can see exactly where to place flowers or annihilate bubbles before letting your epoxy resin cure.
⭐️ BONUS: And what do you do with those bubbles when you find them? Here are ten ways to get bubbles out of resin.
Resin mold release will prolong mold life.
Using mold release will protect your molds against micro-tears that wear them out. Ever had resin stick to a mold and tear it? Mold release guards against that.
Plus, it makes your resin slip out so easily. Kinda like a pocketful of pudding.
⭐️ BONUS: Here are three reasons why I always use resin mold release.
Consider how you will use the jewelry molds before you add resin.
I'll get right to an example on this one.
Here's an alphabet mold. Seems pretty easy to use. Add resin and demold, right?
Except when you demold, you see that the shiny side of the resin letters is backward. That means when you use this mold, you must design 'face up', which isn't how we ordinarily use resin molds.
What's the problem with using resin molds face up? The surface will have a resin edge which you'll have to remove.
⭐️ BONUS: Learn how to handle a resin edge so you can wear your jewelry charms.
Not all resin molds demold easily.
Molds with skinny openings can be a b@#%h to demold. Scrape your knuckles a couple of times, and you'll swear you're never going to try casting resin again.
The good news is soapy water can be a lubricant and helps cured resin slide out of your mold.
⭐️ BONUS: Here's my video showing how to do this.
Resin jewelry molds can warp.
You're done with your mold. Now, what do you do with it? Once it's clean, store it flat. Keeping it in a wonky position for an extended period can make it freeze that way. (Kinda like the face of the girls in that movie.)
Once it's misshapen, it may not go flat again.
⭐️ BONUS: Before you put that mold away, make sure it's clean.  Here's how to get uncured resin off silicone.
Congratulations, resin creator. You're ready to get started with resin jewelry molds!
And here's what Resin Obsession customers are crushing over right now:
What's the resin beginner's secret to getting to expert status in under two hours?
It's my beginner resin book. I've condensed my 15 years of resin artist experience into an ebook you can read today. Buy the book now, and a download link comes to your email in minutes.
Unpublished Blog Posts of Resin Obsession, LLC © 2022 Resin Obsession, LLC