So you're crushing over all the creative things you can do with epoxy resin. Like making a piece of epoxy art for your living room. Or creating candy conversation heart jewelry. Or man cave coasters for a Father's Day gift.
So you buy resin and then it hits.
You feel nervous about starting. Like you aren't sure if the butterflies in your stomach are a good thing or a bad thing.
So you googled, 'tips for working with epoxy resin' and you ended up here.
Well helllooooo creative! 👋 My name is Katherine, and I've been a resin artist for 17 years. I'm here to help you corral those nervous butterflies in your stomach into something beautiful. Whether you're new to epoxy or a seasoned professional, these tips will be helpful to you working with resin.
Before we get into the tips, let's talk about what epoxy resin is, what it isn't, and how it works.
How does epoxy resin work?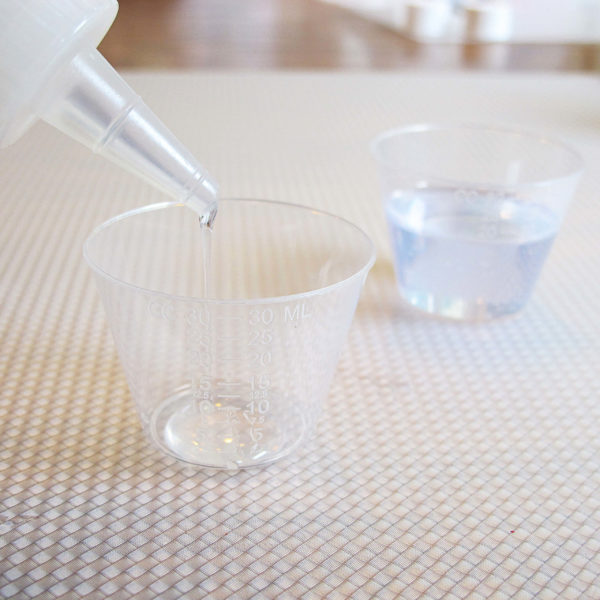 Epoxy resins come in two parts: the resin and the hardener. When you mix them together, the combo heats up. This heat changes the epoxy from a liquid to a solid. This is different than UV resin which requires a UV light source to harden.
You mix epoxy resin in a specific ratio. That means you mix a specific amount of resin with a specific amount of hardener.
Then, you have to use it within a certain amount of time (called pot time). Then, it takes a while to cure, which is called — get ready — cure time.
Now that you understand what resin is, let's get into the tips for working with epoxy.
What safety precautions do you need to take when working with epoxy resin?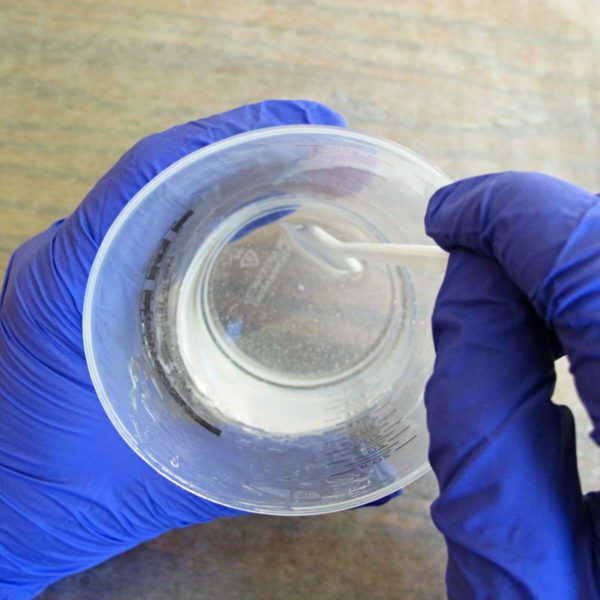 So this isn't really a tip. A tip implies it's optional.
Let me be Frank. (Or George. Or Walter.)
Resin safety is not optional. It's necessary.
The three things you ABSOLUTELY FREAKING need to do are:
Work in a well-ventilated area.
Wear gloves.
Use an epoxy that conforms to ASTM D-4236
Okay. Got the first two. But that last one?
Yeah, that one doesn't get talked about enough.
I won't dive into the weeds here, but it's an in-depth process where a resin formula gets examined by people who have advanced degrees in toxicology.  They review the formula and decide if it's safe for you to use. If it is, it gets that 'conforms to ASTM D-4236' designation. So if you don't see it on the label, that means that cheap epoxy resin isn't safe to use. Ever.
By the way,  all the Resin Obsession resins have that certification. Safety should never come at a cost.
What else can you do?
Well, my personal favorite is to wear a respirator when creating resin art. It's optional, but an extra level of safety that I won't go without.
⭐️ BONUS: You learn more about the mask I use in this article on epoxy resin safety precautions.
How should you prepare your crafting area for working with epoxy resin?
Cover your area with something resin won't stick to. My favorites include the shiny side of parchment paper and silicone baking mats.
Then, make sure your surface is level. And somewhere that will stay undisturbed for a day or two at least.
And because cat hair and dust also have a resin obsession, put a plastic container over your resin while it's curing.
⭐️ BONUS: Get a [FREE] downloadable resin supply checklist for working with epoxy.
What if you want to include things in your resin?
Life's too short to say no to this.
Besides, it's one of the coolest things you can do with clear epoxy resin. Resin magnifies images and makes them exceptionally clear.
And here's the big thing you need to know:
If the item changes color when it gets wet, that means you need to seal it before including it in the resin.
What's an example?
The big one here is papers. You need to seal them before including them in epoxy. Otherwise, your papers will look like a brown bag full of fast-food french fries.
And let the glue dry completely first. Otherwise, it won't seal the papers.  And they'll still look like a brown bag full of fast-food french fries.
And if you don't want to use stuff you have to seal?
That's cool. I'm all for keeping it simple. Items like beads and stickers do well in resin without sealing.
⭐️ BONUS: Here's how to seal papers for resin.

Does it matter what you use to color epoxy resin?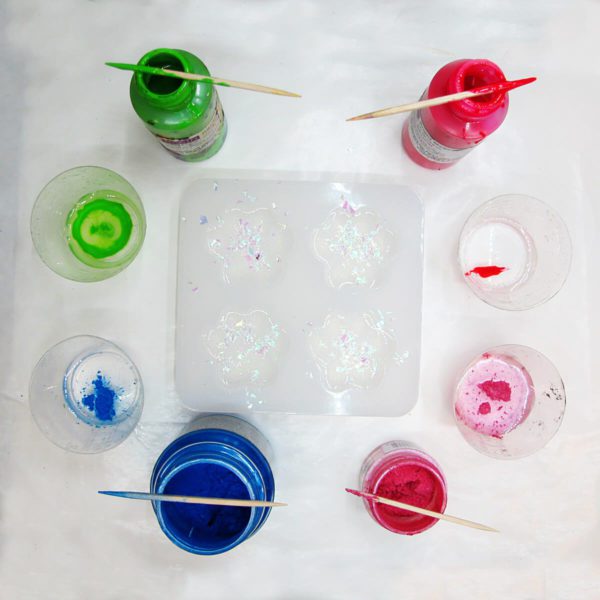 Not if you care about the results.
And I do mean that the way that sounds.
When working with epoxy, your best bet is to use colors specially designed for resin.
Why?
They won't fade or turn into something else.
They won't make your resin bendy or flexible.
They make the same colors every time.
Real-world example:
You want to make resin jewelry to sell. The last thing you want is for customers to come back weeks to months later saying the colors are fading. Or, as I found out when I sold jewelry at art shows, someone loses an earring and wants to buy a replacement. It's easy to make an extra when you've got the color handy.
But…
Part of resin is pushing its limits. Like pushing it to fail.
So you might want to try non-traditional colors. Like your eyeshadow collection from 1983. Or the dried-out spices that are even older.
⭐️ BONUS: Here's how to color epoxy resin for your next project.
How about resin pouring tips?
Resin can pour quickly.  Pouring from a smaller cup is easier to control, especially if you're a resin novice.
White gets gobbled up by other colors easily.  Add more white than you think you need.
Not only is a heat gun great for removing resin bubbles, but it's also good at pushing the art epoxy around to make resin cells.  Besides, it's also less likely that you'll start a resin fire with a heat gun when compared to a butane torch.  Especially if you're using anything flammable.
⭐️ BONUS:  Get the beginner's guide to making resin art.
Want more help working with epoxy resin?
Then you'll love the resin book I wrote especially for beginners.  Instead of spending hours watching videos and reading articles, you'll get a clear path to creating with resin in only an afternoon.  It's the book I wish I had when I started making resin crafts.  Buy the ebook now and get an email download link in minutes.
Unpublished Blog Posts of Resin Obsession, LLC © 2023 Resin Obsession, LLC