After making your resin charms and epoxy art, you might be wondering if you can you drill epoxy resin. The answer is a definite YES.
But, you're going to need some equipment. Yes, this article is the perfect excuse to buy new jewelry tools. You're welcome.
Here's how to drill holes in resin.
Before you start
Your resin must be completely cured. You cannot drill uncured or semi-formed resin. Besides being messy, soft or gooey resin will not maintain an open hole. Besides, you'll ruin your drill bit.
And, you'll need to take the proper safety precautions.  That means keeping long hair tied back and wearing safety glasses.

Step 1: Select your drill bit size
If you're drilling holes for resin jewelry, use between a size 55 to 65 drill bit. They will accommodate most sizes of jump rings and other resin jewelry findings.
What if you're unsure what size drill bit to use?
This drill bit to wire gauge conversion chart compares drill bit sizes to standard wire gauges for jewelry. Match up the drill bit to the size wire you're using.
💡 Pro tip: If you're unsure which size drill bit to use, go smaller than what you think you need. You can always drill the hole again with a larger drill bit to enlarge the hole.
Step 2: Mark your resin
Mark the spot where you want to drill. A fine-tip marker pen works perfectly for this.
Step 3: Drill the resin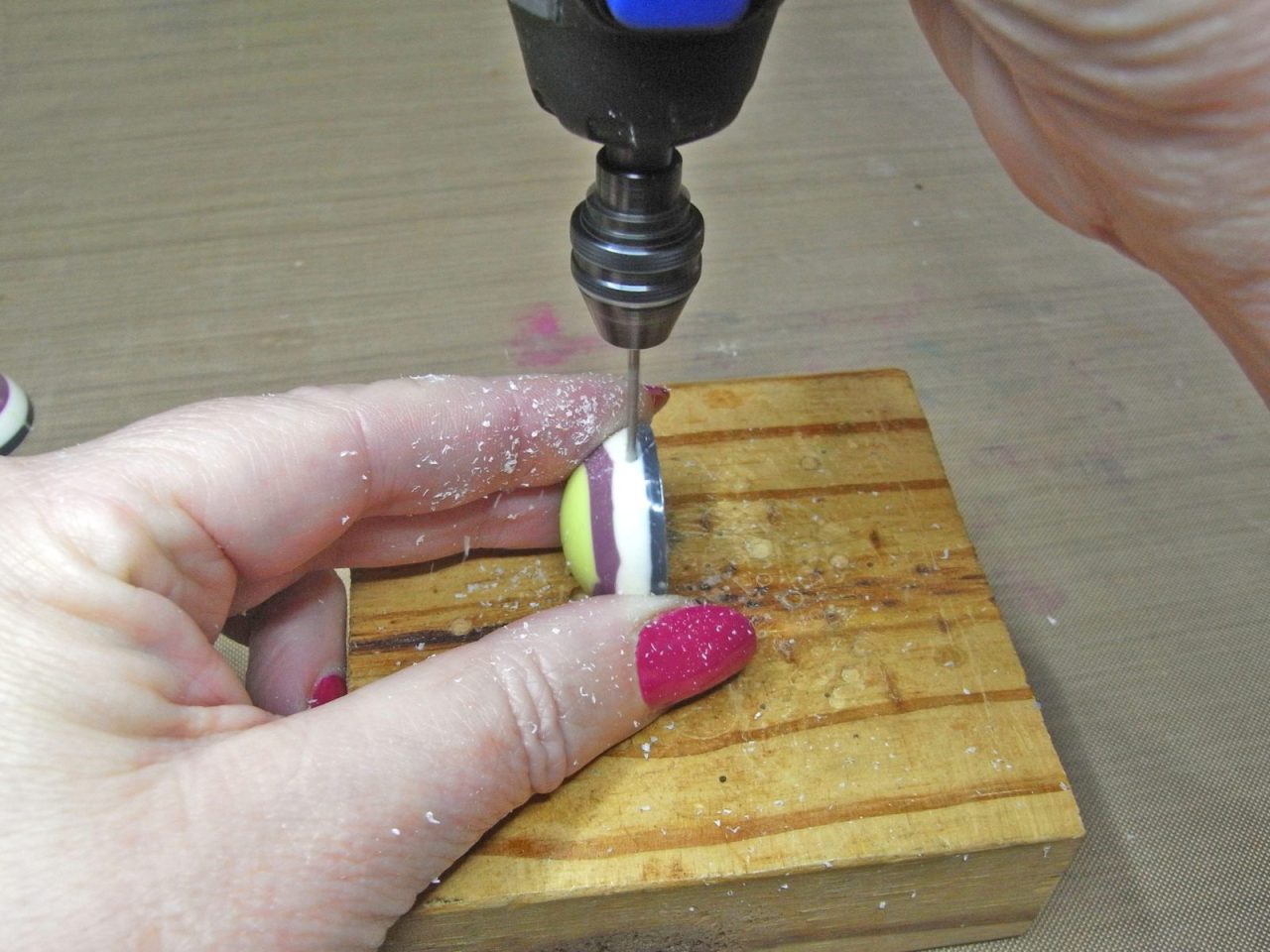 Here's How To Drill Resin step by step
1. Place your resin charm on a scrap wooden block to protect the surface of your work area.
2. Slowly drill the hole in your resin by holding the drill bit at the desired angle. Fast drilling causes friction, which can make your epoxy soften or melt.
3. Drill all the way through your cured resin, into the wooden block. By drilling into the block, you mess up that surface instead of making holes on a countertop.
4. Clean out the hole. A piece of flexible wire or toothpick works great for this.
If you drill through clear resin, your hole will look frosted.
How do you fix that?
Use a toothpick or a thin piece of wire to lightly coat the inside of the hole with freshly mixed resin. While it will not make the frostiness disappear entirely, it will make it less noticeable. But be careful that you don't use too much, or you'll plug up your hole again.
Step 4: Clean up the bur
After you drill resin, but might have resin crumbs you can't scrape off. If that happens, grab a drill bit a size or two larger than the one you used to drill the resin. Then, rest it on top of your hole and spin it by hand for a turn or two to remove the burr.
Step 5: Finish
Add your jump ring, bail, or string on a cord to make a resin charm wearable. If you made a resin painting, you can add hardware to hang your new art.
What else should you know about how to drill resin?
Cheap drill bits are fine. If you make metal jewelry, you may have invested in expensive drill bits). While these are great for drilling metal, resin doesn't need anything that hard or durable. Resin is soft, and you can drill epoxy with about any drill bit.
The resin serves as a drill bit lubricant. Extra lubricant on the bit is unnecessary. But don't forget to maintain your drilling apparatus with lubricants as recommended.
Use a separate set of drill bits for resin drilling and metal drilling. You don't want to take a chance that resin crumbs contaminate metal that you could heat with a torch. You don't want to breathe in those fumes.
You can use a vice. But… If you're worried about holding resin while you drill it, you can use a vice. But, clamping the vice onto the resin will leave marks. Wrap the resin in something soft before including it in the vice.
Learning how to drill resin is hard. Perfecting the act of drilling small holes in resin is hard. While getting your drill bit to go from one side to the other is pretty easy, getting it to do it straight and even is not. This is a great time to pull out past resin mistakes and use them as practice pieces.
💡 Pro tip: If you want to ensure your holes are straight from one side to the other, your best option is using a drill press. You can see how to do that here:
Want to learn more about how to work with resin but find it all so confusing?
I want to help. Get your copy of the ebook, Resin Fundamentals. You'll go from confused to confident with resin in only an afternoon. Buy it now, and you'll have it to read in a few minutes.
Unpublished Blog Posts of Resin Obsession, LLC © 2022 Resin Obsession, LLC