Believe me when I tell you that how well your resin project turns out starts WAY before you ever open a bottle. You can avoid problems like bubbles and sticky resin. Here are 10 resin tips and tricks the pros use when creating resin art.
Tip 1: Prepare your resin crafting area.
Always go into a resin project with the idea that it will drip or spill everywhere. Protect your table with non-stick surfaces. Tape off areas where you don't want resin. Make sure you have a dome ready to cover your wet resin when you're done to keep out dust and pet hair.
💡 Pro tip: If you aren't sure what to use to cover your table, here is a list of surfaces resin won't stick to.
Tip 2: Gather all the supplies you'll need BEFORE you mix your resin.
Time will get away from you. You don't want to waste any of it looking for extras and accessories while the pot time on your resin is ticking. This resin beginner supply checklist will help you get organized.
💡 Pro tip: A timer is a great tool to have here. Set it to expire about when the pot time of your resin is almost up. It's a great reminder to use or lose your mixed resin.
Tip 3: Anything you use in resin needs to be COMPLETELY dry.
You need to make sure any papers, flowers, natural products, etc., are sealed and dry before putting them in resin. Even if you've sealed them, but the sealant is wet, moisture will wick in.
💡 Pro tip: If you aren't sure how to do this, here's how to seal papers for resin.
Tip 4: Read the directions for your resin kit.
Then re-read them. Be sure you completely understand them before you start mixing. The basics you need to know are:
*How much resin and hardener to mix together. For example, does it mix 1:1, 2:1, or drops of hardener per ounce of resin?
*Minimum mixing amount (resin plus hardener) to get the chemical reaction to occur.
*Maximum mixing amount (resin plus hardener) so you don't mix too much and have the resin cure all at once.
*The mixture's pot time, so you know how long you have to work with it.
*Demold time if you want to pop the resin out of the mold before it fully cures so you can start a new project.
*Full cure time so you know when it's completely cured and wearable or usable.
💡 Pro tip: We have all this information for you for the resins sold on Resin Obsession. You can find it in our resin buying guide, which also includes tips and tricks on when to use each epoxy type.
Tip 5: Get your room to the ideal temperature.
Resins cure best in a temperature of the low 70s F. Adjust your thermostat as necessary to get your resin crafting room to this temperature range.
💡 Pro tip: Here are some cold weather resin casting tips if you need ideas on how to warm up an area without warming up your entire house.
Tip 6: Warm the resin and hardener bottles.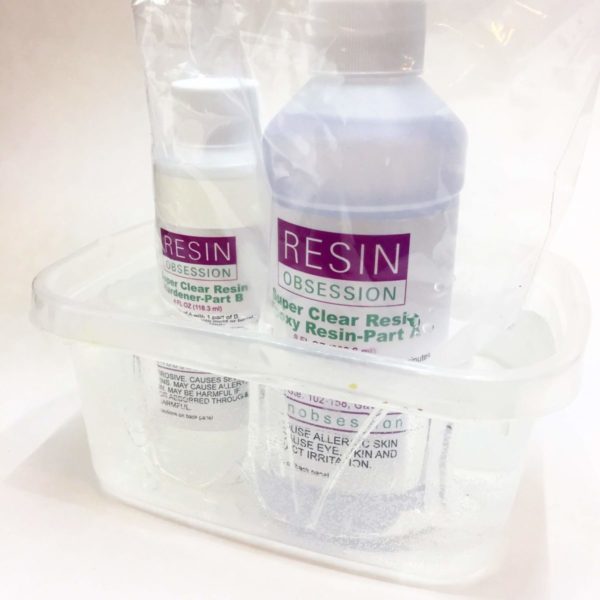 This is the BEST of the resin tips and tricks on this list. If you keep your resin kit in a cool area, warm the bottles up in a water bath for five to ten minutes before use. By heating the bottles, your resin and hardener will mix easier and with fewer bubbles.
💡 Pro tip: Learn what else you can do to avoid resin bubbles.
Tip 7: Do the math on how much resin you need.
You don't want to waste it. But you don't want to stop mid-project to mix more resin.
So how do you know how much resin to mix?
Use the Resin Obsession resin calculator. All you need is a ruler to measure your space.
💡 Pro tip: Here are some other hacks to determine how much resin you need.
Tip 8: If you are using molds, prep them with mold release.
Prepare your molds with a mold release and allow them to dry 20 to 30 minutes before use. It makes demolding easier and prolongs mold life.
💡 Pro tip: Here are three reasons why I always use mold release.
Tip 9: Have clean-up supplies handy.
Have paper towels and a trashcan closeby to clean up the spills and drips. Baby wipes also clean up spilled resin on bezels, molds, and even your body.
💡 Pro tip: If your resin mess gets out of control, here's how to clean up resin details.
Tip 10: Have appropriate safety gear.
Follow resin safety precautions. This includes working in a well-ventilated area and wearing protective gear like gloves and safety glasses. The safety data sheet of the epoxy resin kit you are working with will also specify safety measures you should take when using it.
Want more resin tips and tricks?
Then you'll want to get a copy of the ebook, Resin Fundamentals. I've condensed my 15 years of resin experience into an easy-to-follow book. Beginners can read the book in a couple of hours and feel confident taking on their first or next resin project. Buy now and get a download link in minutes.
Unpublished Blog Posts of Resin Obsession, LLC © 2023 Resin Obsession, LLC