Looking for a way to make your resin pendants look unique?  Try these mixed media methods to give your next resin pendants a unique flair!

Resin supplies used:
Alumilite Amazing casting resin
Rubber texture mat for clay
Pearl Ex powders in magenta, sapphire blue, bright yellow, emerald
Mixing cups
Stir stix
Nitrile gloves
1 inch round silver pendant bezels
Marker, circle template, scissors, paintbrush
Acrylic metallic based paint
Alumilite Amazing clear cast epoxy resin
Transparencies printed with clip art or quotes
Assorted glitters and micas
Ball chain necklaces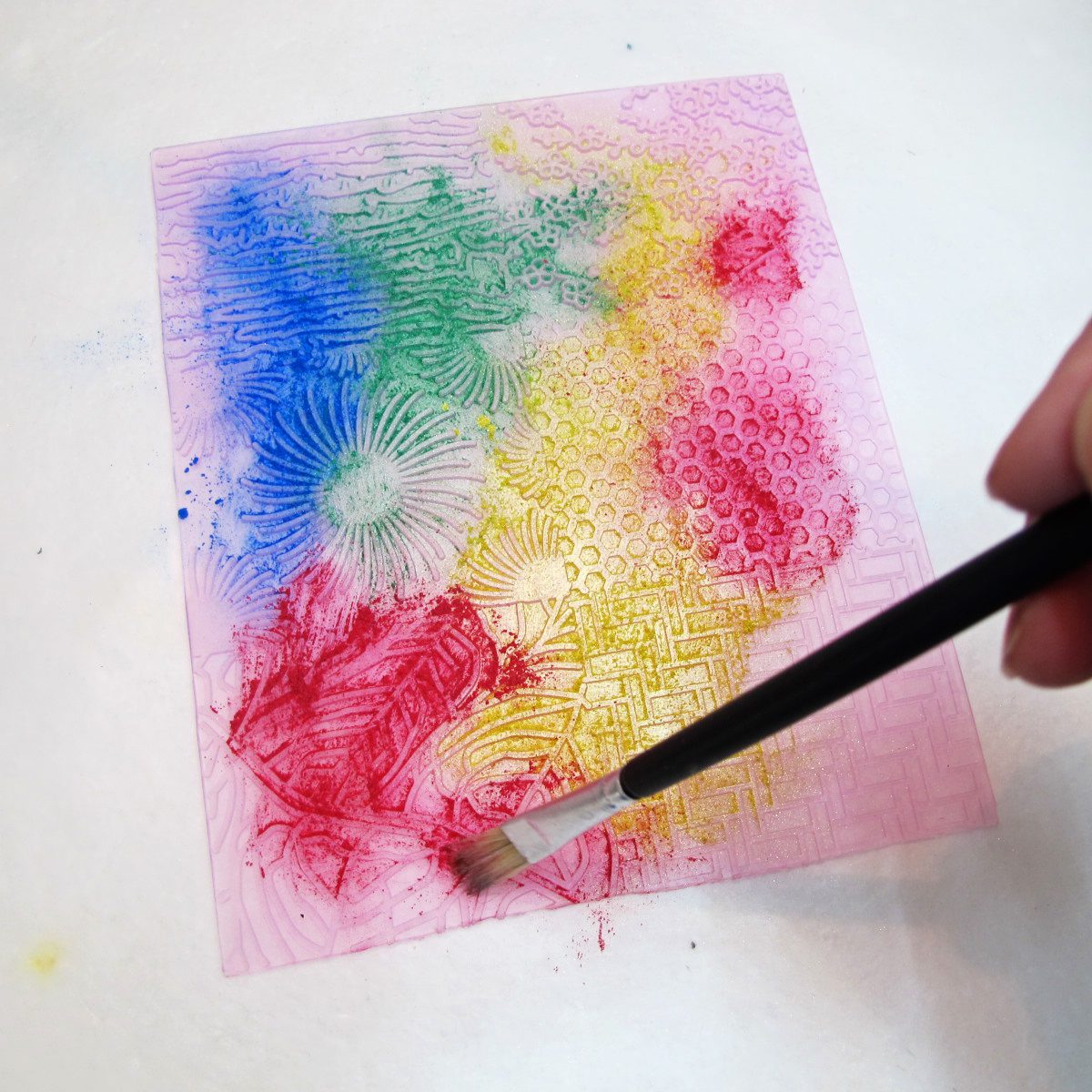 Step 1
Use a paintbrush to apply Pearl Ex powders to the surface of the rubber texture stamp.
Step 2
Not shown:  Measure 10 ml each of part A and part B of the amazing casting resin.  Mix together well, which takes about one minute.
Note:  This is a quick curing resin.  You need to have everything ready for the next steps before mixing the resin parts together.
Step 3
Pour the mixed resin over the rubber pad and allow to spread.
Pro tip:  The more you spread the resin over the pad, the thinner the resin sheet will be.  This will give you more room in your bezel to add more layers of clear resin later.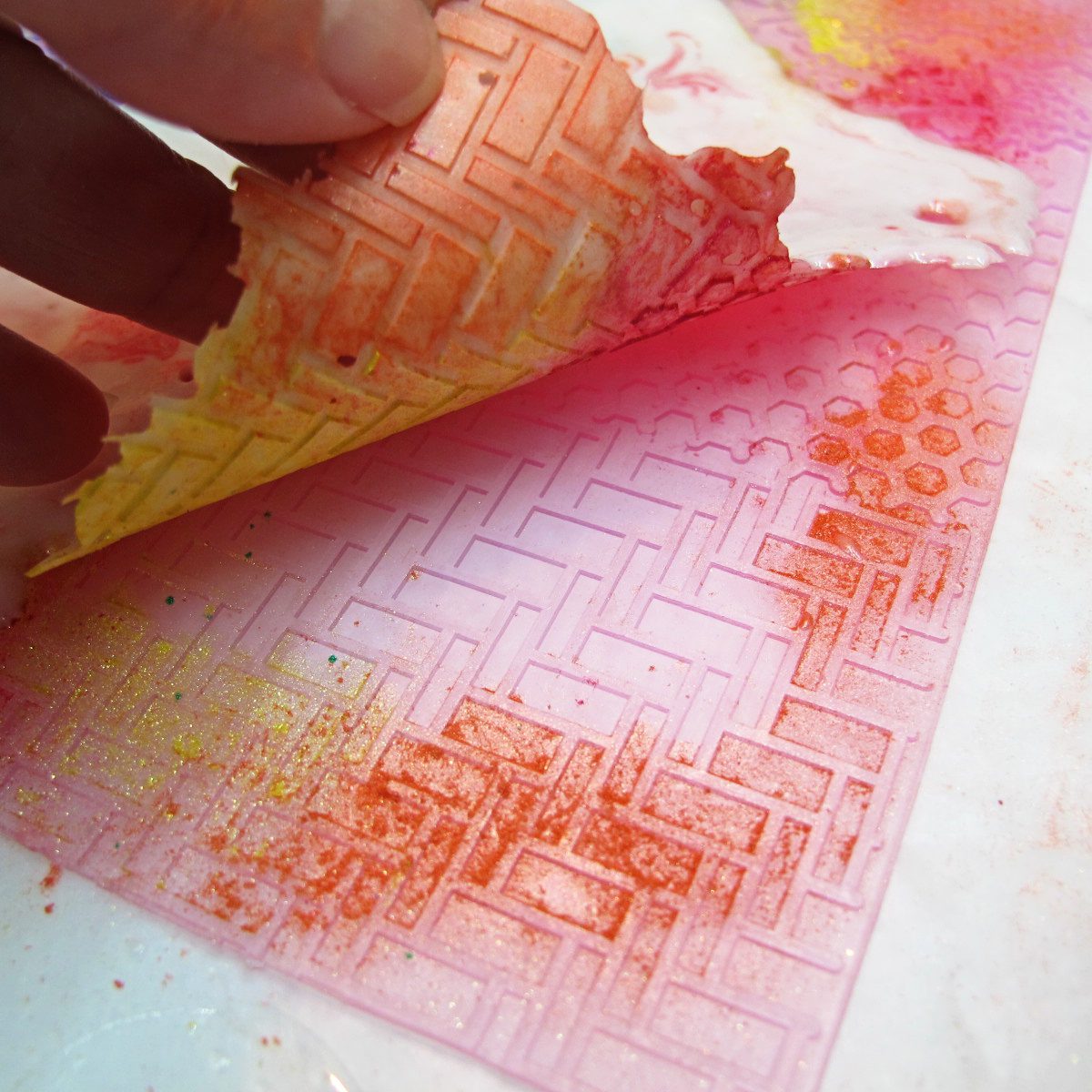 Step 4
When the resin has cured enough to be solid, but still flexible (approximately 10 to 15 minutes after mixing), peel it away from the rubber mat.  Allow it to cure for several more hours or overnight before proceeding.
Step 5
Using the circle template and the marker, find several areas of the cured resin that look interesting for a pendant base.  Mark the circle so you know where to cut.
I think this is where I spent the most time thinking about my resin pendant ideas.  This sheet of resin produced so many interesting designs.  There are so many areas to choose from!
Step 6
Use heavy-duty scissors to cut the circles away from the resin sheet.
Pro tip:  Cut your circle a little larger rather than a little smaller.   You can use a coarse nail file or sandpaper to even up edges as necessary.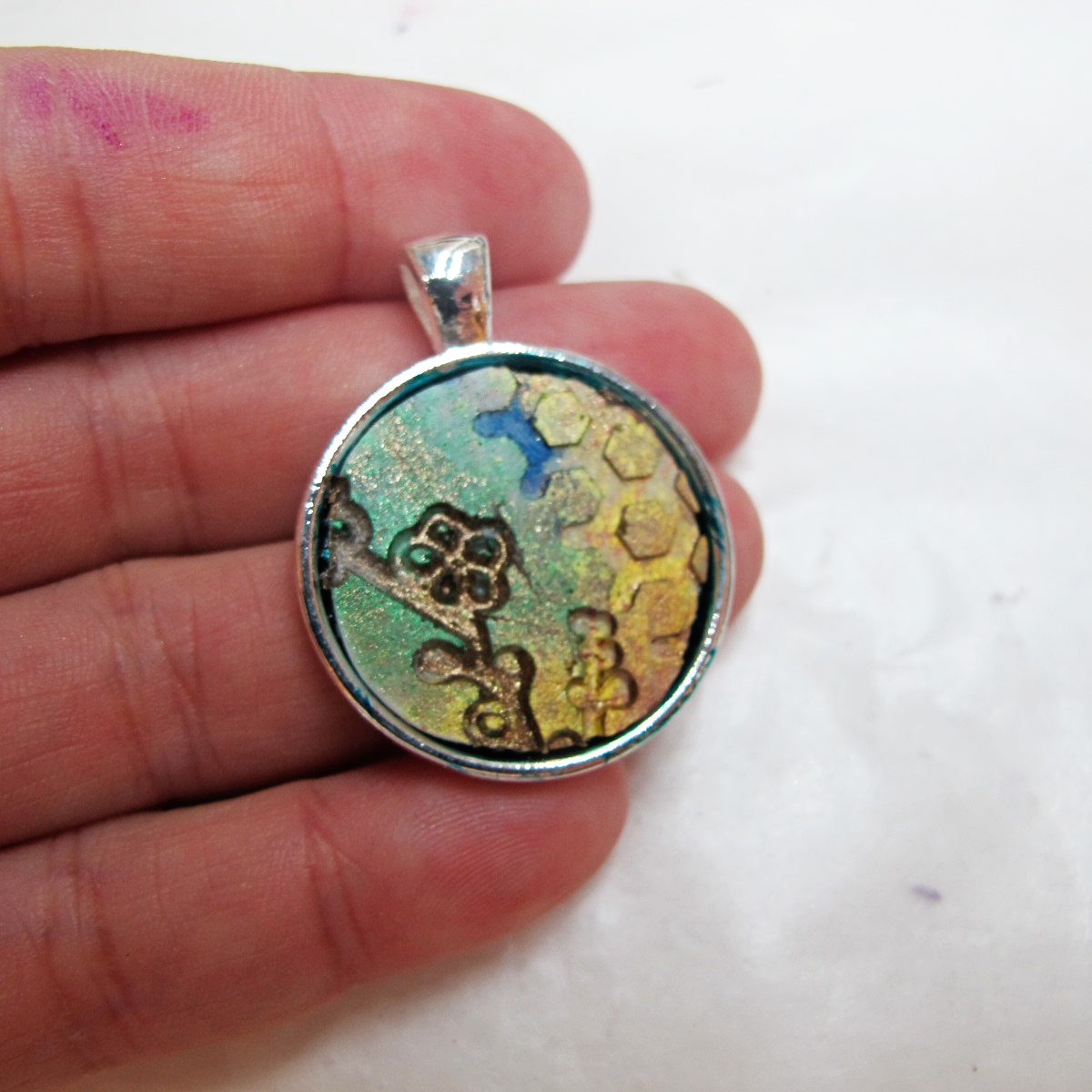 Make sure your circles fit snugly and trim or sand as necessary.
Step 7 (optional)
Because it's hard to get an exact fit inside the bezels, I painted the bezel base.  This will make any blank spaces around the edges or holes in the resin sheet harder to notice if the background is another color than silver.
Allow drying for 30 minutes before going on to the next step.
Step 8
Mix a small batch of Amazing clear cast epoxy.  Dab a small amount in the base of the resin bezel and push around to coat.  The resin is serving as a glue in this step.
Note:  Put less resin in the bezel than you think you need.  It doesn't take much and will keep you from cleaning up spills later.
Placing the pendants on a drying mat is helpful because the open spaces allow room for the bail, letting the pendants lie flat.
Step 9
Add the textured circle to the pendant base.
Pro tip:  Dipping the circle in the cup of resin first will break the surface tension and make bubbles less of a problem.
Not shown:  You can add a little bit of glitter onto the base as well.
Let cure for 24 hours before moving on to the next step.
Step 10
Cut transparencies with printed art or sayings into pieces to fit in the bezel for the second layer.
Note:  I like to create the clip art, then get them copied on transparency sheets at a copy/print store.  They don't require sealing before adding to resin.
Step 11
Mix another batch of Amazing clear cast resin.  Dip the transparency in the cup of resin and apply to the pendant.  Drip in more resin as necessary to fill the bezel cup and create a nice dome.
You can apply more glitter in this layer as well.  Use your stir stick or a toothpick to push the pieces around as necessary.
Allow to cure for 24 hours.
Once they are cured, hang on necklaces to wear.
I think this one is my favorite.  Sometimes you have to remind yourself to breathe.
Which of these resin pendant ideas is your favorite?
Get the video version of the tutorial here:
Ready to immerse yourself in creating jewelry with resin?
Then you will want your copy of How to Make Resin Jewelry in Bezels.  The 104-page book was written with the beginner resin jewelry maker in mind.  You will learn what it takes to have beautifully finished resin jewelry, plus 15 projects you can recreate to keep, share or even sell!
Unpublished Blog Posts of Resin Obsession, LLC © 2021 Resin Obsession, LLC